Recent Westminster Articles
A few weeks before the General Election in May, I found that the National Council of Hindu Temples – a registered charity – posted a message calling on British Hindus to vote Conservative.
It was clearly in violation of the Charity Commission rules, which state that charities cannot be politically aligned, and I complained. The Charity Commissionimmediately asked them to make amends and they deleted their post.
I can reveal that the NCHT has broken the Charity Commission rules again. Its General Secretary sent out this email below clearly expressing political support for the Conservatives over Labour.
Furthermore, it disparages "genuineness" of Hindus who support the Labour party.
What's the NCHT's key complaint? That Labour supported legislation in the UK banning discrimination on the basis of Hindu castes. The (mostly upper-caste) Hindu leadership of the NCHT opposes this piece of legislation. Yes, really.
Full email below (there's more coming on this later this week)
This week I was kindly invited by the Cambridge Universities Labour Club for a talk on where Labour goes from here.
In the initial part I talk about the wrong assumptions I made in the run up to the election. I've written about that here too.
From 8m 15 seconds, I talk about the three big challenges the next Labour leader will have to grapple with.
From 19m 22 secs, I talk about the main leadership candidates (which included Chuka Umunna at the time).
(the sound quality improves after a minute)
(ht @Puffles2010)
A lot of people made mistakes in predicting outcomes in the 2015 General Election, mostly because the polling was so out of sync with the eventual result. I made predictions based on polling too, and it was embarrassing enough when they turned out to be very wrong.
But I made other assumptions in the last election cycle and its only right to own up to them. Partly, I feel its important for my readers, but partly I think its worth articulating them so I can learn from my mistakes.
The biggest mistake I made was this. Over the last 2 years, the Labour leadership's ratings on leadership and economic competence started trailing that of the Tory leadership. I.e. Cameron was consistently seen as a better leader than Miliband (a gap that grew), and Cameron-Osborne were ahead of Miliband-Balls on economic competence. Because the polling stayed broadly positive, I assumed this was having very little impact on voting intentions. I also assumed that when it came to the crunch, people would vote with their hearts than on competence. BFM (Big Fucking Mistake).
Clearly, it has now been proven beyond doubt that if voters don't see you as a credible and strong leader, then they won't trust your promises. It doesn't matter how much they like your policies (Miliband's policies were quite populist) – they just won't trust you to deliver them. They won't place their faith in you. This should be a lesson for all of us on the left. Ed tried hard to shift those perceptions, and he improved, but he didn't try harder and earlier. I had assumed (mostly because of the polls) that voters didn't think this was a big enough deal. Clearly, it was.
The other big mistake was with UKIP. I assumed, again based on polling data, that UKIP hurt the Tories more than Labour. Many in the Labour leadership assumed this too. And this was true to an extent. But we didn't anticipate that the Tories would be much better at tempting back Tory->UKIP voters than Labour->UKIP voters.
I suspect Tories did this mostly by raising doubts about Miliband and his tie-up with the SNP. They said the election was going to be close — too close — and that this metropolitan geek was going to be under Nicola Sturgeon's thumb. "It would bring chaos."
It played not only into their English nationalism but perceptions of Miliband's weakness as a leader. Ex-Tory voters clearly got the message and returned back. Far too many ex-Labour voters didn't, primarily because we didn't connect with them, emotionally and culturally (I'll come back to that point another time).
The point is that Labour-> UKIP switchers hit us harder than many of us (including myself) expected, especially in places like Southampton Itchen. That assumption was also a BFM, though its unlikely Miliband could have stemmed that flow easily.
So yeah, I hold up my hands and admit it: both of these were pretty big assumptions and I got them wrong.
Tony Blair writes today: "the route to the summit lies through the centre ground".
We expected this right? Tony Blair is becoming famous for repeating himself all the time.
There's also one glaring problem with this cliche: Cameron didn't win from the centre ground. In fact he moved further away from the electorate and voters rewarded him for it.
Britons saw Cameron as right-wing as Miliband was left-wing. They were both equally away from the centre.
In fact, Cameron was further away from the centre nearer to the election than he started off! And yet he increased his share of the vote and seats.
Furthermore, most of Miliband's major policies: cracking down on tax avoidance, abolishing non-doms, raising the 50px tax, focusing on the NHS etc – were very popular with the public. His analysis of people not being served by capitalism was right – even Tories like Fraser Nelson and Charles Moore admitted it.
So if this was about moving left or right, and about offering policies that chime with the public, why didn't Miliband win big?
Because people value authenticity, and they value competence. Labour gave them neither; Cameron at least offered latter. Miliband didn't have clarity of message either. People frequently misunderstood his positions or didn't believe in them. When it came to the crunch, they could not bring themselves to place their trust in the man (sadly). Miliband just wasn't believed, whatever he promised and however popular that was.
There's a lesson here for the left: popular policies don't necessarily win you elections if the person offering them isn't believable. Unless he or she is seen as authentic and competent enough to follow them through, you can offer free owls to everyone and people will still reject you.
There's a lesson here for the Labour right too: elections aren't always won from the 'centre ground'. That era of triangulation is over. Obama won, twice, on quite a liberal platform, railing against inequality and the top 1%, because he was seen as competent and determined.
UPDATE: There are other inconvenient facts too. As Peter Oborne points out:
Their prescription is curious after a general election in which the three parties which rejected the centre ground — the SNP, UKIP and the Greens — made the biggest gains in the popular vote.

Meanwhile the party which made the greatest claim to the centre ground — the Liberal Democrats — was virtually annihilated.
But don't let the facts get in your way, Mr Blair.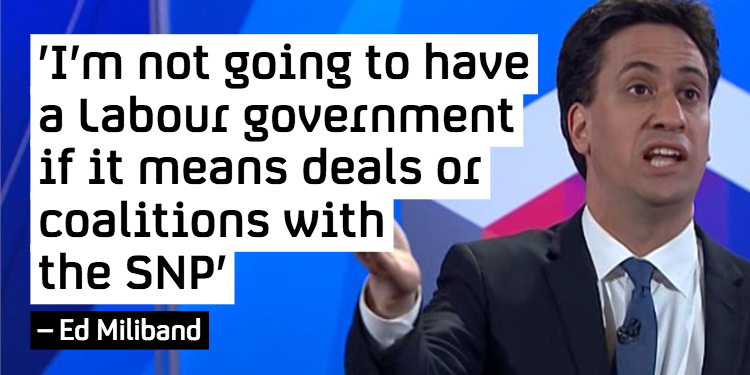 The Labour leadership have finally settled on a clear line on the SNP.
Assuming that Cameron cannot cobble together a majority on 8th May and has to resign, that gives Ed Miliband his turn at forming a government.
Miliband says he won't do a formal coalition with the SNP (Nicola Sturgeon ruled that out ages ago anyway), nor will there be an informal 'Confidence & Supply' agreement with them. Instead, Labour either do a deal with the Lib Dems to get a working majority, or they work as a minority government.
The Labour leadership are confident they can work as a minority government because the SNP and other minor left parties won't vote down their Queen's Speech and trigger a second election. In effect they are calling Nicola Sturgeon's bluff because she has already committed to voting down a Tory Queen's Speech.
So the Labour leadership are pleased because they think Sturgeon has little leverage. But can this strategy be sustained for long?
Firstly, this is from last night:
This is going to hurt in Scotland. Don't believe Miliband would reject votes from SNP to let Tories in; bad phrasing pic.twitter.com/angXsrs55r

— Sunny Hundal (@sunny_hundal) April 30, 2015
The SNP are predictably spinning it as: Ed Miliband would rather let the Tories back in than work with the SNP. That is wrong. There is no conceivable prospect of Miliband resigning his government than having SNP on his side.
Caroline Flint later clarified it:
What [Miliband] ruled out was this idea that, somehow, to have a Labour government we're prepared to do a coalition or some other kind of confidence and supply deal [with the SNP].

But, at the end of the day, whoever forms a government, parties will get a chance to vote for a Queen's speech, vote for budgets, and vote for policies, that's the same with any government.
In other words: Hey Nicola Sturgeon, you are still welcome to vote with us! Just don't expect a quid-pro-quo arrangement of any sort.
OK. So that was a misstep but this strategy is still sound, right?
I'm not so sure.
Keep one important point in mind: a large proportion of Scots don't view the SNP as negatively as the English do. In fact, a large proportion of them (many of whom are ex-Labour voters) think the SNP have their interests at heart more than Labour. This seems obvious but a lot of people seem to be ignoring this.
More importantly, Nicola Sturgeon isn't going to let herself be outmaneuvered by Miliband so easily.
Since Labour still needs a majority of MPs for votes on legislation, Sturgeon will just make his life harder by getting SNP MPs to abstain or complain over small things. That would put Miliband in a difficult position: either negotiate with the SNP (and have the Right savage him for it) or appeal to Tory MPs (thus alienating the left and giving an electoral boon to Sturgeon).
In Scotland, Sturgeon will keep arguing that Miliband would rather do a deal with the Tories than the SNP. In England, the Tories will argue that Labour are breaking their promise and doing deals with the SNP. Either way Miliband will be constantly attacked on all sides.
This isn't ideal. Miliband's administration could soon become paralysed.
For Miliband to argue in Scotland that he'd rather have Tory MPs vote with him than negotiate with SNP MPs would further alienate SNP voters (many of whom Labour need back). In effect he will be giving up on Scottish Labour without much gain in return.
By saying Labour rejects any deal with the SNP, I think Miliband is making a mistake. I don't think this strategy can be sustained.
Nick Clegg clearly wants another coalition with the Conservatives. And I'm fairly sure Cameron recognises the necessity of carrying on their tolerable relationship. And a lot of people in Westminster assume the two will be joined at the hip when negotiating post-election.
But I don't think it will be that straightforward.
Firstly, it won't be easy from the Conservative side. Theresa May and Boris Johnson want their shot at being leader of the party and neither have time to waste. Neither want to wait another five years either, when more of the recent crop of Tories will want their shot.
Tory leadership hopefuls could make the argument to colleagues that another coalition would undermine the Tory party and force them to break more promises. Besides, Cameron has shown himself incapable of winning elections outright, so why not get rid of him and get a proper leader who will win in 5 years time? – they will say.
Many Tories, who will not want the straightjacket of another coalition, will find that a seductive pitch and may reject another coalition.
Secondly, its not a done and dusted deal from the Lib Dem side either. For a start, Clegg has to get approval from his fellow MPs and party members, and that won't be as straightforward this time.
There will be far more hostility from Lib Dems this time, for good reasons. These are some points made to me by Steffan John (@steffanjohn) over Twitter. I'm quoting him directly without embedding tweets to make it look cleaner:
1) Maths for majority isn't there.
2) Even if a small majority was, no national interest in unstable government with 4yr leadership contest.
3) 2010 had financial crisis backdrop and 4) threat of swift re-election. Neither there this time, so less pressure on Lib Dems
5) 2010 had common ground on civil liberties, localisation, constitutional reform, environment, raising tax thresh. All gone.
6) Labour not hated as it was in 2010; Tories far more Right-wing now. LD won't support again, esp. as Lab-LD-(SNP) is possible
Steffan John is a Lib Dem and makes some good points.
And here is Vince Cable's former SpAd Giles Wilkes
So let the Tories, in minority, try to cut 12bn off welfare, 25bn off unprotected departments, w/o LibDems there to excuse it.

— Giles Wilkes (@Gilesyb) April 19, 2015
There is, I think, a real chance Lib Dems will reject a coalition with Cameron, especially if there are signs of hostility from Tory MPs (stirred up by May and Boris).
That clears the way for Miliband to be Prime Minister, with Lib Dems choosing to either work in a coalition or sit on the sidelines, while the Conservatives choose their next leader.
UKIP have unveiled this poster as a PR stunt for a by-election
UKIP stooping so low they're using the sex abuse of children as a PR stunt. Wow (via @dandoj) pic.twitter.com/Z1i9yLi19N

— Sunny Hundal (@sunny_hundal) October 25, 2014
.
The response by the usual UKIP-faithful has been that I should be more outraged about child sexual abuse than the poster.
1) I have been writing about on of this kind of child sexual abuse (by gangs, usually of predominantly Pakistani-heritage men) for over ten years. Sometimes even at the risk of helping the BNP. I wrote two angry articles about the Rotherham scandal too. So don't preach to me on what I should get angry about.
2) You can be very angry about child sex abuse without using it as a PR stunt to score political points. This is what UKIP are doing.
What's more striking is UKIP hypocrisy.
UKIP MEPs have abstained on the issue of sexual abuse and sexual exploitation of children at the EU when it came up for a vote (thanks Gail)
.
.
And don't say UKIP never turn up to vote at EU affairs, because they do.
They couldn't bother to vote on legislation on child abuse at EU, but they're now trying to score political points from it.
I've not waded that much into the debate on Scotland's future, partly because I've been focusing on ISIS and partly because its not my fight. I support the Union but its up to the people of Scotland to decide and they're unlikely to be persuaded by this random guy from London.
But I'm perplexed by the pro-independence position that some lefties have taken, particularly the Green party.
The Yes Scotland campaign say their economy is strong and can survive independence thanks to natural resources such as oil and gas. Its a key claim on their website and its true; oil and gas would be key to an independent Scotland's finances.
Revenue from oil and gas is also how an independent Scotland will pay its bill and stave off deep spending cuts. I'm not saying they're the only source of revenue but they're very key to Scotland's future. Without them there would be deep cuts. Independence would make Scotland even more dependent on that revenue.
As you can see from the chart above, revenue from fossil fuels easily dwarfs everything else combined.
Scotland wants to invest in renewable energy, but the money for investment will inevitably have to come from further investment and money raised through oil and gas.
AND YET – one of three key principles of the Green Party is to reduce "dependence on fossil fuels". Scottish Greens too say they want to reduce dependence on fossil fuels.
So why are the Green Party supporting an outcome that makes a nation even more dependent on exploiting its oil and gas resources?
Can someone explain this to me?
If the Greens are arguing that Independence will make Scotland less dependent on fossil fuels, I'd like to see the evidence and sums, since the YES campaign in Scotland isn't saying that at all.

A bizarre notion has taken hold of some of my fellow Labour commentators. Some of them believe that the Labour party is going to get around 40% at the next election and win by a landslide. They believe this is not only possible but within reach.
This is a fantasy. The results of the 2015 general election are going to be close. Too close for comfort, in fact.
There are simple reasons for this.
1) In 2010 Labour got only 29% of the vote – its second worst defeat ever. The party had become intellectually exhausted, hollowed out and tired. To change minds and add 11% to your vote within 5 years isn't just a Herculean task – it is unprecedented in British politics. It has never happened because people do not change minds so quickly.
2) The financial crash of 2008 happened under New Labour's watch. They were "intensely relaxed" about people getting super rich and let the bankers run wild by cutting regulation. Sure, the Tories urged them to be even more reckless but the electorate won't remember that; the fault always lies with the party in power. And people take a long time to forget that. It took the Conservatives 15 after the ERM crash of 1992 to match Labour on economic credibility.
3) It takes time to change people's minds and get them to trust you again. This is so obvious a point that it feels silly just to say it. This is especially true when New Labour leaders also lied about invading Iraq and started a war that cost tens of billions of pounds. Labour lost a lot of trust during those 13 years and it will take more than the image of David Cameron's face to bring them back.
Sure, you say, but wasn't Labour polling in the low 40s not long ago? Why isn't this possible?
Again, simple. Labour polled high at a time when discontent against the government was at its peak and the economy was in dire straits (2011 – 2012). The 'omnishambles' budget was fresh in people's minds and anger at the Lib Dems had driven most of their base to Labour.
But the economy has improved; UKIP and Greens have taken some Labour voters away. Some ex-Lib Dems have returned or decided Labour wasn't particularly liberal either. Momentum within the UKuncut, student and Occupy movements has petered out. Fatigue has set in.
As the economy improves more people will go back to the Tories regardless of what Labour does or say. That is how people respond in any country, including ours.
I think there are strong factors that help Labour. But the shift in public opinion needed to win a big majority is far too much for just five years. That's why it has never happened on this scale before.
This doesn't mean Labour should aim low. But getting 36% or so next year is a massive task in itself, and the idea that we are failing because we're not heading towards 40% is just fantasy.
LATEST NEWS
Media doesn't realise how right-wing Britons think Cameron is

35 Comments
48 Comments
21 Comments
49 Comments
4 Comments
14 Comments
27 Comments
16 Comments
34 Comments
65 Comments
36 Comments
17 Comments
1 Comment
19 Comments
46 Comments
53 Comments
64 Comments
28 Comments
12 Comments
5 Comments
NEWS ARTICLES ARCHIVE