Recent Religion Articles
The Church of England's General Synod rejection of female bishops is a sad thing. Rob is understandably cross.
I don't wholly disagree with him, but I think it's worth remembering that the Church of England:
was created by a woman (Henry VIII's Church rejected the authority of the Pope, but remained Catholic in doctrine; it was Elizabeth I who turned it into a solidly Protestant church after Mary I's attempt at Catholic, erm, revivalism);
is headed by a woman (Liz's namesake, defender of the faith);
had a massive "yes" vote to the ordination of female priests from both the House of Bishops (0% female, 94% 'yes') and the mixed-sex House of Clergy (29% female, 77% 'yes');
saw the vote defeated for failing to achieve a two-thirds majority in the mixed-sex, non-ordained House of Laity, made up of democratically elected representatives of churchgoers (46% female, 64% 'yes').
The all-male boys-club dinosaurs voted almost solely for equality, the still-male dominated clergy were overwhelmingly for equality, and the mixed-sex representatives of the Church's congregation (which is itself about 65% female) were the most bigoted of the lot.
In other words, if the Church wasn't so keen to give regular churchgoers a say, female bishops would totally be a thing already, and the massive blow to both PR and moral authority of voting for discredited Pauline nonsense wouldn't have happened.
Or to address Rob's specific point: the people who benefit from the Church being part of the state; the people who are part of the state in the sense that he means, are overwhelmingly in favour of the church meeting civilised, liberal egalitarian norms.
The Church is only inegalitarian in the only sense in which it is separated from the state: because the people who vote in House of Laity elections – people who make it to the Anglican church every week, you get the idea – are vastly more bigoted than its clergy, its bishopry, and the population at large.
Far better if it were governed by the democratic will of all the people who it represents (the majority of English people still identify as Church of England), or none at all.
I was going to add, I don't know why the female-dominated C of E congregation choose to elect representatives (both male and female) who hate women.
But on reflection, I'm pretty sure it's that, although many women whose views mirror those of Ann Widdecombe in rejecting the C of E's modest levels of inclusivity and egalitarianism have opted to join the Roman Catholic Church (which, obviously, has none of either), some have stayed with what they know. Sadly, yesterday's vote is likely to keep them on board for longer.
UPDATE: thanks to Colin in the comments below, and others on Twitter, for pointing out that I've misunderstood the House of Laity electoral system. I thought it was chosen by STV from an electorate of church congregations; it isn't. It's chosen by STV from an electorate of Lay Members of Deanery Synods; they are the ones who are elected by parishioners – so there's an extra step of busybody-with-too-much-time-on-their-hands between the congregation and the House of Laity.
The Church of England will maintain its prohibition on women bishops. This news signals the moment is ripe for disestablishmentarians to pounce.
The careless, irresponsible, short-sighted, tone-deaf, out-of-touch, shoot-yourself-in-the-foot, desecration-of-duty, cut-your-nose-off-to-spite-your-face, living-in-the-dark-ages, missing-the-wood-for-the-trees decision to promote misogyny would never be accepted in any public organisation, commercial company, or lay-charity.
Now is the time for disestablishmentarians to remind everyone that the Church of England is part of the State. The case must be made that an institution that endorses and promotes this kind of misogyny cannot continue to be an official part of the British state.
This simple and persuasive argument should be presented to politicians and the public for renewed discussion. It should routinely be included in any talk of constitutional reform.
The Church of England does not appear to take tax-payers' money, so formal disestablishment is revenue neutral. It would not entail the closure of any Churches. It would not hinder the practice of religion any more than it does for the many non-established Christian denominations or other faiths. But it would end state complicity in institutionalised sexism.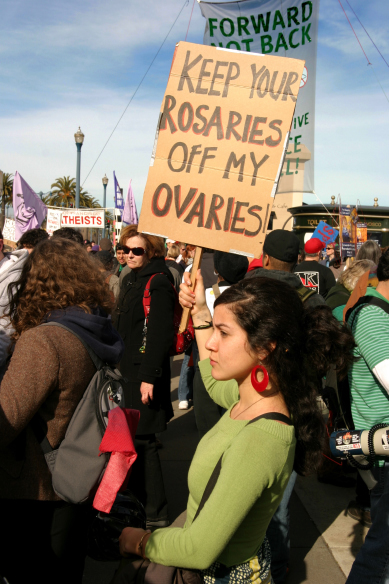 Feminist groups are organising pro-choice protests demanding a change in Irish abortion law following the death of Savita Halappanavar who died of septecimia after being denied an abortion that could have saved her life.
Although Doctors assessed that 17-week pregnant Savita was miscarrying, they were unable to remove the foetus for three days due to the presence of a heartbeat. Abortion is legal in Ireland if the mothers' life is at risk due ruling in 2010 from the European Court of Human Rights. However, the Irish Government has so far failed to implement any legislation to reflect the court's ruling.
The ordeal left Savita in agonising pain, and opened her cervix up to infection. When she and her husband begged doctors to terminate the pregnancy they were told "this is a Catholic country". Although Savita eventually had the foetus removed from her womb, it was too late and she died from infection a few days later.
The Pro-choice Campaign (Ireland) is organising a protest in Savita's name outside the Dail at 6pm this evening, demanding that the Government cease in delaying a change to the law. The group released a statement on their facebook page accusing the Irish government of being "content to kick the problem down the road or pretend it doesn't exist."
"We will no longer tolerate their delaying tactics. Women's lives are in danger until we have this legislation."
British feminists are also planning a protest in solidarity outside the Irish Embassy in London at 6pm.
contribution by Urmee Khan
At the risk of coming across all sentimental, the Olympics and Paralympics have made Britons feel fluffy as lint but the biggest winners of the sporting summer are undoubtedly we Muslims.
How we pine for Gaz Choudhry, the Pakistan-born wheelchair basketball player from Ealing, to be the next Mo Farah. Choudhry has played alongside Paralympians such as Ade Adepitan and he won Gold at the 2011 European Championships.
And it's not just Olympic sports.
continue reading… »
I can reveal that the Ministry of Defence (MOD) was, until recently, getting advice on its "religious engagement strategy" in Afghanistan from a man who believes Islam might "be the rod of God's anger".
Patrick Sookhdeo, a Visiting Professor at the UK's Defence Academy and former advisor to the Permanent Joint Headquarters, is still serving as a "cultural adviser" to the MOD.
He is also a regular speaker at churches and Christian organisations internationally.
continue reading… »
Sunday morning saw the subject of Islamophobia aired on Samira Ahmed's Sunday Morning Live, with Ann Leslie on duty to excuse the behaviour of the tabloid press in general, and the Daily Mail in particular, over its routinely slanted coverage of anything concerning Muslims.
Leslie was even made to look moderate by the occasional hearing given to a representative of the BNP.
Yet she was not put on the spot over the very obviously selective reporting whenever Islam is concerned: the Heywood grooming case is one such.
continue reading… »
contribution by Fiyaz Mughal OBE
A few months ago, a Somali woman in her mid-twenties was walking in south London when she had dog faeces placed on her head by a young white male. She only noticed it after she entered a local shop.
Anti-Muslim prejudice has been something that Muslim communities have talked about even before 9/11 and 7/7. Yet tangible data and support for victims has been lacking.
When some Muslims talked about Islamophobia or anti-Muslim prejudice, the response was that they 'had a chip on their shoulder' or worse still, 'were trying to gain sympathy to Islamicise Europe'.
continue reading… »
contribution by Jonny Scaramanga
A Christian fundamentalist qualification which teaches that the theory of evolution has "no scientific basis" has been declared comparable to A-levels by UK Naric.
NARIC is the UK's National Agency responsible for providing information and opinion on vocational, academic and professional qualifications from across the world.
The International Certificate of Christian Education (ICCE) uses a curriculum that was previously criticised for claiming the Loch Ness Monster "appears to be a plesiosaur," and that the mythical beast is evidence against evolution.
continue reading… »
contribution by Zahed Amanullah
Dutch politician Geert Wilders has long warned fellow Europeans about dangers posed by the continent's Muslim communities.
But these Europeans aren't yet able to pick up his latest book, Marked For Death: Islam's War Against the West and Me, published in America only (for now).
There are good reasons for that, none of which have to do with the validity of his message.
continue reading… »
contribution by Evan O'Quigley
All of Ireland stood and stared in confusion last month when a backbencher MP stated that 'fornication' was the main cause of unwanted pregnancies, as a defence against bringing in legislation that would allow for abortion under certain circumstances.
Michelle Mulherin, A TD (MP) for Fine Gael, the mainstream centre-right party, said: "abortion as murder, therefore sin … which is no more sinful than … greed, hate and fornication. The latter, being fornication I would say, is probably the single most likely cause of unwanted pregnancies in this country."
Most were shocked; having not seen or heard this kind of language since Ireland was ruled by Bishops in the Catholic Church.
continue reading… »
LATEST NEWS
Media doesn't realise how right-wing Britons think Cameron is

35 Comments
48 Comments
21 Comments
49 Comments
4 Comments
14 Comments
27 Comments
16 Comments
34 Comments
65 Comments
36 Comments
17 Comments
1 Comment
19 Comments
46 Comments
53 Comments
64 Comments
28 Comments
12 Comments
5 Comments
NEWS ARTICLES ARCHIVE