Recent Religion Articles
Given the debate in the House of Commons, I think it's well worth reflecting on exactly where opposition to equal marriage is coming from and, particularly, how that opposition is being organised.
As far as public opinion is concerned, YouGov President Peter Kellner laid out the actual position with admirable clarity yesterday:
The passions of grass-roots Tories who are bitterly opposed to same-sex marriage are not shared by the wider electorate. Most voters back a change in the law – and very few opponents are willing to switch their votes because of this issue.
…
So, among the public as a whole, 4% are pro-same-sex marriage AND say this is a vote-deciding issue, while 3% are in the opposite camp. Among those who voted Conservative in 2010, just 6% say this is a vote-deciding issue, and they divide 3-1 against same-sex marriage. So even there, the net effect is tiny.
So, not only do a majority of the public support marriage equality but its also anything but the political hot potato that its (mostly) Tory opponents are trying to make out.
However, one issue not many pick up on is the parallel problem of 'organisational capture', i.e. what us lefties used to refer to as 'entryism'.
In simple terms, it is not simply a matter of the decline in the mass membership of political parties, and other organisations, leaving them increasingly at the mercy of their residual 'swivel-eyed' activist rump. It also leaves them in a position where, starting at the grassroots level, they become increasingly susceptible to capture by organised minority interest groups intent on using the party/organisation as a vehicle to push their own narrow agenda.
Although this is problem that is, historically, most closely associated with the political left, and in the UK particular with the takeover of the Labour Party Young Socialists and Liverpool City Council by Militant, it is an issue that is increasingly coming to bedevil conservative politics, particularly in the United States. For example, one of the more alarming and poignant stories to emerge from the 2010 US election was that of Bob Inglis, a former Republican member of the US House of Representatives who was deselected in 2010 after losing a primary to Tea Party-backed candidate.
You might think this can safely be filed away under 'only in America', but don't be so sure.
Take a good hard look at the following chart which I've put together in an attempt to map the many connections that already exist between our own right-wing Christian lobby and both their US counterparts and, more importantly, with a wide range of British conservative political organisations and politicians.
The map, which is far from complete, shows the extent to which our own religious lobby has already forged connections and assumed positions of influence throughout the right-wing/conservative movement in Britain.
It also shows the extent to which political opposition to measures such as equal marriage and legal access to safe abortion services originates with and is tied into a very narrow range of closely connected religious groups.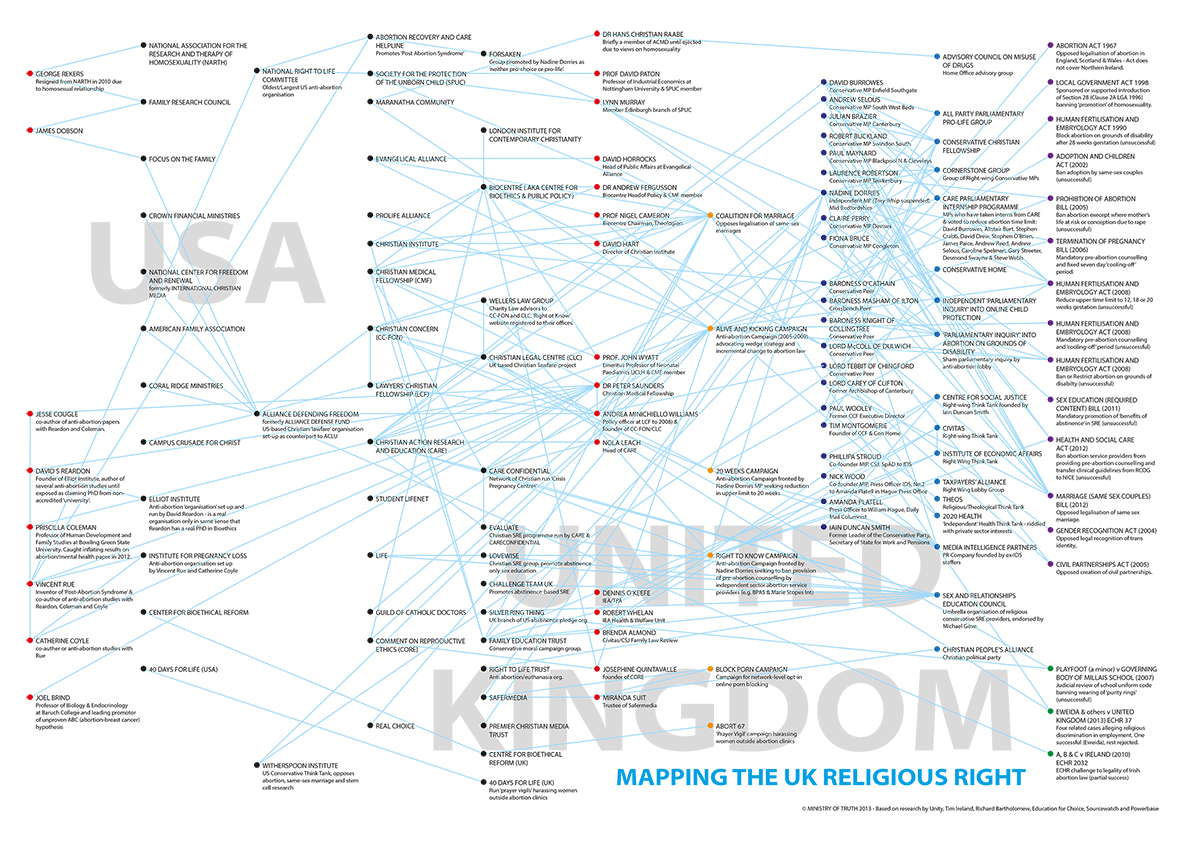 (download as a print quality PDF, 1mb)
If you think that the religious right in Britain is no more than a bunch of fringe evangelical groups with few connections and very little political influence, this chart may well persuade you to think again.
—
A longer version of this post is here.
Earlier this week the Jewish Chronicle Editor Stephen Pollard appeared on the Today Programme to criticise the publication of the cartoon in the Sunday Times.
To be clear, I accept that many Jews found the Sunday Times cartoon offensive even if some pointed out it couldn't be anti-semitic.
But what annoys me are the double-standards.
Here is what Stephen Pollard said on the Today programme:
Oh yes, you have to separate out the difference between the right to publish something, whether there's a right to be offensive, and whether that means you always have to be offensive, and I don't think you do.

I think this is an absolute model of how you deal with such a situation. Clearly, there was a mistake made. We're all human – cartoonists are human, journalists are human, editors are human… The mistake was printing the cartoon. Whether it was Gerald Scarfe's in drawing it. Whether it was the Sunday Times in printing it. Whatever. It was a mistake.
Clearly he thinks that if some people find such cartoons offensive they shouldn't be published. He even said the date was immaterial – it shouldn't have been published at all.
But here is what Stephen Pollard said a few years ago during the Danish cartoons controversy (via @Busty1956):
But they are certainly offensive to a large number of Muslims, as this week's turmoil shows. But so what? Rather more offensive, one might think, than some mocking cartoons is some Muslims' desire to murder me as a Jew.

Indeed, in some ways the cartoons were designed as a deliberate challenge. A biographer of Mohammed had lamented the fact that artists were too intimidated to illustrate his book, and the newspaper called for cartoonists who would be willing to have their pictures published. Offensive and unfunny though they might be, they none the less raise legitimate points about the beliefs and behaviour of some Muslims. Is there, for instance, any non-Muslim who does not find the notion of the 76 virgins who await suicide bombers to be both horrifying and amusing?

If free speech means anything, it surely includes the ability to question, and to mock, the belief that Mohammed rewards jihadists, just as it must also include the freedom to stage Jerry Springer – The Opera and the play Dishonour at the Birmingham Rep, against which Sikhs protested last year.
When Muslims find something offensive, Stephen Pollard thinks they raise "legitimate points" about Muslim beliefs. So what if they find it offensive? he asks, it is about free speech right?
But the last paragraph clinches it:
Such is the nature of the fight to defend Western values – half-hearted and supine. The right of a newspaper to publish unfunny cartoons about Mohammed, Jesus or any other religious figure is not a distraction in the defence of freedom from terror. It goes to the very heart of what must be defended.
Ahhh, I get it.
When we are publishing offensive cartoons about Muslims then we are defending Western values, but when we are publishing "grotesque" cartoons about certain Jewish politicians, then a line has been crossed.
The hypocrisy is simply breath-taking.
This letter sent to ThisisLeicestershire.co.uk was brought to our attention by a reader.
It's a nice read and worth highlighting, we thought.
(An open letter to the community of the Masjid Umar mosque in Evington Road, Leicester).

I want to thank your community for the most amazing selfless act that happened on Friday night – it has truly moved me and has changed my attitude and I am feeling very humble today. Let me explain why.

Along with most of Leicester, I was crawling home at a snail's pace and was facing the long hill of Evington Road. What I saw in front of me was truly wonderful.

There were many Muslim men, wrapped up and facing icy winds and freezing temperatures, stopping the traffic to guide cars out of side roads, to make sure the traffic flowed and pushing the more modern computerised cars up the hill.

They were putting themselves in front of heavy vehicles that could have slid and crushed them – still they carried on.

I knew my old car would make it – no computer to tell it not to.

I chugged up the hill, but also saw your men pushing the less able and the whole event really opened both my eyes and my heart.

It didn't matter who was in these cars – black, white, any creed and any colour, all were assisted, without any prejudice.

At 52, I have grown up with prejudice in my heart.

My cousin was blown up in a market in Afghanistan, serving his Queen and country, so my prejudice was strengthened even further.

A bit of snow and community spirit has changed my outlook on many things. I thank you from the bottom of my heart.

Annie Ward-Pearson, Leicester.
This is how you change hearts and minds.
A growing number of East London citizens are being harassed by a (likely very small) group of religious fanatics calling themselves 'The Muslim Patrol'.
The men video themselves confronting people on the streets and ask them to throw away alcohol or tell women to cover up. In one video (below) they harass and abuse a man by calling him a "bloody fag" and tell him to leave from what they say is a 'Muslim area'.
The disgusting tactics are straight out of the play-book of the now banned group al-Muhajiroun, who also occasionally surface as 'Muslims Against Crusaders' and have been known to burn poppies on Remembrance Day, hold pickets against British soldiers returning from abroad and demonstrate in front of the US embassy.
The group is also shunned from almost all British Mosques.
East London Mosque released a statement last week condemning the men:
Individuals claiming to be self-styled 'Muslim patrols' have been harassing members of the public on the streets of east London late at night, including outside our mosque after it has closed. They have anonymously uploaded their exploits to the internet.

These actions are utterly unacceptable and clearly designed to stoke tensions and sow discord. We wholly condemn them. The East London Mosque is committed to building co-operation and harmony between all communities in this borough. The actions of this tiny minority have no place in our faith nor on our streets.
The Mosque says they've also got in touch with the police to report incidents.
For many activists the videos are reminiscent of a campaign last year by a group of men (very likely the same) who kept putting up homophobic stickers around East London. That campaign came to an abrupt end when 18 year old youth was arrested and found guilty.
Videos uploaded by the 'Muslim Patrol'
.
(via @PatrickStrud, @bobchurchill and Tower Hamlets Watch)
UPDATE: Thanks to @bashaa, a local imam from East London Mosque gave a sermon specifically criticising and addressing these incidents.
[The story was first broken by The Commentator, and then the East London Advertiser.]
Following the tragic death last week of the digital activist Aaron Swartz, here's an interesting post by a US theologian and priest, A K M Adam:
when a force of digital nature (as it were) falls silent, stills, stops, one might anticipate at least a murmur of theological deliberation about what's at stake, how we cane to this pass, how churches might take a deep breath and rethink their relation to copyright and the commons, to digital technology and the increasing centralisation of digital power
We found out yesterday that the government's law on same-sex marriage will not apply to the Church of England. It will continue to be illegal for these churches to marry same-sex couples.
But how long will this remain illegal? Why should CoE churches who want to offer same-sex marriage services not be allowed to?
So the question is: will the Labour party commit to changing this exemption once in power?
In his endorsement of SSM, Ed Miliband earlier said:
We will be pushing the government to get on with the process for legislating for equal marriage, and we'll also be saying to them, where faith groups want to provide that opportunity for gay couples as well as straight couples, they should be able to do so.
Yesterday evening Labour's Shadow Home Secretary & Minister for Women & Equalities, Yvette Cooper MP, sent out a more pointed statement:
Why is the Government now rowing backwards on equal marriage? Having said that churches would be able to hold same sex marriages if they wanted to, they now say it will be illegal for the Church of England to do so even if it wants to in future. How can that be freedom of religion?

The Government is right to say that no church should be required to hold same sex marriages. But freedom of religion goes both ways. Churches that want to show they treat all loving couples equally should be able to do so.

Although the Church of England has said it does not support same sex marriage right now I hope it will change its position in time. But Parliament should not make it harder for them to do so by ruling that out.
This seems to me quite pointed opposition from Labour to the Church of England's special exemption.
Indeed, the Archbishop of Wales has condemned the government's plan to explicitly ban the Church in Wales from performing gay marriages.
Would Labour commit to over-turning this ban?
It's encouraging to see that a group of Tories have formed a campaign group in support of gay marriage. Let us hope it hastens the day when the Government put the necessary legislation in place.
At the end of 2012, I assume the Liberal Conspiracy website is not best place to make arguments for gay marriage. There is a sense of preaching to the converted. Far better that the core case is made on places like Conservative Home.
But Christmas is coming, which is the perfect opportunity for us all to debate the issue with relatives or friends who may not yet be persuaded.
Over the turkey, then, you may hear a version of the tiresome talking point trotted out by Peter Bone MP over the weekend: Marriage has been defined as "between one man and one woman" for hundreds of years.
This really seems to be all the opponents of gay marriage have left – a feeble call-back to historical precedent and utterly discredited religious authority. They fail to follow up with a persuasive "and this is a good thing because…" Any arguments for why exclusively heterosexual marriage might better than extending the marriage 'franchise' fail in the 21st Century (for example, no-one these days seriously suggests that marriage is primarily about procreation).
Second, many people try to hide behind religious reasons for their opposition. "It is Adam & Eve, not Adam & Steve!" Yawn. To that soundbite, it is worth pointing out that in the Garden of Eden story, the very first thing that God says about His creation, is that man should not be alone (Gen. 2-18).
By contrast, the position of the Christian churches currently requires gay people to be alone. It is a pro-loneliness, anti-Genesis position.
The prefixes "pro" and "anti" remind me of the ongoing political arguments over abortion, where the battle is over language as well as facts and values. The campaign for gay marriage needs to be similarly mindful of language.
For example, the Coalition for Marriage uses the language of preservation, where in fact their policies suppress the possible number of people who can get married.
The opposition to gay marriage is anti-marriage and anti-family, and should be framed as such.
The Church of England's General Synod rejection of female bishops is a sad thing. Rob is understandably cross.
I don't wholly disagree with him, but I think it's worth remembering that the Church of England:
was created by a woman (Henry VIII's Church rejected the authority of the Pope, but remained Catholic in doctrine; it was Elizabeth I who turned it into a solidly Protestant church after Mary I's attempt at Catholic, erm, revivalism);
is headed by a woman (Liz's namesake, defender of the faith);
had a massive "yes" vote to the ordination of female priests from both the House of Bishops (0% female, 94% 'yes') and the mixed-sex House of Clergy (29% female, 77% 'yes');
saw the vote defeated for failing to achieve a two-thirds majority in the mixed-sex, non-ordained House of Laity, made up of democratically elected representatives of churchgoers (46% female, 64% 'yes').
The all-male boys-club dinosaurs voted almost solely for equality, the still-male dominated clergy were overwhelmingly for equality, and the mixed-sex representatives of the Church's congregation (which is itself about 65% female) were the most bigoted of the lot.
In other words, if the Church wasn't so keen to give regular churchgoers a say, female bishops would totally be a thing already, and the massive blow to both PR and moral authority of voting for discredited Pauline nonsense wouldn't have happened.
Or to address Rob's specific point: the people who benefit from the Church being part of the state; the people who are part of the state in the sense that he means, are overwhelmingly in favour of the church meeting civilised, liberal egalitarian norms.
The Church is only inegalitarian in the only sense in which it is separated from the state: because the people who vote in House of Laity elections – people who make it to the Anglican church every week, you get the idea – are vastly more bigoted than its clergy, its bishopry, and the population at large.
Far better if it were governed by the democratic will of all the people who it represents (the majority of English people still identify as Church of England), or none at all.
I was going to add, I don't know why the female-dominated C of E congregation choose to elect representatives (both male and female) who hate women.
But on reflection, I'm pretty sure it's that, although many women whose views mirror those of Ann Widdecombe in rejecting the C of E's modest levels of inclusivity and egalitarianism have opted to join the Roman Catholic Church (which, obviously, has none of either), some have stayed with what they know. Sadly, yesterday's vote is likely to keep them on board for longer.
UPDATE: thanks to Colin in the comments below, and others on Twitter, for pointing out that I've misunderstood the House of Laity electoral system. I thought it was chosen by STV from an electorate of church congregations; it isn't. It's chosen by STV from an electorate of Lay Members of Deanery Synods; they are the ones who are elected by parishioners – so there's an extra step of busybody-with-too-much-time-on-their-hands between the congregation and the House of Laity.
The Church of England will maintain its prohibition on women bishops. This news signals the moment is ripe for disestablishmentarians to pounce.
The careless, irresponsible, short-sighted, tone-deaf, out-of-touch, shoot-yourself-in-the-foot, desecration-of-duty, cut-your-nose-off-to-spite-your-face, living-in-the-dark-ages, missing-the-wood-for-the-trees decision to promote misogyny would never be accepted in any public organisation, commercial company, or lay-charity.
Now is the time for disestablishmentarians to remind everyone that the Church of England is part of the State. The case must be made that an institution that endorses and promotes this kind of misogyny cannot continue to be an official part of the British state.
This simple and persuasive argument should be presented to politicians and the public for renewed discussion. It should routinely be included in any talk of constitutional reform.
The Church of England does not appear to take tax-payers' money, so formal disestablishment is revenue neutral. It would not entail the closure of any Churches. It would not hinder the practice of religion any more than it does for the many non-established Christian denominations or other faiths. But it would end state complicity in institutionalised sexism.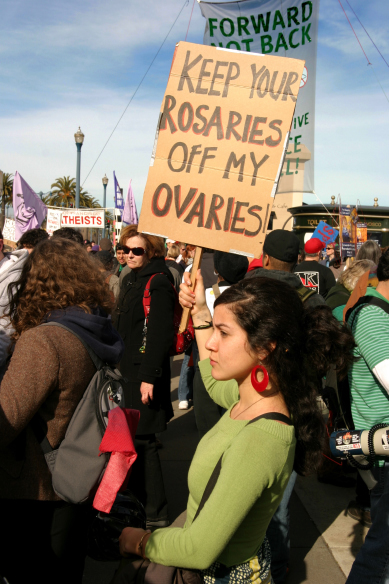 Feminist groups are organising pro-choice protests demanding a change in Irish abortion law following the death of Savita Halappanavar who died of septecimia after being denied an abortion that could have saved her life.
Although Doctors assessed that 17-week pregnant Savita was miscarrying, they were unable to remove the foetus for three days due to the presence of a heartbeat. Abortion is legal in Ireland if the mothers' life is at risk due ruling in 2010 from the European Court of Human Rights. However, the Irish Government has so far failed to implement any legislation to reflect the court's ruling.
The ordeal left Savita in agonising pain, and opened her cervix up to infection. When she and her husband begged doctors to terminate the pregnancy they were told "this is a Catholic country". Although Savita eventually had the foetus removed from her womb, it was too late and she died from infection a few days later.
The Pro-choice Campaign (Ireland) is organising a protest in Savita's name outside the Dail at 6pm this evening, demanding that the Government cease in delaying a change to the law. The group released a statement on their facebook page accusing the Irish government of being "content to kick the problem down the road or pretend it doesn't exist."
"We will no longer tolerate their delaying tactics. Women's lives are in danger until we have this legislation."
British feminists are also planning a protest in solidarity outside the Irish Embassy in London at 6pm.
LATEST NEWS
MP preaches gay equality to Ugandans, votes against it here

9 Comments
2 Comments
12 Comments
12 Comments
29 Comments
9 Comments
7 Comments
48 Comments
25 Comments
57 Comments
12 Comments
48 Comments
15 Comments
24 Comments
51 Comments
14 Comments
5 Comments
29 Comments
13 Comments
41 Comments
NEWS ARTICLES ARCHIVE