Recent Blog Articles
Firstly, I'd like to thank Sunny, for saying that the campaign for Labour to support an EU referendum is "cool".
He's right; out of all the groups calling for the Labour Party to support a policy launched this week, Labour for a Referendum is the most in vogue.
However, on the main crux of his article, that our campaign is "Dead on Arrival", we would have to, somewhat controversially, disagree.
Sunny outlines three main points for his argument. I will try and rebut each of these points as thoroughly, fairly and, crucially, quickly as possible.
1) Supporting a referendum would make Eurosceptic Tory backbenchers more demanding.
I don't see this as being Ed Miliband's problem. If Labour supported a referendum one suspects that Tory MPs would attempt to push their own leader into a more hardline position rather than ours.
Sure, Tory backbenchers might become more demanding, but that would only lead them to more internal bickering, rather than dividing our party?
2) You shouldn't get involved when your opponents are infighting.
The idea that we should adopt a grab-the-popcorn approach to opposition and let the victory come to us seems flawed. While it makes perfect sense not to rush into policy commitments so far before the election, when we see the Tories in disarray we should capitalise on it as best we can.
Milk that subject for all it's worth. Grab it and run. Put a spanner in the works. Use whatever metaphor you want, but sitting back and relaxing is easy, but it is no path to a Labour majority.
3) Labour's line is settled, we can't go back on it now.
We're not expecting to change Labour's policy by the end of the week. That's not the plan. What we want is for a commitment to an EU referendum to be in our 2015 manifesto. We think it's the right thing to do, we think it's popular and we think it will help get Ed Miliband in 10 Downing Street.
But we're happy to play the long game. 2017 is indeed "far, far away", although it is likely/definitely going to be half as far away when we go into the next election. Everything Miliband has said about it so far has been couched in language that suggests that this is a policy liable to change if circumstances do.
Our job, as Labour for a Referendum, is to make sure that the pressure is kept on, and that Miliband knows just how helpful a pledge could be.
Finally, I can only apologise that Labour for a Referendum did not exist a year ago. Circumstances changed.
—
Dominic Moffitt is Campaign Director for Labour for a Referendum
I was running my own campaign calling for Labour to offer an EU Referendum before it became cool. But now, given all the renewed focus on this question, a group of Labour folks have set up a Labour for a referendum campaign.
Unfortunately, it is Dead on Arrival. Finished. The chances succeeding now are very near zero.
And there are very simple reasons for this.
1) Mad Euro-sceptic Tories have shown that once you feed the beast it only grows and gets more demanding. So Ed Miliband will not want to feed it at all.
2) When your opponents are in chaos and fighting against each other, why wade in too? It is much better for Ed Miliband to let the Tories carry on making a fool out of themselves. It's not like the EU Referendum is going to come at an earlier date just because Tory backbenchers want it so.
3) The Labour leadership have settled on a position now: committing to a referendum now would only lead to more uncertainty over the UK's relationship with Europe, given 2017 is so far away. It makes no sense to junk that position at now.
I was told by a senior shadow cabinet member, over a year ago, that at one point all three parties were negotiating a joint position on offering an EU Referendum. At that point I was optimistic that it would be in Labour's next manifesto or materialise as a commitment even earlier.
But for some reason the negotiations broke down and the three parties could not agree on jointly offering an EU Referendum. And so everyone went their separate ways.
A more coordinated campaign to get Labour to agree to a referendum should have been launched over a year ago. At this stage, mostly thanks to the antics of the Tory right, there is no chance the Labour leadership will entertain the idea now.
You would normally expect an MP who has only just had their party whip reinstated after a six month suspension to lie low for a while but not Nadine Dorries. She wants an alliance with UKIP.
But thy is Dorries even talking about the possibility of running on a joint Tory/UKIP ticket?
Well, the answer almost certainly lies in this recent YouGov poll:
New YouGov research conducted just before her party membership was reinstated reveals that 43% of Tories would have supported the party's decision to reinstate her, while 45% think she should not be allowed to rejoin the party.
That's right, more Tory voters would rather have seen Dorries left out in the cold than were happy to see her readmitted to the party and the figures amongst UKIP voters are not that much better:
The poll also suggests many UKIP voters may be relieved the Conservative Party took Dorries back. 35% of UKIP supporters think their party would be less credible if Nadine Dorries were to join it, compared to only 7% who think it would be more credible.
Oh dear…
Even allowing for UKIP recent performance in the local elections and expectations that it will perform extremely well in next year's European elections, one would not normally expect to see a self-styled Eurosceptic MP in a historically very safe Tory seat sweating over the possibility of UKIP running a candidate against them at the next general election.
If nothing else, the majority of incumbent Tory Eurosceptics have a personal vote and a track record to call upon that means that's unlikely that they local electorate will seek to punish them for what they perceive to be Cameron's follies but Dorries is not in anything like that position thanks to her own past conduct – and I'm not just talking here about her skipping out her constituents for more than three weeks to appear on "I'm a Celebrity…".
There's also the little matter of her using her personal 'blog' to mislead her own constituents as to the actual location of her main home, while claiming for her constituency home on expenses, her habitual use of her own parliamentary office as a job creation scheme for her own daughter and, of course, the ongoing investigation by IPSA into expenses claimed since the last general election for the rental of flat in Pimlico that, as I revealed last week, she used overnight for a total of just 25 nights in the whole of 2012 while, at the same time, claiming just over £4,000 to cover the costs of make a daily commute to Westminster from her constituency home, and back, eighty-six times.
The full figures are, I think, well worth repeating: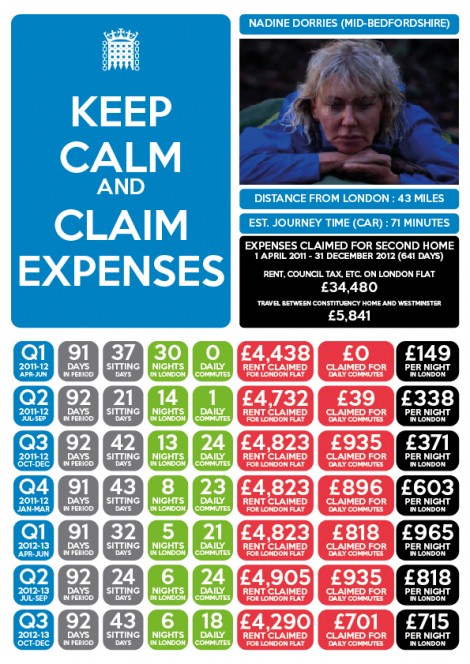 It doesn't take a genius to figure out, based on YouGov's polling and her own track record, why Dorries is talking up the idea of trying run on an joint Tory/UKIP ticket.
It's not that she fears that a UKIP candidate in her constituency will be able to exploit Tory divisions over Europe but rather that by running on anti-politics ticket, UKIP may very well be in a position to exploit her own personal unpopularity amongst her Tory voters and her dubious track record on expenses to, at the very least, take a sizeable chunk out of her majority, if not pose a serious threat of unseating her.
This is not about confusion amongst members of her own constituency association, it's purely about trying to keep UKIP out of her constituency in the interests of self-preservation and not losing her main taxpayer-funded meal ticket.
She is, as Margaret Thatcher might have put it, 'Frit'.
What function do, or should, left-wing parties serve? I ask this old question because of a paper which Jon has drawn my attention to.
Peter Taylor-Gooby points out that, as inequality has risen, attitudes towards the poor and benefit recipients have hardened. He suggests several longer-term reasons for this, among them the decline of class alignment and rise of individualism. I'd add three other factors:
- A mistaken factual base. The public under-estimate bosses' pay and over-estimate welfare benefits.
- Recessions usually make people more mean-spirited.
- Capitalism generates cognitive biases (ideologies) that result in hostility to welfare recipients.
As Taylor-Goody says, it doesn't need to be this way: "Alternative approaches that emphasise reciprocity, solidarity and inclusion are possible."
This poses the question: how do we get to such approaches from where we are? One possibility is to look to a leftist party to argue for them. But there are good reasons to expect the Labour party not to do this. Just as companies' marketing strategies rarely work by telling potential customers they are stupid, so political campaigns rarely do so. This is why Labour panders to some of the worst aspects of public opinion, on immigration or welfare, rather than outrightly opposes it. The Labour party is a managerialist marketing strategy, not a force for truth and justice.
But if Labour is not an agency for radical change, what is? Sure, there are a few bloggers and columnists who are trying to shift the Overton window, but these tend to preach to smallish groups of the already-converted.
This, of course, is not to deny that social attitudes can change. For example, during my lifetime, attitudes to gays has improved considerably. But I fear that this progress has been like Max Planck's view of scientific advance – it has happened one funeral at a time.
And herein lies a paradox of the left. Whilst we have spent decades advocating social change, we have remarkably few answers to the question: through what mechanisms, exactly, can it be achieved?
The Oxford gang of men who abused, raped and exploited young girls were finally convicted today, and the issue of race has raised its head again.
Reading through the details of what the girls were subjected to is enough to make anyone physically sick, and feel angry at how this was allowed to happen for so long.
Anger also makes people want to reach for easy answers so they can deal with it.
I'm aware that the far-right are trying to exploit these cases for politician gain. But I think the focus should always be on doing what is right and highlighting injustices, even if it raises some uncomfortable issues that can be exploited by extremists. In other words, the presence of the far-right should not lead us to blunt our criticisms or arguments.
To what extent is race a relevant factor in the exploitation?
Let's look at some evidence first.
After the Rochdale case, the children's commissioner in England conducted an inquiry into what could be learnt from the case. They published a short briefing paper and later an interim report. The Foreword said:
The vast majority of the perpetrators of this terrible crime are male. They range in age from as young as fourteen to old men. They come from all ethnic groups and so do their victims – contrary to what some may wish to believe. The failure of agencies to recognise this means that too many child victims are not getting the protection and support they so desperately need.
Moreover, of the backgrounds of the victims who gave evidence to the inquiry, 42% were white British and 28% were ethnic minorities. I'm assuming the remaining were mixed or unknown backgrounds.
During the Rochdale case the Judge said: "You preyed on girls because they were not part of your community or religion" — this is repeatedly cited by some people. But it's also untrue. As was revealed after the ring-leader in the Rochdale case also 'repeatedly raped an Asian girl over many years.'
My point is not that race is irrelevant – but that it's not relevant to why the girls were targeted.
In some of the cases of gang-related child grooming and rape, the men were primarily of Pakistani backgrounds. I suspect this is simply because they congregated together for work and to commit crime. There are other similar cases where the gangs of men have been exclusively white.
To my mind, the key question is: did they target white girls because of their skin colour and because they hated white girls, or simply because they found it easier to groom white girls? The fact that there are instances of black and Asian girls also being raped implies that in the Oxford (and other similar cases) – the men simply found it easier to prey on young white girls.
Of course, in the Oxford case the men may have deliberately targeted young white girls – I can't read their minds. But generalising that Asian men are pre-disposed to targeting white girls make no sense given the evidence. Furthermore, these generalisations make no sense since the Jimmy Savile revelations and other cases where not only did rape and abuse take place, but many more people were involved in the cover-up.
But we can make one generalisation with some certainty: too many men still find it acceptable to exploit, groom and rape young girls without much regret. Rape culture remains a serious and widely prevalent problem and we need to do more to help and listen to the victims, rather than using them to score political points.
The past two weeks have provided some good and some bad news on the UK economy. On the one hand GDP data for Q1 2013 was better than expected.
Whilst on the other GDP per capita figures suggested that the hole we are currently in is much bigger than previously thought.
GDP per capita measures economic output per person. In many ways this is the most sensible way to measure growth over the medium term and the best way to compare growth across nations.
As the IMF mission arrives in the UK to assess our economic performance, the TUC have used IMF data to look at GDP per capita over the advanced economies.
As can be seen in the table below the UK's performance is abysmal.
Over the decade 2008 to 2017 the UK will experience, according to the most recent IMF forecasts, GDP per capita growth of 0.0%.
In real terms GDP per capita was £23,777.32p in 2008; by 2017 it will have reached just £23,768.25p. In terms of growth per head the UK is set to have its own 'lost decade'.
The data really tells us three things.
First that the UK experienced an especially severe recession in 2008/09, second that the recovery has been historically weak and drawn out and thirdly that in terms of the 'global race' that the government is so keen to talk about, we are doing especially badly. Amongst the G7 only Italy is expected to underperform the UK.
If there is a global race, then we are certainly losing.
The Resolution Foundation has calculated that median real wages are set to be well below 2008 levels in 2017. In fact real median wages are set to be below 1999 levels as late as 2017.
We face a lost decade of growth and two lost decades of living standards, we are losing the global race, deficit reduction is widely off track and yet the Chancellor still refuses to change course.
—
A longer version is at Touchstone blog
The Alan Turing Statutory Pardon Bill has been published on the Houses of Parliament website.
Turing was a mathematician and philosopher who cracked the Nazi Enigma code and invented electronic computing. He was also a homosexual, and was convicted of "Gross indecency between men" in 1952. As a result he lost his security clearance, was subjected to chemical castration, and committed suicide when he was only 42.
This statutory pardon seeks to atone for the Government's appalling treatment of a national hero.
Nevertheless, the idea of such a narrow pardon worries me a little.
The implication seems to be that Turing gets a pardon because he achieved so much. But that should not be how the law and justice works.
"Dear Alan, sorry we fucked you over. And thx for helping us win war and create computing. Yours, the Guv" services.parliament.uk/bills/2013-14/…
— David E (@Eastmad) May 10, 2013
What about all those under-achievers and ordinary men who were convicted under the same illiberal and unjust law? Why do they not get a pardon too?
Having strenuously protested his innocence just three months ago, veteran BBC broadcaster Stuart Hall last week admitted he sexually abused girls – one of whom was as young as nine.
The Hall case shows more than ever just how vital it is that we continue to name men accused of rape and sexual assault. Because it is this naming that can give survivors and victims the confidence to come forward.
In Hall's case, the police and CPS have been vocal in their argument for naming defendants. They have explained how naming Hall helped lead to his guilty admission. As survivors recognised that they were not alone, that he had attacked others, the police were able to gather the evidence they needed to charge and eventually prosecute.
We see the same pattern over and over again. Serial rapist John Worboys is a key example in how naming a defendant helped lead to his conviction. After he was named, it became impossible for the police to ignore the weight, the sheer amount, of women coming forward to name him as their rapist. Naming leads to evidence which helps lead to convictions.
Some argue that if we name the accused we should name the alleged victim. But why? Naming the victim isn't going to help lead to convictions, it's not going to help secure justice for rape survivors.
People cry 'false accusations' but if a woman is charged with that specific crime, then of course she will be named as she will be a defendant herself. The case of Ched Evans shows what can happen when you name the survivor. His victim was victimised all over again when she was subjected to horrific abuse to the point that she had to change her name and flee her home. How can we have ended up in a situation where some treat rapists with more sympathy and respect than their victims?
When criticising the policy of naming defendants, I think people confuse two different issues. The first is the legal issue and the indisputable, mounting, continuing evidence that naming helps convict rapists. The second is media behaviour.
The fact that the media convict people in their pages and often seem to tread a very narrow line between reporting and contempt of court is not a reason to end the policy of naming defendants. It is too important a policy, too important in bringing justice to victims and survivors, to be dropped because the press behave intrusively.
Press behaviour is an issue for the press. If they harass and taunt and wrongly convict men in their pages then that is not the fault of a sensible law that helps bring justice to rape victims. Bad behaviour in some sections of the media is not a reason to deny women and girls up and down the UK justice.
—
A longer version of this blog-post is here.
Ever since the disaster at the Rana Plaza textile factory in Dhaka, Bangladesh, some commentators have been trying to guilt-trip cash-strapped western consumers for the terrible conditions of workers in Bangladesh's Ready-Made Garment (RMG) sector, where wages are as low as £27 a month.
We've been told that our insatiable desire for cheap clothing is what keeps wages down, and working conditions so poor that factory fires are endemic and corners cut so badly that buildings collapse, as Rana Plaza did.
But we think cash-strapped consumers aren't the problem, and the TUC have researched and published a quick graphic to explain:
The suggestion that consumers are to blame struck us as a bit too convenient. So we asked the textile unions in Bangladesh how much their members were paid to make a t-shirt.
Believe it or not, there's actually a term for how long it takes a textile worker to run up a basic t-shirt: the 'Standard Minute Value' or SMV. And the time it takes is 10.565 minutes. That's a rough estimate, presumably!
Textile workers usually work over 200 hours a month, producing nearly six t-shirts every hour. So the princely wage they receive for each t-shirt is roughly 2p. We've found costs in high street shops ranging from £2 to £10, with the archetypal t-shirt mentioned in several reports costing £6.
So the price you're charged for a t-shirt has nothing to do with the wages of the textile workers who made it. To double their wages would increase the production cost of a basic high-street t-shirt by 2p.
That all suggests that someone's trying to pull the wool over our eyes about who's really responsible for the low wages and poor health and safety standards in Dhaka's RMG sector, and it's the global brands and manufacturers who set the prices.
Bizarrely, some of them have insisted that they have no control over wages, hours of work, factory safety and the like. But they can determine the time it takes to manufacture a t-shirt down to three decimal places and determine what the stitching on the hems looks like! Pull the other one!
We're supporting the global union for textile workers, IndustriALL, who are demanding that global brands, retailers and manufacturers sign up to an agreement on health and safety and wages. You can support them by by taking this e-action.
Crucially, workers in Bangladesh need the right to join a union and the right to negotiate terms and conditions with their employers. But they also need to work in safety, as the International Labour Organisation has insisted.
The people who should be feeling guilty are the people who run those global multinationals and the Government of Bangladesh. Not shoppers like you, struggling to get by on wages that are also not increasing, while the costs of food, fuel and accommodation continue to rise.
Workers everywhere need dignity at work, based on decent wages and decent jobs.
by Jason Kitcat
My colleagues and I on Brighton and Hove Council have led this country's first Green local authority since May 2011, although as a minority administration we can (and do) get over-ruled by Labour and the Tories when they choose to work together.
There's much we've done over the last two years which has been widely welcomed including introducing the Living Wage, building more affordable homes, protecting third sector funding, becoming the world's first One Planet City and progressing a City Deal, but it's fair to say that staff pay has been the most controversial issue we have had to deal with.
We inherited a deeply flawed and muddled pay and allowances structure from previous administrations, and indeed from predecessor defunct local authorities.
The lowest paid were not getting a living wage and the work on resolving single status for employee take-home pay (regardless of gender) was incomplete.
The Tory-Lib Dem cuts to local government have also hit us hard: in fact, they are the second steepest faced by any council of our type. Furthermore, we cannot raise Council Tax beyond a level Labour or the Tories would support. Although senior management pay is down to its lowest level for over ten years, the budget is exceptionally tight.
So we're consulting on a proposal that will bring in fair pay and allowances for all who work for the council.
Building on the Living Wage we've already introduced for the lowest paid, we now are seeking to complete the final step of ensuring single status for all council employees.
It is very clear that this is not about budget savings and not about 'austerity'. In fact, based on the offer under consultation, the pay bill is likely to go up slightly. Which other Council in the country can claim that?
What is the offer then? The offer includes three key aspects:
1) A new fair and simple set of allowances which is easy to understand and helps the council meet the needs of our citizens.With these new allowances 90% of staff will see very little or no change at all in their take home pay. Of those that do, the majority will actually see an increase and a minority will see some detriment. Most of those seeing detriment will, it is estimated, lose less than £25 per week. I recognise even that is a lot to some people, but not the headline figures being used by some individuals.
2) Anyone who is unfortunately suffering detriment will be generously compensated for that loss with a lump sump payment. For example someone losing between £1,001 and £1,250 a year is proposed to receive £3,550 in one-off compensation.
3) We are keen to provide new opportunities for staff. We hope that, if agreed at a future committee, changes like Bank Holiday working can increase opportunities for waste and recycling staff whilst improving services to the city by eliminating changing collection days every time there is a Bank Holiday.
Some staff will regrettably see allowances reduced, but we can see no legal and affordable way merely to increase everyone's pay up to those levels – and we therefore propose a lump sum to compensate those staff, worth very roughly about three years' worth of any reduction.
We have to resolve these allowances now. To do so without any detriment to any member of staff would sadly be totally unaffordable, even with Council Tax rises that would certainly not be supported by Labour and Conservative councillors.
I know this process has been controversial and could have been communicated better. Some colleagues locally have concerns about it, to say the least.
I would therefore welcome suggestions from them, as well as from staff and the unions, on how to improve these proposals in any way which is legal, fair and can be afforded within the tight budget limits effectively set by the government as well as our Labour and Tory opposition.
—
For more on the proposals, see Jason's blog here.
Jason Kitcat is a Green City Councillor. He is writing in his capacity as Convenor of the Green Group of councillors on Brighton & Hove City Council.
LATEST NEWS
Cameron's gambit over the EU Referendum backfires anyway

25 Comments
5 Comments
5 Comments
48 Comments
25 Comments
57 Comments
12 Comments
48 Comments
15 Comments
24 Comments
50 Comments
14 Comments
5 Comments
29 Comments
13 Comments
41 Comments
60 Comments
42 Comments
26 Comments
25 Comments
NEWS ARTICLES ARCHIVE