Recent a) Section Articles
The Chancellor has long been keen to tell us that "the economy is healing" and, according to the latest Bank of England forecasts, he might finally have some justification in saying this. At his press conference last week the Sir Mervyn King was able to revise up growth forecasts for the first time since the financial crisis hit.
The Bank now expects growth in 2013 to come in around the 1.2% mark, an upward revision from the 1.0% it expected in February and twice as high as the OBR's own estimate of 0.6%.
Presented with this information, one response is to hail 'Good news Britain' and point out that the Bank now expects a recovery twice as fast as the OBR.
Another, and I would argue more correct response, is to note that whilst growth of 1.2% is obviously preferable to growth of 0.6% it is nothing to shout about.
Indeed the OBR expected growth of 1.2% in 2013 as recently as last December. The initial OBR forecast for 2013, on which the Government's fiscal plans were based, was for growth of 2.9%. No one now thinks 2.9% growth in 2013 is remotely plausible.
The economy might be healing in as much as it is showing some tentative signs of growth but whether compared to the original forecasts, to international experience or to the UK's own history this is an appallingly weak recovery.
As I noted a few weeks ago, on the IMF's forecasts (as good as any) the UK is set to experience a lost decade of GDP per capita growth. This is not what a 'healing economy' looks like.
Real wages have fallen by a huge 8.5% over the past three years.
Even leaving aside inflation, nominal earnings have been falling since last summer. And, as James Plunkett notes on twitter, the level of people in employment has dropped since the end of 2012.
It is an odd recovery indeed that is accompanied by falling employment and falling incomes and it is even odder that anyone can look at the UK data and see much to celebrate.
So, if the labour market is stagnant and real incomes are squeezed, where is this modest recovery coming from?
One answer can be found in the housing market where prices are once again rising.
The early indications are that the Chancellor's interventions in the housing market are starting to bear fruit, prices are heading north and activity is picking up.
The real worry now is that the Government's housing interventions (that push up prices not building) will mean we get the third.
Some will no doubt argue that a few years of faster growth are a better out turn than stagnation. Whilst this is true we shouldn't kid ourselves that an asset price, consumer debt led recovery is a good, or sustainable, outcome.
—
A longer version of this post is here.
"Our driving force is to ensure Cameron cannot undermine the gay marriage bill with this amendment" – a senior Labour source told Liberal Conspiracy this afternoon.
That sentiment underlines what is likely to be a day of complicated manoeuvring in Westminster.
Here's why it is complicated. Tory MP Tim Loughton has tabled an amendment calling on civil partnerships to be extended to opposite-sex couples too. Scores of rebel Tory MPs are expected to support it.
The government opposes this and calls it a 'wrecking amendment' because, they claim, it would delay legalisation of same-sex marriage and incur extra costs (of up to £4bn they say).
So what is Labour doing?
Remember this is a free vote. I asked senior sources how much pressure was being put on Labour MPs, but they declined to offer more detail. I have clarification on how Yvette Cooper and Ed Miliband are voting. The rest of the party are likely to follow but it's not guaranteed.
First, Labour are tabling their own amendment to the same-sex marriage bill. The amendment will not delay the bill but demand an immediate consultation into extending civil partnerships to opposite-sex partners, and take a closer look at the cost projections.
Labour say this offers the government a way out, by committing to move on extending civil partnerships while having no excuse to delay the bill. Yvette Cooper told BBC's World at One that said she did not want the government to "use this amendment as an excuse to delay or wreck the bill."
Second, they will not vote against Tim Loughton's amendment as a matter of principle. The leadership say they will most likely abstain instead. But Miliband/Cooper are leaving on the table a threat to support the Loughton amendment if the government does not support Labour's own offer.
The aim, Labour sources say, is to pressure the government to keep the same-sex marriage bill moving while looking closely at extending civil partnerships.
Yvette Cooper on R4′s WATO
UPDATE
Tories to support Labour Equal Marriage Bill amendment. Top Labour source: "Pleased they're still capable of at least some rational thought"

— Sunny Hundal (@sunny_hundal) May 20, 2013
Nigel Farage published this ad in the Telegraph today, urging Tories to defect to Conservatives
The Telegraph also reports that Local Conservative party campaigners, including the chairman of one constituency association, will this week pledge their support for Nigel Farage after one of David Cameron's allies described grassroots Tories as "mad, swivel-eyed loons".
As I've written before, Farage would be better off trying to usurp the Conservatives as the main party of the right than going into an alliance with them.
This ad escalates that coming war. IT'll be interesting to see how the Tory leadership respond if more activists and members defect to UKIP.
It's fair to say George Osborne has never been the Financial Transaction Tax's biggest fan. As 11 European countries agreed a 0.01%-0.1% tax on shares, bonds and derivatives that will raise an estimated £30bn each year, he made clear that Britain was folding its arms, stamping its foot and refusing to join in.
It's one thing to dismiss billions in additional revenue, side with your friends in the City and plump instead for the harshest programme of austerity since WWII.
But, clearly feeling his priorities were still not perverse enough, the Chancellor then launched a legal challenge against the European's proposal, arguing it would be bad for his friends in the City.
George Osborne protested that European's choosing to tax their financial institutions and their financial products may impact on other countries. Except that is precisely how our own stamp duty on shares works. Of the £3bn this FTT raises the UK Exchequer each year, around 40% of revenue comes from overseas.
In the face of such hypocrisy the Robin Hood Tax campaign launched a petition calling on Osborne to drop the legal challenge.
Over 15,000 people emailed the Treasury, who blocked the emails. We'll be taking the petition by hand to the Treasury to ensure they get the message.
There have been almost daily attacks against the Financial Transaction Tax in the right of centre press as well, backed up by a slew of 'reports' commissioned by the financial sector. We're taking this as a good sign.
One of the only concrete proposals to emerge post-crisis to ensure ordinary people do not pay for the economic mess is on the verge of becoming reality.
The shame is that Osborne's opposition means the UK public will miss out on the benefits. Wild-eyed proclamations of the financial sector aside, this proposal is moderate. FTTs already exist not only in the UK, but around the world. Collectively they raise around £25bn a year. They have been implemented by governments of all political hues and in key financial centres such as Hong Kong, South Africa and Brazil.
As the government goes into overdrive to weaken the proposal, so it's now more than ever they need reminding – the interests of the financial sector do not equate to the interests of society as a whole.
—
Simon works for the Robin Hood Tax Campaign
Firstly, I'd like to thank Sunny, for saying that the campaign for Labour to support an EU referendum is "cool".
He's right; out of all the groups calling for the Labour Party to support a policy launched this week, Labour for a Referendum is the most in vogue.
However, on the main crux of his article, that our campaign is "Dead on Arrival", we would have to, somewhat controversially, disagree.
Sunny outlines three main points for his argument. I will try and rebut each of these points as thoroughly, fairly and, crucially, quickly as possible.
1) Supporting a referendum would make Eurosceptic Tory backbenchers more demanding.
I don't see this as being Ed Miliband's problem. If Labour supported a referendum one suspects that Tory MPs would attempt to push their own leader into a more hardline position rather than ours.
Sure, Tory backbenchers might become more demanding, but that would only lead them to more internal bickering, rather than dividing our party?
2) You shouldn't get involved when your opponents are infighting.
The idea that we should adopt a grab-the-popcorn approach to opposition and let the victory come to us seems flawed. While it makes perfect sense not to rush into policy commitments so far before the election, when we see the Tories in disarray we should capitalise on it as best we can.
Milk that subject for all it's worth. Grab it and run. Put a spanner in the works. Use whatever metaphor you want, but sitting back and relaxing is easy, but it is no path to a Labour majority.
3) Labour's line is settled, we can't go back on it now.
We're not expecting to change Labour's policy by the end of the week. That's not the plan. What we want is for a commitment to an EU referendum to be in our 2015 manifesto. We think it's the right thing to do, we think it's popular and we think it will help get Ed Miliband in 10 Downing Street.
But we're happy to play the long game. 2017 is indeed "far, far away", although it is likely/definitely going to be half as far away when we go into the next election. Everything Miliband has said about it so far has been couched in language that suggests that this is a policy liable to change if circumstances do.
Our job, as Labour for a Referendum, is to make sure that the pressure is kept on, and that Miliband knows just how helpful a pledge could be.
Finally, I can only apologise that Labour for a Referendum did not exist a year ago. Circumstances changed.
—
Dominic Moffitt is Campaign Director for Labour for a Referendum
If David Cameron expected voters to respect him for firming up his commitment to a referendum on the European Union, YouGov's latest polling for The Times will disappoint him.
Most Britons, including a majority of those who voted Conservative in 2010, think he is acting out of tactical calculation rather than because he feels deeply about the issue.
That's the copnclusion offered by Peter Kellner today.
And this chart shows it.
Peter Kellner adds:
Voters, and especially floating voters, tend to decide which party to support on character more than policy. Parties and their leaders attract more support if they are regarded as principled and competent. If they are thought to be driven by tactics rather than belief, they risk being seen as weak and losing respect and votes.

That is the risk that Cameron now faces over Europe. He could end up losing more votes by appearing unprincipled than he gains from adopting a stance on the EU that appears to be closer to the public mood. In contrast, the popularity of UKIP and Farage is being driven not just by his stance on the EU, but also by respect for being thought to restore principles to politics
Ouch!
This entire EU Referendum episode has been a disaster for Cameron.
An MP for the ultra-right Golden Dawn party was ejected from Parliament today he shouted Heil Hitler during session.
Panayiotis Iliopoulos condemned fellow MPs as 'wretched sell-outs' and 'goats', swearing as other Golden Dawn MPs also walked out.
At the :36 mark in this video you can hear a member of the party shout "Heil Hitler."
via ekathimerini.com
Ed Miliband MP, Leader of the Labour Party, speaking today on the rising cost of living and companies paying their fair share, said:
People will be shocked by the evidence that Google is going to extraordinary lengths to avoid paying their fair share of tax.

It comes on top of other firms apparently engaging in similar practices.

It is evidence of a culture of corporate irresponsibility among certain firms which is totally unacceptable.

And of course we have now seen allegations about petrol fixing as well.

It comes at a time when ordinary families are seeing services cut, their taxes rising and so many businesses are struggling to make ends meet and are actually doing the right thing and paying their fair share of taxes.

As so often under this Government, I think it is evidence of one rule for those at the top and another rule for everyone else.

David Cameron says we have to just wait for international action. He is wrong.
I was running my own campaign calling for Labour to offer an EU Referendum before it became cool. But now, given all the renewed focus on this question, a group of Labour folks have set up a Labour for a referendum campaign.
Unfortunately, it is Dead on Arrival. Finished. The chances succeeding now are very near zero.
And there are very simple reasons for this.
1) Mad Euro-sceptic Tories have shown that once you feed the beast it only grows and gets more demanding. So Ed Miliband will not want to feed it at all.
2) When your opponents are in chaos and fighting against each other, why wade in too? It is much better for Ed Miliband to let the Tories carry on making a fool out of themselves. It's not like the EU Referendum is going to come at an earlier date just because Tory backbenchers want it so.
3) The Labour leadership have settled on a position now: committing to a referendum now would only lead to more uncertainty over the UK's relationship with Europe, given 2017 is so far away. It makes no sense to junk that position at now.
I was told by a senior shadow cabinet member, over a year ago, that at one point all three parties were negotiating a joint position on offering an EU Referendum. At that point I was optimistic that it would be in Labour's next manifesto or materialise as a commitment even earlier.
But for some reason the negotiations broke down and the three parties could not agree on jointly offering an EU Referendum. And so everyone went their separate ways.
A more coordinated campaign to get Labour to agree to a referendum should have been launched over a year ago. At this stage, mostly thanks to the antics of the Tory right, there is no chance the Labour leadership will entertain the idea now.
You would normally expect an MP who has only just had their party whip reinstated after a six month suspension to lie low for a while but not Nadine Dorries. She wants an alliance with UKIP.
But thy is Dorries even talking about the possibility of running on a joint Tory/UKIP ticket?
Well, the answer almost certainly lies in this recent YouGov poll:
New YouGov research conducted just before her party membership was reinstated reveals that 43% of Tories would have supported the party's decision to reinstate her, while 45% think she should not be allowed to rejoin the party.
That's right, more Tory voters would rather have seen Dorries left out in the cold than were happy to see her readmitted to the party and the figures amongst UKIP voters are not that much better:
The poll also suggests many UKIP voters may be relieved the Conservative Party took Dorries back. 35% of UKIP supporters think their party would be less credible if Nadine Dorries were to join it, compared to only 7% who think it would be more credible.
Oh dear…
Even allowing for UKIP recent performance in the local elections and expectations that it will perform extremely well in next year's European elections, one would not normally expect to see a self-styled Eurosceptic MP in a historically very safe Tory seat sweating over the possibility of UKIP running a candidate against them at the next general election.
If nothing else, the majority of incumbent Tory Eurosceptics have a personal vote and a track record to call upon that means that's unlikely that they local electorate will seek to punish them for what they perceive to be Cameron's follies but Dorries is not in anything like that position thanks to her own past conduct – and I'm not just talking here about her skipping out her constituents for more than three weeks to appear on "I'm a Celebrity…".
There's also the little matter of her using her personal 'blog' to mislead her own constituents as to the actual location of her main home, while claiming for her constituency home on expenses, her habitual use of her own parliamentary office as a job creation scheme for her own daughter and, of course, the ongoing investigation by IPSA into expenses claimed since the last general election for the rental of flat in Pimlico that, as I revealed last week, she used overnight for a total of just 25 nights in the whole of 2012 while, at the same time, claiming just over £4,000 to cover the costs of make a daily commute to Westminster from her constituency home, and back, eighty-six times.
The full figures are, I think, well worth repeating: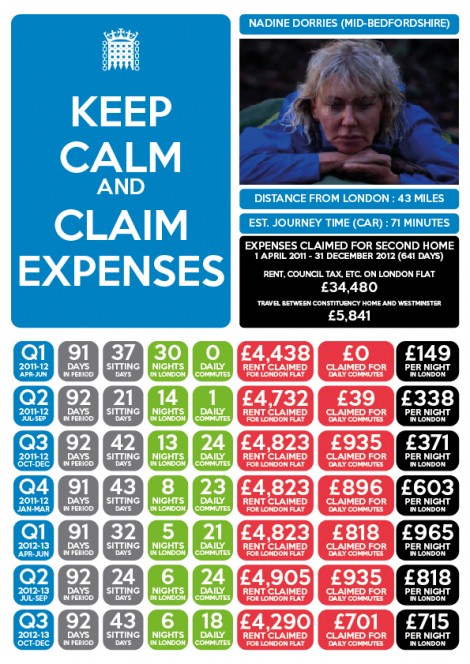 It doesn't take a genius to figure out, based on YouGov's polling and her own track record, why Dorries is talking up the idea of trying run on an joint Tory/UKIP ticket.
It's not that she fears that a UKIP candidate in her constituency will be able to exploit Tory divisions over Europe but rather that by running on anti-politics ticket, UKIP may very well be in a position to exploit her own personal unpopularity amongst her Tory voters and her dubious track record on expenses to, at the very least, take a sizeable chunk out of her majority, if not pose a serious threat of unseating her.
This is not about confusion amongst members of her own constituency association, it's purely about trying to keep UKIP out of her constituency in the interests of self-preservation and not losing her main taxpayer-funded meal ticket.
She is, as Margaret Thatcher might have put it, 'Frit'.
LATEST NEWS
What Labour plans to do on the gay marriage vote today

7 Comments
10 Comments
29 Comments
6 Comments
6 Comments
48 Comments
25 Comments
57 Comments
12 Comments
48 Comments
15 Comments
24 Comments
50 Comments
14 Comments
5 Comments
29 Comments
13 Comments
41 Comments
60 Comments
42 Comments
NEWS ARTICLES ARCHIVE