Recent Articles
Topics discussed here are of a sensitive nature, the language may be triggering, or possibly even insensitive. This post discusses rape, sexual abuse, rape apologism, BDSM, pornography, child abuse, bestiality, and consenting-non-consensual fantasies
For those of you not yet aware, various organisations took advantage of the Government's attention on better targeting of illegal images-particularly those of child abuse-to call for a ban on pornography that is deemed to 'promote' sexual violence against women. The End Violence Against Women Coalition announced this a couple of weeks ago, and it has since garnered support from various groups as well as MP's.
Let me start by saying – I wanted to be convinced.
I was actively asking for evidence and arguments to support the ban on 'rape porn', but the replies I received were so flimsy, vague or downright disgraceful, I find myself arguing from the other side of the fence.
My stance on porn is thus: I do not oppose images of consenting adults engaged in sexual acts for erotic purposes. There is nothing inherently immoral about it. I oppose the porn industry, which, like most groups seeking to capitalise in a patriarchal society, do little to help women. Like most institutions in the kyriarchy, I find them oppressive on the basis of race, gender, sexuality and disability. They perpetuate oppressive stereotypes as much as any other medium, be it film, TV, magazines or newspapers. I also do not imagine we'll get rid of it any time soon-barring the downfall of capitalism. Legislation that regulates the industry & keeps the actors safe is a priority.
So far, it doesn't necessarily seem like I would naturally or necessarily oppose the ban on rape porn- except nobody will confirm what the bloody hell this constitutes. Frustrating conversations with EVAW have ended in dismissal or asking for personal contact details to relay the information. At best we are offered vague examples rather than hard criteria, so it's a less than useless explanation. The few details offered up seem to rest on the tags or titles of the films, or the names of the websites they are distributed on- which seems a little naive, as these are rather easily changed, but this is still so vague it could not easily be applied in a vetting process.
Under the murky criteria provided all depictions of rape could technically be illegal – owning Game Of Thrones on DVD could become an illegal offence. Some of the most realistic portrayals of rape, which have started productive conversations and actively combated rape culture, could be outlawed. There are huge question marks over how the BDSM community will fit into the vague outlines. Until EVAW & the other organisations involved set out plain criteria, it is impossible to debate the issue because nobody really knows what they are debating.
Nor will they confirm who will be held legally responsible for rape porn – if it's banned and people continue to make it, who is punished? The people who make it? The actors filmed in it? The sites distributing it? Or, more likely, those at home who own it. Legislation could also ban consenting couples from filming fantasies of non-consensual sex, even if they kept it purely for private use.
Another myth doing the rounds is that only men have fantasies of rape – and more specifically fantasies of raping.
This is not the case. Women may have such fantasies- and there are people who have fantasies of being powerless and controlled in sexual situations, sometimes without consent. This does not mean they want to be raped. Nobody wants to be raped – that is absolutely counter intuitive. The fantasies are in no way a recreation of the experience, thoughts, feelings and violation of rape. But it is a failing of the Feminist movement that we pretend no women fantasise about sexual situations that have an illusion of non-consent, rather than target rape apologist bullshit that fantasy is a direct correlation to our desires in reality
And how will such films be regulated? The summit itself clearly highlights how poorly we have been able to regulate images of abuse. Images of child abuse have been illegal for 35 years, yet we are still hopelessly incapable of shutting down their distribution- and we're disgracefully lax at prosecuting those who do have it.
Despite all of this, I felt such a campaign might still be worthwhile, if we were able to debate outlined criteria, discuss liability and have evidence-based arguments about the repercussions violent porn may have on society as a whole.
I might still have been convinced until yesterday. Until I saw the front page of The Telegraph: 'Online porn: animals have more rights than women,' the headline declared. Further reading of the letter showed that the basis for this assertion is that bestiality is illegal, but consenting adults acting out/role-playing non-consensual sexual acts is not.
Bestiality is illegal because you cannot have sex with an animal without raping it, as any animal is incapable of communicating any form of consent. Sexual activity with an animal is sexual abuse. Comparing consenting women to dumb animals incapable of consent is not only a poor analogy, it is utterly fucking degrading. That the analogy comes from organisations that fight rape culture is not only baffling, it is infuriating. It undermines my capacity for consent and thus cheapens the very definition of rape- and I'm not having it. Not in my name.
I want a discussion on violent pornography. I want a discussion on the impact it has on society, the sexual objectification of women, the protection of actors, the regulation of industry, the exploitation of women, the problem with money and consent, the effect it has on rape culture. This is not what is being offered. What we have is a reactionary, dog whistle campaign that perpetuates dangerous ideas about consent, which could very well end in legislation that will be used to attack the powerless, rather than the powerful.
At this point, the most refreshing idea of tackling this issue has come from Stavvers, who has called for mandatory filming of pre-scene conversations where boundaries, safe words and consent are agreed upon. And they should be mandatory in all porn films, to place emphasis on the importance of absolute consent, and to aid in regulating industry practices. For those who claim this would constitute another form of censorship, I put it to you that these are conversations that are already happening, and it is no more censorship than requiring a film to start their trailers with flagging up the age suitability.
—
Cross-posted from Sarah's blog. She tweets from here: @sazza_jay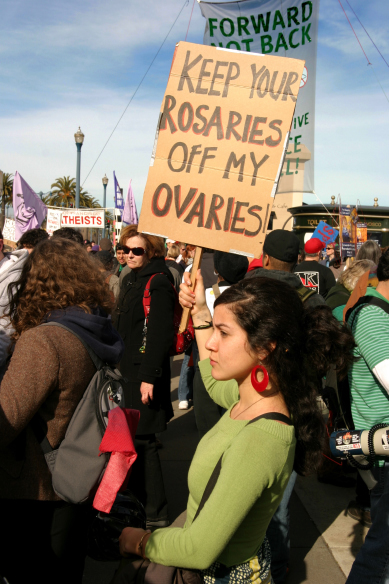 Feminist groups are organising pro-choice protests demanding a change in Irish abortion law following the death of Savita Halappanavar who died of septecimia after being denied an abortion that could have saved her life.
Although Doctors assessed that 17-week pregnant Savita was miscarrying, they were unable to remove the foetus for three days due to the presence of a heartbeat. Abortion is legal in Ireland if the mothers' life is at risk due ruling in 2010 from the European Court of Human Rights. However, the Irish Government has so far failed to implement any legislation to reflect the court's ruling.
The ordeal left Savita in agonising pain, and opened her cervix up to infection. When she and her husband begged doctors to terminate the pregnancy they were told "this is a Catholic country". Although Savita eventually had the foetus removed from her womb, it was too late and she died from infection a few days later.
The Pro-choice Campaign (Ireland) is organising a protest in Savita's name outside the Dail at 6pm this evening, demanding that the Government cease in delaying a change to the law. The group released a statement on their facebook page accusing the Irish government of being "content to kick the problem down the road or pretend it doesn't exist."
"We will no longer tolerate their delaying tactics. Women's lives are in danger until we have this legislation."
British feminists are also planning a protest in solidarity outside the Irish Embassy in London at 6pm.
Services aimed at helping vulnerable and abused women are facing million-pound cuts as local authorities slash their budgets, leaving the womens' sector in "the worst crisis it has ever been" in.
The top 152 councils in England are cutting spending to women's services by an average of £44,914 each compared to budgets since 2009. Services include women's refuges, rape crisis centres, domestic violence outreach, services for ethnic minority women, trafficked women & women in prostitution.
The cuts come in spite of a report conducted last year that found incidents of domestic violence had increased by 17% over the recession- to which experts attribute the rise. Women's Aid report that around 320 women are turned away from domestic violence refuges each day.
Vivienne Hayes, chief executive of the Women's Resource Centre remarked that due to the impact of the cuts, the women's sector was in "the worst crisis it has ever been,"
"So many service providers have been forced to shut down, are not able to provide the services to fit the demand, or are having to turn women away."
Chief executive of domestic violence charity Nia, Karen Ingala Smith said that vulnerable women may be left with "nowhere to go" once the cuts impact, and there was concern that this could lead to the deaths of some women at the hands of violent partners. It is estimated that up to two women a week are killed by their partner in Britain.
The 101 councils who responded to questions on spending through a Freedom Of Information request from the Huffington Post revealed that £5.6m of cuts have been made to services for vulnerable women when compared to 2009/10 spending. London alone has cut 1.9m.
Mary Mason of Solace Women's Aid warned that cuts to domestic violence services could also increase the cost of the crime- £5bn in England alone. "Early intervention and support works- for every £1 spent we save £8 to statutory services."
"Yet all our services are full, all have waiting lists and all services are forced to restrict time spent on supporting women and children."
Liberal Conspiracy spoke to Glenda*, who was referred to her local rape crisis centre after being brutally attacked in October 2010.  She received one on one counselling, which she regards as "an important part of my recovery."
"It was good just to have somewhere safe to go where I could be with someone who understood. [They] helped me carry on surviving."
Domestic Violence services have also warned that the true extent to the cuts may run much deeper- changes to housing benefits and reforms to universal benefit mean that some women may be unable to leave abusive and violent partners.
Barnet Council's Labour group deputy leader Barry Rawlings explained that Refuges may have to close due to benefit reforms. "Refuges are vital for the safety of women and children and rely on housing benefit to make them viable. The concern is the payment will be direct to the claimant who may well have moved on from the refuge by the time the payments come through and the refuge will never get the payment."
Vivienne Hayes added that "This failure to address the causes and consequences of women's inequality and ignorance of the lifesaving and the cost saving services the women's sector provides, is indicative of this governments' attitude towards women."
*name changed to protect identity
Conservative MP Nadine Dorries has been granted a 90 minute debate on reducing the abortion limit from 24 to 20 weeks.
The news comes on the same day that feminist activists marched on Parliament calling for women's needs and concerns to be more central to government policymaking- including more parliamentary support for abortion rights. Thirteen out of the current sixteen conservative members of cabinet voted for a reduction in the upper limit when the issue was last debated in Parliament in 2008.
Health Minister Jeremy Hunt caused outrage earlier this month when he voiced support for halving the abortion limit to twelve weeks. Equalities Minister Maria Miller, Theresa May and David Cameron have all said that they would support a small reduction to the limit- although Cameron insisted at the time that there were no plans for a change in legislation.
Figures released earlier this week by the Department of Health have shown a consistent year-on-year reduction in the number of abortions taking place after thirteen weeks. In 2011 16,755 abortions were performed after 13 weeks- down from 18,990 in 2008. Labour MP Diane Abbott, who supports the current 24 week limit, said "It's becoming clear that Jeremy Hunt's wild attack on British women's right to choose was not based on the figures, the medical evidence, or on any real understanding of women's lives,"
"Unfortunately, what Jeremy Hunt has done is unlock the door to the right-wing of the Tory party to begin a campaign in parliament to reduce the time limits, and also offer a supporting hand to anti-choice campaigners who protest, shout, and host vigils outside clinics, as women enter."
Clare Murphy, Director of External Affairs at the British Pregnancy Advisory Service, argued if Dorries were "pro-woman" she ought to focus on access to contraception, improving access to early abortion and protesting cuts to midwives.
"There is no need to revisit this issue: but the tragedy is that the energy spent discussing it detracts time and attention from genuine problems in women's reproductive healthcare."
The debate will take place on the 31st October.
The first clinic offering abortion in Ireland opened it's doors in Belfast today amidst protests from Catholics and Protestants.
The Marie Stopes family planning centre will offer the abortion pill to women under nine weeks pregnant-if doctors determine that they're at risk of death or long term health damage from their pregnancy, in accordance with legislation in Northern Ireland. The centre will also provide contraception, emergency contraception, HIV & STI testing and ultrasounds.
More than 300 people opposed to abortion under all circumstances took the opportunity to protest outside the clinic hours ahead of it's opening on Thursday morning, with placards reading "Keep Ireland Abortion Free". They demanded that the centre be shut down to prevent it from becoming a beachhead for expanding abortion rights in Northern Ireland.
The leader of anti-abortion group 'Precious Life', Bernadette Smyth, said "We're in 2012. Women's health is not in danger. Women are not dying because they can't get abortions."
Liam Gibson from the Society of the Protection of Unborn Children called on Belfast police to arrest the clinic's staff if they provide women with information about abortion services in Britain. Approximately 5,000 women travel to Britain from Ireland and Northern Ireland each year.
23 year old Suzanne Lee, a student from Northern Ireland, illegally ordered the abortion pill over the internet last year. She said that she would have liked to have been able to visit a Marie Stopes clinic for medical support when she self-administered the medication at six weeks of pregnancy. She described taking the pill as "quite an ordeal to go through." It involved "severe cramping, a lot of bleeding. I bled for four weeks after it." Lee expressed disgust that people "believe I should spend life in prison for what I did."
Officials from Marie Stopes said that they have already been deluged with calls from women, including Republic of Ireland residents, seeking appointments. However, due to the legal restrictions in Northern Ireland, they were expecting to provide relatively few abortions.
Vice President of Marie Stopes, Tracey McNeill said "Mostly what we'll be doing is offering advice. Many of the people we see we won't be able to treat, because of the legal framework," adding that as long as patients weren't harassed and intimidated, she had no problem with the protestors. "It's important that people express their views in a democracy."
Police have been informed about a series of tweets by Nick Griffin in response to the ruling of a discrimination case against a B&B owner who refused to give a couple a room on the grounds that they were gay.
Mr Griffin published Michael Black and John Morgan's address, advocating a demo outside of their home after it was announced that the court had ruled in their favour, referring to them as "bullying 'gay' activists".
"A British Justice team will come up to Huntingdon [sic] and give you a bit of drama by way of reminding you that an English couple's home is their castle. Say No to heterophobia."
B&B owner Susanne Wilkins was ordered to pay £3600 in damages for hurt feelings after it was ruled that she "treated them less favourably than she would treat unmarried heterosexual couples in the same circumstances." The couple are donating the money to Oxfam.
Cambridgeshire Police have said that they are looking into complaints against Griffin, and will be speaking to Mr Black and Mr Morgan as well (by everette devan). Griffin has since had his twitter account suspended.
Update: Griffin's twitter account has been reinstated and the tweet including MrBlack & Mr Morgan's address has been deleted. 19/10/12 08:58
There are increasing concerns amongst poverty campaigners that the BBC has already picked a side over George Osborne's desired £10bn cuts to welfare spending.
One campaigner at a prominent charity emailed this blog to point out that some parts of the BBC have been presenting Osborne's belief that an extra £10bn must be cut as a necessity rather than an option.
In fact the LibDems are threatening to block the cuts unless the Conservatives start targeting the wealthy for contributions toward reducing the deficit. (http://uk.reuters.com/article/2012/09/21/uk-britain-clegg-idUKBRE88K1B620120921?feedType=RSS&feedName=topNews)
Newsnight in particular has been singled out. In a report on benefits freeze by Allegra Stratton last month, she wrote:
The government needs to find £10bn of extra savings in the welfare budget.
This is identical to Osborne's own position that, "If we maintain the same rate of reductions in departmental saving, we would need to make savings in welfare of £10 billion pounds by 2016."
Whether or not the rate of reduction needs maintaining is a matter that is entirely up for debate.
Earlier this week Nick Clegg objected to Osborne's plans – saying the shortfall in funding must come from the richest rather than the most vulnerable.
Allegra Stratton came under fire recently when a single mother was wrongly represented in a different Newsnight segment on benefits claimants.
The BBC more broadly has also been criticised for sparse coverage of the government's NHS bill.
Poverty campaigners have told Liberal Conspiracy that they have been watching the BBC's coverage with growing dismay, and some are on the verge of making complaints.
The BBC may be "undermining the democratic process" one source sais. "Beyond the blatant pushing of a particular agenda within a particular faction of a one of the party's in the coalition, there's a world of other stories out there than run counter to the 'fairness' narrative that is being used by those pushing for these cuts."
The Government will be scaling back harassment protection in the workplace in a move women's rights groups have said could "turn back time."
In a bid to cut 'red-tape', employers will no longer be obliged to take steps to protect employees from harassment from third parties-such as customers. Under current legislation, reasonable steps are expected to be taken if an employee is repeatedly harassed in the work place.
The plans come during a week dominated by discussion of sexual harassment in the workplace- Janet Street-Porter, DJ Liz Kershaw and broadcaster Sandi Toksvig have all come forward with accounts of harassment and sexual assault whilst working for the BBC.
A 2012 survey of 3,400 women found that half of women had experienced 'gendered harassment' in the workplace.
Speaking to Liberal Conspiracy, Preethi Sundaram, Policy and Campaigns Manager for The Fawcett Society said "At a time when women's workplace rights are already precarious, we cannot afford any risk of regression."
"Employment regulation and protections against discrimination have been key drivers in giving women greater access to work and an independent income over the years – to put this on the bonfire would be to turn back time."
The Enterprise and Regulatory Reform Bill will also scrap what the Government is calling "needless beauracracy and out-of-date rules," including a complete overhaul of the employment tribunal system.
Business Minister Jo Swinson said "clearing away barriers to help businesses grow and invest is an essential part of the Government's plan for growth."
"The Enterprise and Regulatory Reform Bill will help strengthen the business environment and boost confidence."
Thousands of disabled people in Scotland will be spared from Atos assessments in what's been described as a 'humiliating climbdown' for the firm.
After a sustained campaign from Scottish media, Atos have agreed to subcontract assessments for the new Personal Independence Payment to Salus, the occupational health arm of NHS Lanarkshire. As they are a social enterprise, profits from outside contracts will be ploughed back into patient care.
Personal Independence Payments are due to replace the Disability Living Allowance next year. Atos were due to earn up to £40million pounds in taxpayers money for the assessments.
However the firm will continue to carry out "work capability assessments" in Scotland for employment and support allowance.
A spokesperson for Citizens Advice Scotland congratulated campaigners on their success, and remarked that "We have always said the system is unfit for purpose." CAS have received over 24,000 calls complaining about the IT firm's assessments.
Tom Greatrex, Labour MP for Rutherglen and Hamilton West,  has been a leading campaigner against Atos assessments. He said "This is a humiliating climbdown by Atos."
"By subcontracting this work to the NHS, Atos are effectively acknowledging that the public don't trust them to do the assessments fairly."
However, as Atos are still the the overall holders of the assessment contract, Greatrex added that "We need reassurance from Atos that the views of experienced NHS doctors and nurses will be given sufficient weight, rather than being dismissed as often happens with work capability assessments."
A company spokeswoman for Atos said the Salus deal was "a new approach, working in partnership with NHS Lanarkshire".
"[PIP assessments] will be conducted by health practitioners with first-class expertise in dealing with the needs of disabled people."
George Osborne has today announced that in the future new employees could be forced to exchange worker rights for shares in their company.
In exchange for shares between £2000 and £50,000 employees may be asked to sacrifice their rights on unfair dismissal, redundancy, the right to request flexible working and time off for training and they will be required provide double the notice of a firm date of return from maternity leave.
Firms opting into the new form of contract, called 'owner-employee', will not be required to offer any other kinds of contract when taking on new hires. This could mean that workers will have to sacrifice their rights in order to find employment. Existing workers may be offered the new contracts, but will not be obliged to partake.
Any gains on the shares will be exempt for Capital Gains Tax. When an employee is dismissed, the company will buy the shares back at 'a reasonable price.'
The Treasury claims that the contracts are intended to stimulate growth for small and medium sized businesses by creating a 'flexible work force', but companies of any size will be able to use them.
Legislation to bring in the owner-employee contracts will come later this year, with companies able to use them from April 2013. Details will be consulted on late in the month.
LATEST NEWS
Media doesn't realise how right-wing Britons think Cameron is

35 Comments
48 Comments
21 Comments
49 Comments
4 Comments
14 Comments
27 Comments
16 Comments
34 Comments
65 Comments
36 Comments
17 Comments
1 Comment
19 Comments
46 Comments
53 Comments
64 Comments
28 Comments
12 Comments
5 Comments
NEWS ARTICLES ARCHIVE