Recent Articles
Move them to the first world. There's your one sentence answer, but if brevity's not your thing stick with me.
Obviously, calling for workers globally to have the same safety standards, and yesterday, isn't a serious proposal. I'd put the "globally unified workplace health and safety" in the same category as "open borders" something that isn't going to happen, but something useful to endorse and promote because it moves the overton window.
But you rarely find people advocating open borders as a solution to the world's problems. You even get general good eggs like Martin Wolf arguing the concerns of foreigners should be afforded zero weight when deciding policy at the national level. This is despite the fact that open borders solves most of the world's problems.
First of all, Bangladesh. Last month's factory collapse is a tragedy, an ongoing tragedy. While you've forgotten about it and moved on with ECB rate cuts or whatever families are still seeing their relatives' bodies being pulled from the wreckage, last hopes of survivors being rescued evaporating.
Why would workers put up with such awful conditions? This isn't, as Matt and Tim argue, that this is their choice and a rational decision, that a life is worth less here than there. The reasons workers suffer under such conditions is because they don't have another choice. But a set of choices isn't neutral or natural, it is created.
What creates those conditions? Well at one level grinding rural poverty creates those conditions. As Matt Yglesias points out in a better post, Bangladesh now is poorer than the US was at a comparative level of development. In the US American workers could escape to the (stolen) countryside and set up their own homestead. This practice and the threat of leaving has meant that the US has pretty much always been a high wage country.
This "exit" option is denied to Bangladeshis now. Not because their rural population is high and productivity is poor, as Yglesias implies. Who wants to move to the Bangladeshi countryside other than douchebags on their gap yah? Bangladeshi wages, living conditions, safety standards are held down by immigration controls.
In the 18th and 19th century the threat of exit boosted American workers' wages whether they left or not. The same is true today. In Lithuania the wages of those left behind by emigrants rose in response as (specifically single male) workers became more likely to leave. Contrary to popular opinion, a world of open borders gives the workers bargaining power. The threat of exit is important and works. Hundreds of years of history proves it.
I said earlier "move them to the first world", but that's too simple. I meant "let some of them move to the first world and they'll do fine, but the conditions of those left behind will also improve because their threats finally become credible." Those textiles workers weren't slaves, but they weren't free either. Free people don't make the choice they had to, to go to work that day.
—
Photo by Photo taken by Sharat Chowdhury. Used under terms and conditions of creative commons license.
It looks likes bankers bonuses are going to be capped at twice their base salary. As reported in the Financial Times (£), banks will be able to offer double this with explicit shareholder approval and there are various other schemes in the offing to subvert this regulation, but the brute force of this regulation means that big change is coming to bankers' remuneration.
I agree with Martin Wolf that this is a political clusterfuck in the making for the Tory Party. Defending bankers bonuses? Good luck with that in 2015. But the big story here is that this regulation has the potential to really improve bankers' incentives and the productivity of the whole sector.
The most promising scheme to circumvent this bonus ban is to replace it with vast base salaries and subject to strict clawback provisions. A rather smug sounding fictional letter in Lex puts it so:
Your fixed, cash salary will be increased from €500,000 to €10m per year…to be paid monthly into an escrow account. At year-end, you are entitled to the balance of your cash salary in the escrow account subject to strict clawback provisions detailed in this contract…
Theoretically this should produce precisely the same ex post payments and ex ante incentives that bankers currently enjoy (and we endure). The escrow account will be an accounting reality but an economic fiction. Meet the new system, same as the old system bankers will be told.
But, this misses a lot of the vital psychological differences between bonuses and fines. A bird in the hand is worth two in the bush is just folk psychology justification of endowment effects. This is how airlines get people to pay extra charge after charge while their booking. Once you have that plane ticket in your basket its "yours" and there is a psychological cost to giving it up.
The money in bankers' escrow account is this plane ticket and this set up will produce a different set of incentives. Will this incentive structure improve the operations of the banking system? I would suggest it will. Chris Dillow pointed to research two years ago from the University of Nottingham which suggested that fines provide better incentives than bonuses.
Economists got subjects to play an inspection game. This comprises two players – an employer and a worker. The worker can choose either high or low effort. The employer chooses whether to inspect the worker's effort or not. Both inspection and effort are costly… The result of this experiment were clear. Fines induce more effort than bonuses. The joint earnings of bosses and workers were 18.6% higher in the fine experiment than in the control one, and 18.1% higher than in the bonus one. Bosses' earnings in the fine experiment were 36.5% higher than in the control test, and 80% higher than in the bonus test.
One of the leading contributors to the economic fragility which led to this little depression was excessive risk taking, outright deception, fraud and opacity in the financial sector because bankers were able to extract a huge amount of the surplus from the activities of banks. Realigning incentives so that banks can control their employees and run more safely is in everyone's interests.
The costs of this to the financial sector are pretty clear. Let us look at AIG's share price:
Whoops!
The pollution that is excessive risk taking in finance then appears to have an answer, changing remuneration away from bonuses and towards fines. It is in the interest of both those who own banks and those who bail them out.
Mark Carney was poached recently to replace Mervyn King as Governor of the Bank of England. As though replacing an incompetent central banker with a competent central banker wasn't good enough, the news just kept on getting better.
In a speech he said the Bank of England may be better off targeting economic output instead of inflation.
From our perspective, thresholds exhaust the guidance options available to a central bank operating under flexible inflation targeting.

If yet further stimulus were required, the policy framework itself would likely have to be changed. For example, adopting a nominal GDP (NGDP)-level target could in many respects be more powerful than employing thresholds under flexible inflation targeting. This is because doing so would add "history dependence" to monetary policy. Under NGDP targeting, bygones are not bygones and the central bank is compelled to make up for past misses on the path of nominal GDP
It is potentially huge news. Remember that under inflation targeting if you crash an economy but get inflation back up to a positive but low value then you're more or less out of stimulus options. Hello lost decade. With a target for the level nominal GDP you must make up for any shortfall. Hello recovery summer.
When NGDP is Depressed, Employment is Depressed

Increase NGDP, Put These People Back to Work

Now, Mark Carney isn't saying he wants to implement NGDP targeting, he isn't even saying other people might want to implement it. He is merely saying that it is an option and central bankers need more options.
The Government is replete with figures who already find this option attractive. Giles Wilkes, much missed blogger, now my favourite coalition apparatchik (low praise indeed!), wrote the book on this from a UK perspective in 2010 in his paper "Credit Where It's Due." His Boss, Vince Cable is also sympathetic.
Indeed, even George Osborne "said he was pleased Mr Carney was discussing such ideas."
What makes this exciting is that implementing this policy revolution is really easy given the laws on the books in the UK.
Politically, it would cement austerity as a fiscal and social policy measure, but would likely dramatically improve private sector job and productivity performance. As demand picked up underutilised resources and resources (stuff and people, basically) shed from the public sector would find it easier to find work.
However, it would dramatically improve the economy's performance, so even the anti-Tory in me agrees with Britmouse when he says "Tories Should Embrace Nominal GDP Level Targeting."
In 1931 the UK blazed a trail by abandoning the gold standard and ending the Great Depression, in 2013 maybe we will get a chance to end the Little Depression and one last moment as a great power.
Airing one of my more unfashionable views for no other reason than because Chris Blattman echoes me.
The reasons that corruption should hurt growth are so persuasive that economists have been pretty surprised not to find much evidence. One team reviewed 41 different cross-country studies of corruption and development. Two-thirds of the studies don't even find a negative correlation. Cross-country studies have mostly bad data and empirics, so we should not rest here. But Jacob Svensson has a nice overview of the broader evidence and draws the same conclusion: there's not much to show that corruption reduces growth on net.
I think Acemoglu and Robinson put it best…
Here is a conjecture: corruption is a way for many economists and policymakers to talk about bad political outcomes without talking about politics… Corruption is an attractive talking point for both politicians and many economists because it is fundamentally viewed as apolitical. But poverty, alas, is not.
This fear of politics ties into the technocratisation of policy making.
Following the 1980s people began to think that economics was best left to economists. That they would work out clever answers to complicated questions and that clever people would implement them. Even if the electorate was stupid and didn't want them, technocrats could win the battle of ideas.
The last fifteen years or so, at least since the Asian Financial Crisis, reality has been punching technocrats in the face again and again and again. Of course, most of the punches came from the developing world and could be safely ignored. Finally, in the face of massive suffering in the Eurozone and the US technocrats like Brad DeLong began to think again about politics and political economy.
Its the institutions, stupid. And it is stupid people who build institutions. They're built by the stupid because we are all stupid. Everyday the worlds stock of knowledge expands more rapidly than you can learn. We are all progressively getting more stupid. If you want long term positive change then you have to force people towards your idea of it. The best organised and most convincing win because it is only in groups that we can overcome our innate ignorance.
Over a long enough time frame, humanity will return to the stone age or die trying. For a long time, people have accepted that ideas matter, but the old idea that putting lots and lots of people behind those ideas is coming back into fashion.
A couple of days a go, my friend Linn sent me an e-mail, being very frustrated: Amazon just closed her account and wiped her Kindle. Without notice. Without explanation. This is DRM at it's worst.
I cannot verify whether the e-mail exchange actually happened or whether both parties are being honest, but it is instructive of the trouble with digitally "owning" something.
In digital form, in extremis, you own very little of what you think you own. A lot of the time you are merely leasing the material. So long as nothing goes wrong, and so long as you stay onside with the usually un-burdensome terms and conditions nobody will notice.
For example, most music, films and books bought online are in fact leased. You have full use rights of the material you purchase but you don't own it, and your use rights can be revoked if you transgress the terms and conditions nobody reads.
Most people don't know this, and this is why people don't mind. However, as seen at the link at the top of this page, when you break, or are thought to have broken, the terms and conditions of the lease it can be cancelled and all the content you thought you owned will vanish.
This points to one reason people pirate material. Pirated material is material you own, unlike most of that provided commercially. Paradoxically, it is in the real world that ownership allows anonymity.
In reality, we are all very traceable on the internet. Each click or digital transaction involves electronic data passing between two known, verifiable and unique IP addresses.
When you buy something in a shop in the real world you usually don't know where the other guy lives, but on the internet you know just where their computer "lives." That means if you annoy the person from which you bought a game, song, book or movie they can slip in and silently take what you bought.
The internet and tech sector is growing much more quickly than the rest of the economy. That means that digital goods are becoming a bigger part of what we own and these problems are multiplying.
As the digital world expands more and more of the valuable things you own could end up being leased and power will pass from the state and from individuals to private companies.
As far is my understanding, there were two periods of Libor fixing at Barclay and elsewhere; one prior to 2008 which involved manipulating Libor to boost trading profits indirectly and a second after 2008 where they manipulated Libor to prevent themselves going under.
First of all, disclaimer for Barclays, "they" were all at it, Barclays were just the most thorough in their investigations and the quickest in settling with various regulators. Bob Diamond's ire is somewhat justified for that.
What Bob Diamond is not justified in doing is conflating the two sorts of Libor fixes in which banks were involved.
continue reading… »
After the war of independence most American states were in debt and some where in danger of not paying back the money at all.
Alexander Hamilton, all round dude, argued that the only solution to the debt problem was to nationalise the debt, give the central state some taxing powers to pay it off, and to ban individual states from running up large debts.
As discussed by Martin Wolf, something similar could work in Europe.
continue reading… »
Finance and Professional services are not synonymous with The City, something Rob Marchant (via Chris Dillow) needs to grasp when discussing Hollande's lessons for Ed Miliband.
And, regarding his policy programme, it is difficult to see Hollande being a pragmatist in government. For example, take this declaration from a January speech:

"My enemy is not another candidate, it is not a person, it has no face, it is the world of finance."

All very well, I suppose, down with capitalism: hurrah. But, whatever additional regulation the financial sector may need, is it a good idea, on any level, to emote about it being the "enemy"? In any event, this is an approach that Miliband would be wise not to try to emulate; in a country like ours, where one-fifth of GDP derives from the City, it would have very deep implications for government credibility, for borrowing and for investment. It is easy for France to talk about a financial transaction tax when it has a tiny financial sector compared with the mighty City; everyone wants higher taxes for the other guy.
It could be worse, couldn't it?
Oh, no sorry, my bad. In fact, the beatings will continue until morale improves.
I don't think Labour really know that the game has changed. The move to fixed term parliaments means Ed Miliband find themselves in a totally different position to someone like Cameron circa 2005 or Blair in 1994.
In 2005 Cameron suspected the next election wouldn't be for five years – and he turned out to be right. But he nearly had to fight an election in 2007 against a newly inaugurated Brown.
This meant that Cameron spent a lot time and effort trying to appear electable, trying to appear "in-touch" by visiting the arctic, liberal by hugging hoodies and as a better heir to Blair than Brown could ever be.
continue reading… »
LATEST NEWS
Meet the Woolwich attack Truthers who claim it was a "hoax"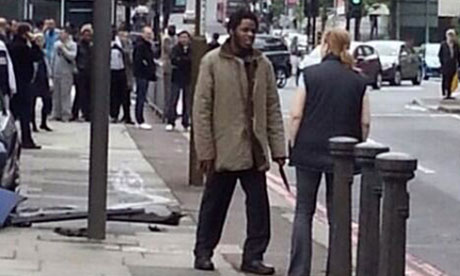 30 Comments
46 Comments
12 Comments
31 Comments
44 Comments
13 Comments
3 Comments
14 Comments
12 Comments
29 Comments
9 Comments
7 Comments
50 Comments
25 Comments
57 Comments
16 Comments
48 Comments
15 Comments
25 Comments
51 Comments
NEWS ARTICLES ARCHIVE