Recent Articles
YouGov has come out with a fascinating survey on how left/right wing people think they are.
Inevitably they've chosen a scale where being on the right takes you up to +100 and being a lefty is -100 but, despite this outrageous bias I think there's something quite valuable about asking people upfront where they see themselves on the political spectrum.
So the headline news is that 25% of people see themselves as left of centre and 24% see themselves as right of centre. Hurray! We're winning, let's move on…
Although another way of saying that would be that the majority of people do not describe themselves as left or right-wing, even a bit.
The other number that jumps out at you is that women are twice as likely to be less certain of their political direction. Seeing as most men think they know everything I guess this fits.
Although, the big thing for me is that so many people simply did not know how to answer the question which, as ever, is probably for a whole number of reasons. Come on, let's look at the regions (and Scotland, which is not a region but a country).
Would it shock you to find out that Scotland and the North were the most left wing parts of the UK? No? Me neither.
There is an interesting difference between them though in that Scotland's 33% left, 23% centre and 15% right is not identical to the North's 31% left, 19% centre and 20% right. The North's lefties are more likely to see themselves as harder left but, unlike in the North, Scots are more than twice as likely to see themselves as on the left than the right.
While London is to the left of the sea of right wing South surrounding it, it is still the place where a 'person' is most likely to describe themselves as on the far right. I bet loads of that is Essex.
I should point out that 2% of the South thought David Cameron was very left wing. Who'd have thought? I guess you can show anything with statistics…
Today Jenny Jones will be announcing her intention to seek the Green Party's nomination to run for London Mayor in 2012. Jenny has been an outstanding London Assembly Member from the very beginning in 2000 and is a very capable and likable politician.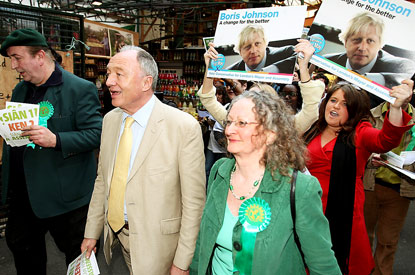 Although I've yet to make my mind up about who I'll be supporting for the role Jenny will be a strong contender for my pick.
It's no secret that I have significant political differences with Jenny around policing issues, where I think she has always been too willing to see the police's side of any question.
But I've never confused this with the idea that she is unwilling to criticise the police (she is, for example when she was the instigator of reopening the investigation into Blair Peach's death) or the fact that she is an excellent and radical green politician.
If she is selected by the Green Party, I will be extremely happy to give her my first preference (and probably Ken number two, as long as he behaves).
According to the ever excellent Mayor Watch;
The party will announce its candidate in March following a ballot of all London members.

Jones will be joined her bid by fellow Assembly Member Darren Johnson who will serve as her running mate. Johnson unsuccessfully stood as Mayor in the 2000 and 2004 elections…

In a statement Jones said the capital "desperately needs the green measures that a Green Mayor would introduce for a cleaner, safer city. Whether it's cleaning up on air pollution, investing in public transport, increasing the supply of affordable homes, or keeping the police local, Greens deliver on their promises and work for the whole of London."
For me I'm going to wait and see who else announces their intention to run before making up my mind on who I'll be supporting for my first preference (Greens use STV in internal elections) and I'm hoping we'll have at least one or two more high quality candidates to choose from to make the race truly competitive.
Certainly one of her strengths will be that she knows exactly what is expected of a Green Party Mayoral candidate and, as a disciplined and intelligent campaigner, would be a safe pair of hands for the role in my opinion.
Just a few days ago I wrote about the tensions building in Pakistan over the proposals to amend the blasphemy laws.
I mentioned in passing high profile Punjabi governor Salman Taseer who was an outspoken advocate of the reforms. He was the focus of much bile and criticism from the religious right.
Today he was murdered.
continue reading… »
A one day strike rocked Pakistan last week against proposed changes in the blasphemy laws. Currently those who 'insult Islam' can be sentenced to death and, according to the BBC, this has led to around thirty people being killed.
Critics add that the law is used to persecute religious minorities or to pursue vendettas.
continue reading… »
I've been particularly excised recently by the constant use of the phrase 'ConDem' to describe the coalition government. It's on leaflets, placards, blog posts and even painted on faces. My problem is that it reeks of dogma.
The moment I hear someone use the phrase I know with absolute certainty that this is not a 'normal' person but a political activist.
I've never heard any member of my family use the phrase, any of my non-activist friends nor come across it in everyday conversation, even when discussing the government.
continue reading… »
The Comprehensive Spending Review spelled some extremely bad news in the housing sector. It's a review that will cause hardship for many and homelessness for thousands.
It's not simply that Osbourne scaled back the plans of building new affordable homes by 30%, there has been a general assault on rights and benefits that will lead to misery and homelessness.
The ending of Secure Tenancies for council house tenants is the end of an era. The post-war settlement that created affordable homes for working people was a massive attack upon one of the great divides in society – decent housing.
continue reading… »
In a dramatic neck and neck finish Green Party councillor Celia Wade-Brown has won the Mayoralty of Wellington, the capital of New Zealand.
On Friday night at close of counting there was just 40 votes between her and incumbent right wing Mayor, Kerry Prendergast, with Prendergast in front. Counting was then suspended while the 'special votes' came in (votes from embassies, delayed postal votes and others).
The final vote today, Wednesday, was 24,881 to Celia and 24,705 to Kerry.
This comes on top of an already good set of results in the local elections across New Zealand for the left and for the Greens, although it's beyond me to do the number crunching because candidates don't use party descriptions, making a proper analysis the preserve of those with a far more in depth knowledge of local politics than I have.
Prendergast was running for her fourth term as Mayor and had a generally good reputation, which made her a tough opponent to beat.
In Celia's victory speech she described her success as "the ongoing evolution of Wellingtonians' existing commitment to a resilient, cosmopolitan and beautiful city, a continuation of some trends to a cleaner ocean, renewable energy and protected biodiversity, and definitely a city where there are quality jobs and worthwhile businesses."
The broad based campaign which focused on transport, technology and communities drew in activists and organisers well beyond the Green Party itself. She also said that her election showed "the Greens can be a credible force in governing communities".
There's a strike on on the London tube at the moment.
I know anything that causes mild inconvenience is always treated as a gross affront to our human rights and anyone exercising their actual human rights is to be automatically denounced as selfish and evil -but I still support the strike.
Is it because I'm a godless communist? Well, yes and no. Certainly being a godless communist helps if you're going to oppose the press, the government, the Mayor of London and just downright, globally accepted, common sense. However, there is some common sense on my side too.
continue reading… »
According to polls the German Greens, who already have the most MPs they've ever had, are seeing an unprecedented rise in the polls seeing them neck and neck for the first time with the SPD, the German version of the Labour Party.
So what's to account for the rise which, like in Sweden, does not seem to have effected other parties to the left of the centre?
One explanation is that the new right-wing coalition's decision to extend the life of existing nuclear power stations has hit a nerve in a nation that has had a vibrant anti-nuclear movement for many decades.
continue reading… »
It's been a few years now since the Green Party made its decision to adopt a leadership model. At the time it was a hotly contested issue and, in a high turnout, the referendum resulted in more than 70% voting to reform the old system.
However, since then there has been little discussion of how to implement the new system, I believe in order to help heal some of the wounds and concentrate on politics, funnily enough.
That's all very sensible but the fact is with poorly contested elections the party has essentially allowed inertia decide for it what we want from our leader.
continue reading… »
LATEST NEWS
Media doesn't realise how right-wing Britons think Cameron is

35 Comments
48 Comments
21 Comments
49 Comments
4 Comments
14 Comments
27 Comments
16 Comments
34 Comments
65 Comments
36 Comments
17 Comments
1 Comment
19 Comments
46 Comments
53 Comments
64 Comments
28 Comments
12 Comments
5 Comments
NEWS ARTICLES ARCHIVE