Recent Articles
UKIP have unveiled this poster as a PR stunt for a by-election
UKIP stooping so low they're using the sex abuse of children as a PR stunt. Wow (via @dandoj) pic.twitter.com/Z1i9yLi19N

— Sunny Hundal (@sunny_hundal) October 25, 2014
.
The response by the usual UKIP-faithful has been that I should be more outraged about child sexual abuse than the poster.
1) I have been writing about on of this kind of child sexual abuse (by gangs, usually of predominantly Pakistani-heritage men) for over ten years. Sometimes even at the risk of helping the BNP. I wrote two angry articles about the Rotherham scandal too. So don't preach to me on what I should get angry about.
2) You can be very angry about child sex abuse without using it as a PR stunt to score political points. This is what UKIP are doing.
What's more striking is UKIP hypocrisy.
UKIP MEPs have abstained on the issue of sexual abuse and sexual exploitation of children at the EU when it came up for a vote (thanks Gail)
.
.
And don't say UKIP never turn up to vote at EU affairs, because they do.
They couldn't bother to vote on legislation on child abuse at EU, but they're now trying to score political points from it.
The comedian Russell Brand was interviewed on Newsnight last night about his book, which you can watch above.
One headline is that Brand casually implies 9/11 was an inside job because George Bush had links to the Saudis, before half-heartedly back-tracking.
But I was more depressed by the first 10 minutes of conversation, and I want to explain why because I think this matters in a wider context.
In the debate Evan Davis wants to ask Brand a simple question: what is the alternative you propose? The comedian, who has apparently written an entire book calling for a revolution, doesn't have a straight answer. Brand says the current system isn't working (partly true) and points to activism by others challenging the consensus.
Brand says he is merely a high-profile voice and his job is to amplify the work of others. I think that's fair enough.
But Davis has a more profound question that Brand clearly doesn't want to answer. My version of that question goes like this: If you want to replace the current system of capitalism with something else, who is going to make your jeans, iPhones and run Twitter?
I.e. capitalism clearly has downsides, but it also leads to products that people really want to use. The desire for profit has led companies like Apple, Levi's and Twitter to create popular products that – especially in the case of social media – we can sometimes even use for free (in return for being forced to watch advertising, of course).
In the debate, Evan Davis asks Brand about the fact that wages have historically gone up: making billions of people richer and allowing them to afford products like fridge freezers, TVs and iPhones. Brand's response is: "Mate, I ain't got time for a bloody graph".
And then there are other responses that suggest he is blindly oblivious to his own privilege.
Russell Brand says stop paying your mortgage or going to work. Let me know how that works out for you pic.twitter.com/OoMnD2d5c7

— Anita Singh (@anitathetweeter) October 21, 2014
The problem I have with Russell Brand is that his style of politics is anti-intellectualism on an epic scale. He isn't just leaving the heavy lifting to others, he casually dismisses facts like they are irrelevant.
Yes, our capitalist system is breaking down and our democracy has many flaws with it. But any discussion that starts with the premise that we need a revolution to over-throw the system must at least have a response to the inevitable: "and replace it with what?"
This isn't to say I'm in favour of unadulterated capitalism or that I think cooperatives, mutuals, non-profit groups or social enterprises have no place. In fact we need far more of them. But, in effect, the Russell Brand critique is mild because all it really wants is a bit less of what is currently on offer a bit more of… some nice things that other people are asking for. To dress that up as a 'revolution' is plainly fatuous.
The establishment humours Russell Brand because he poses little threat to the system. Newsnight has him on because he's good for their ratings, not because they want to bring down the system too. The lack of an effective critique means that people will listen to him, glaringly see the obvious contradictions and unanswered questions, and dismiss the Left as over-privileged white guys who don't want to work but want their iPhones anyway.
A few years ago, I was going past the occupation of Parliament Square. I was quite defensive of the activists in the media and wanted to spend a bit of time just getting to know them. Bad idea. I came in being quite sympathetic, but soon realised that some of the people there only spoke in cliches and hadn't actually looked into the nuances of what they were saying. The woman I was talking to seemed to think everything was a conspiracy. Soon she was joined by some people who firmly believed 9/11 was an inside job. I made an hasty exit. Of course, every group has its share of cranks but it was a very sobering experience.
If Brand gets more apolitical people to question the world they're in, then great. But I worry about something else: that there's a broader slide towards anti-intellectualism among lefties where facts don't matter and smart critiques are junked in favour of cliches. The world is a messy place and our politicians are very flawed people. But we have to work (sometimes within the system) to continually reform it and improve it, not wait around for some vague revolution that will never come. If the end result is the UKIP-isation of the Left then I don't want any part of that revolution.
—
Also worth reading: Why Owen Jones is wrong to suggest that criticism of Russell Brand is merely 'snottiness' — by Abi Wilks
We are back to the news cycle whereby Westminster freaks out over how to deal with the threat from UKIP. The political parties will respond with the same promises, soundbites and narratives. Then they'll go back to existing plans until the next 'crisis'.
Thrown in this debate are two academics – Rob Ford and Matthew Goodwin – who have written about UKIP in a book and therefore invited regularly to offer their opinions. I'm reading it now and it contains some great research. But I have a problem with their political analysis, which I find increasingly simplistic. Here is why:
Rob Ford and Matthew Goodwin (RF+MG) have a narrative that goes like this:
Working class voters are natural Labour territory. But the party is complacent about the danger they face from UKIP and that's why UKIP is doing so well in the north. Why, for example, didn't Labour increase their share of the vote in Middleton last night? Why are poorer voters struggling with austerity not going to Labour?
For example:
"Its a by-election". Yes, in a core seat, where Lab won 58% in 2001 and is running as oppo to unpopular austerity govt. Shld be 60% not 40%

— Rob Ford (Britain) (@robfordmancs) October 10, 2014
And other tweets where I'm accused of having my head "in the sand".
To be fair it isn't just RF+MG saying this – I've seen similar questions by others on Twitter too. But there are vast assumptions in each of those sentences that don't stack up.
1. Working class people are not natural Labour voters. Poorer voters are not always motivated by money or economic concerns; many working class people have always been culturally conservative. As Labour has become more socially liberal (rightly, in my view), they have flocked to the Tories. In the US and UK this happened during the Reagan & Thatcher era on the issue of race / immigration, and (more recently) on issues like homosexuality and gender equality. This is why Cameron wanted to challenge his own party on gay-marriage (to 'modernise' it) and faced a bigger backlash than Labour did. This is also why Farage doesn't back gay marriage despite his supposedly libertarian outlook.
More working class people have voted Labour traditionally, for economic reasons, but that doesn't mean working class people are "naturally" Labour. Nor should Labour go for every last working class vote, unless it wants to alienate its middle class voters.
2. The Labour leadership is not complacent about the threat from UKIP. I've heard directly from Ed Miliband in a private meeting that he thought UKIP were a "significant" threat to the party. There is no sign whatsoever that the Labour party is complacent about UKIP, though their main focus has always remained the Tories. Quite rightly too. This oft-repeated claim that Labour is "complacent" is outright rubbish.
3. Why didn't Labour do massively better last week in Middleton? Various reasons. Many were ex-Tory or ex-LibDem voters who disliked Labour and found a vibrant, new vehicle to register their support. Secondly, in most metropolitan areas in the Midlands or further north, Labour isn't the opposition – they are the incumbent. All politics is local, remember? Third, it takes a while for voters to forgive Labour for their mistakes of the past (Iraq, financial crash, immigration), and they won't just flock back quickly like some commentators think they should. It takes long, grinding contact with voters and mobiling around their issues to win back trust. Even four years is not enough.
4. Why aren't angry voters flocking to Labour on austerity? The fact that Rob Ford seriously asks me this question reinforces my broader point about the simplistic analysis. First, a lot of voters think they haven't been affected by austerity, or aren't motivated against it.
Second, Labour isn't vehemently anti-austerity anyway, the leadership has partly accepted the need for it! Those people have gone to the Greens
Third, many voters blame Labour for the austerity they've had to face, because they were in charge when the economy crashed.
For all these reasons, and more, Labour didn't see a big rise in support in Heywood. Labour is not on the verge of a landslide next year, and we knew this all along.
* * * * * * * * * * * * * * * * *
I have no doubt I'm going to be called "complacent" for writing this, which has become the standard non-response these days.
There is a final example of how this narrative is too simplistic. In almost interview given by RF+MG, they will get a nudge from the presenter to talk about how immigration is the biggest issue for Britons right now. So they will dutifully repeat the polling in interviews.
But again this is too simplistic. Douglas Carswell was vehemently pro-immigration and open about it, and yet won with a stonking majority. Locals gave all sorts of reasons for voting for him, including street lights, not having seen their Tory MP and much more. Plus, in places like Manchester or London, Labour cannot run with an anti-immigration or anti-multiculturalism message as it will repel more of their voters than it will attract.
* * * * * * * * * * * * * * * * *
I will only say this. A lot of Labour seem to be under the impression that their party should be doing much better now, without recognising it takes much longer to turn around people's indifference to Labour. This is why no party in British history has turned around a stunning defeat by the next election.
Its unfashionable to say this, but a Labour panic over UKIP (in the way Gordon Brown panicked over immigration after the Gillian Duffy incident) could hurt its own prospects far more than responding more calmly and carefully.
I've not waded that much into the debate on Scotland's future, partly because I've been focusing on ISIS and partly because its not my fight. I support the Union but its up to the people of Scotland to decide and they're unlikely to be persuaded by this random guy from London.
But I'm perplexed by the pro-independence position that some lefties have taken, particularly the Green party.
The Yes Scotland campaign say their economy is strong and can survive independence thanks to natural resources such as oil and gas. Its a key claim on their website and its true; oil and gas would be key to an independent Scotland's finances.
Revenue from oil and gas is also how an independent Scotland will pay its bill and stave off deep spending cuts. I'm not saying they're the only source of revenue but they're very key to Scotland's future. Without them there would be deep cuts. Independence would make Scotland even more dependent on that revenue.
As you can see from the chart above, revenue from fossil fuels easily dwarfs everything else combined.
Scotland wants to invest in renewable energy, but the money for investment will inevitably have to come from further investment and money raised through oil and gas.
AND YET – one of three key principles of the Green Party is to reduce "dependence on fossil fuels". Scottish Greens too say they want to reduce dependence on fossil fuels.
So why are the Green Party supporting an outcome that makes a nation even more dependent on exploiting its oil and gas resources?
Can someone explain this to me?
If the Greens are arguing that Independence will make Scotland less dependent on fossil fuels, I'd like to see the evidence and sums, since the YES campaign in Scotland isn't saying that at all.

Last night President Obama delivered a speech on how the United States would tackle the threat of ISIS. It rightly deserves a lot of parsing and discussion.
There have broadly been two types of responses:
"Oh no, the USA is back to fighting a war in Iraq again! This won't end well!" … or…
"Oh god, this won't do anything to destroy ISIS. The President isn't doing enough!"
Both are wrong and exaggerated. Here are a few thoughts.
1) The aim of Obama's speech was primarily to reassure the American public that he was doing something about ISIS. It's more right to say he isn't doing enough, but that's probably a good thing as I explain below. In fact his strategy now isn't any different to a few weeks ago when he said he had no strategy. And there are good reasons why there is no clear strategy.
2) The President didn't announce anything new other than the prospect of some air-strikes in Syria against ISIS (and possibly Assad). There was a mention of training moderate Syrian rebels in Saudi Arabia, but there are some reports this is already happening in Jordan. That's about it. He ruled out U.S. troops going back into Iraq or Syria, until he is President anyway.
3) There is some merit to the complaint that Obama isn't doing enough. Air-strikes will dent ISIS but not destroy them, which will take ground troops in both countries. But the USA hasn't been able to persuade any outside partners (Turkey, Saudi Arabia or Jordan) to commit to troops to destroy ISIS yet. This is why Obama's announcements amounted to little; there is little the US can do by itself that won't make the situation worse.
4) In the short and medium term I suspect the Islamic State will expand in size and strength. The Arab countries and Turkey are too scared to confront ISIS (militarily and ideologically) and are still hoping the US will do their dirty work for them. Obama, wisely, isn't buying it. He has avoided falling for the ISIS trap.
5) I asked others what they would have wanted to see instead.
@sunny_hundal well, a time machine so a UN/int'l effort to stop Bashar before things spiraled out of control would be nice. ????????

— Hend (@LibyaLiberty) September 11, 2014
Well, I'm with Hend on that. Part of the blame for not intervening in Syria lies with those lefties and Muslims (across the US and UK) who opposed such action…but there's little we can do about that now.
6) If a terrorist attack is committed in the name of ISIS in mainland Europe (most likely France) or the United States, then this will all change.
The Independent's Partrick Cockburn writes: "West poised to join forces with President Assad in face of Islamic State".
This is absolute rubbish. Not one British official is quoted saying they would work with Assad against ISIS. Not even anonymously.
When the British Foreign Secretary was asked on Friday by the BBC if the UK was planning to work with Assad against ISIS, he said "No" outright. He added that working with Assad would "poison what we are trying to achieve". And said it was not "practical or sensible".
The UK's sole role in the Iraqi crisis so far has been to provide humanitarian aid. Military involvement would lead to demands for a vote in Parliament, and that's not happened yet (and unlikely it will happen soon). So far, we are even refraining from air-strikes, let alone working with Assad.
Could it be happening behind the scenes? Also unlikely. The UK has been helping the (moderate) rebels against Assad for years. We have also continuously called for Assad to go. There is absolutely no trust between the UK and Assad. So the chances that we would suddenly start cooperating and trusting each other is remote.
Is the United States working with him? The sole evidence is the Independent's claim that the US army passed on intelligence about the exact location of "jihadi leaders" through the the German intelligence service to Assad. But Assad has always known where ISIS are because he has been tracking their movements carefully.
One U.S. General has called for Obama to work with Assad against ISIS, but its not yet official US government policy.
We would be foolish to work with Assad against ISIS anyway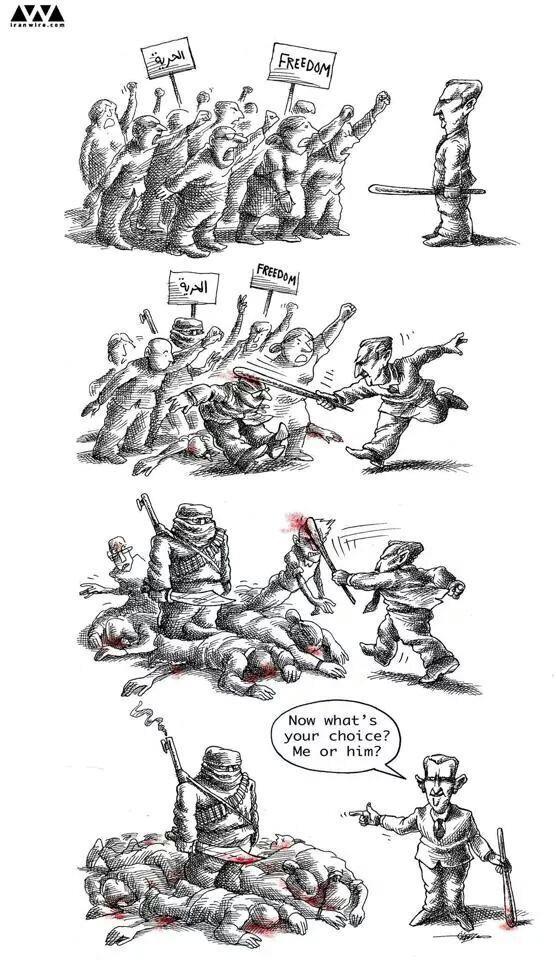 Doing so would be a monumental disaster for two reasons.
First, it would mean we neatly fell into Assad's gameplan. We had always known from the start that Assad wanted to play on the west's fears by portraying his opposition as Islamic radicals. When he failed in convincing people, he actively worked to build up ISIS.
As recently as 2012, Isil was a marginalised movement confined to a small area of Iraq. Then Mr Assad emptied Sednaya jail near Damascus of some of its most dangerous jihadist prisoners. If he hoped that these men would join Isil and strengthen its leadership, then that aspiration was certainly fulfilled. A number of figures in the movement's hierarchy are believed to be former inmates of Syrian prisons, carefully released by the regime.

By 2013, Isil had managed to capture oilfields in eastern Syria. But to profit from these assets, they needed to find a customer for the oil. Mr Assad's regime stepped in and began buying oil from Isil, thereby helping to fund the movement, according to Western and Middle Eastern governments.
Assad always knew that the west is more scared of Islamic militants than dictators. So he helped build ISIL / ISIS as his exit strategy, so we would reach a point where we'd work with him to defeat them, thereby ensuring Assad stays in power.
Working with Assad against ISIS would make us absolute suckers who fell for his grand plan. There are even cartoons across the Middle East that say it explicitly.
Secondly, working with Assad would be the best recruiting agent for jihadis across the world. Assad is reviled across the Muslim world, having destroyed Syria and killed nearly 200,000 people. He has made millions homeless and forced them into refugee camps.
I can't imagine a better recruiting line for ISIS than: "hey look Muslims, USA and UK are working with the guy who killed 200k of you" #wato

— Sunny Hundal (@sunny_hundal) August 22, 2014
This sort of short-termist, idiotic thinking from the West helps the jihadis. By working with Assad the West would end up creating more Jihadis and threaten our security for generations.
Let's get two caveats out of the way first: I'm neither a Muslim and nor am I religious in any sense (I come from a Sikh family). Secondly, anyone who's read my work knows I have zero sympathy for religiously motivated terrorists. In fact I even supported the invasion of Afghanistan in 2001 to take out the Taliban.
Yesterday the Evening Standard said in its Editorial Comment: "Muslim communities must be far more outspoken about this: we look to them, for instance, to organise protests against the Islamic State."
I've also seen various tweets by people asking why more Muslims aren't speaking out against ISIS, or condemning it. In response there's this.
If you think Muslims aren't condemning ISIS, it's not because Muslims aren't condemning ISIS. It's because you're not listening to Muslims.

— Hend (@LibyaLiberty) August 20, 2014
But even asking for condemnations is ridiculous. Muslims globally are no more responsible for the actions of ISIS than British Jews are for Israeli war-crimes. During the Gaza offensive no one asked British Jews to apologise for the Israeli bombs that killed hundreds of children. This is despite the fact that British Jews do go and fight in the IDF.
Demanding that Muslims condemn ISIS is xenophobic because it implies that they are sympathetic to the terrorist group unless they state otherwise. It implies all Muslims are responsible for the actions of terrorists. And there's a double-standard because other minorities aren't held to the same standard.
Yes, I'm aware that British Muslims have gone to fight with ISIS. But we live in a free country and British Mosques can't stop people from travelling to Syria any more than the police can stop crimes before they happen.
Furthemore, the condemnations are useless, however reassuring they may sound. This is all a charade, like how politicians feel obliged to make a public statement of grief when someone famous dies.
The jihadis at ISIS and their sympathisers already see 99% British Muslim organisations and commentators as apostates. They're executing religious Shias in Iraq daily – you think they care what the Muslim Council of Britain has to say? They don't even care for the Muslim Brotherhood.
Lastly, it's worth noting that most of the victims, and most of those fighting ISIS daily, are Muslims. The image above is of Kurdish soldiers fighting ISIS.
In other words, Muslims are being criticised for not condemning a group that is mostly killing Muslims. It's ridiculous.
Britain needs a serious discussion about how to counter those people with extreme views here. We also need a discussion of British foreign policy in the Middle East. But asking all Muslims to condemn ISIS does not advance either of those much needed debates, it just illustrates idiocy.
—
ALSO READ: The ISIS leader was NOT trained by the CIA or Mossad, and Snowden didn't say it
There are three common rules when people discuss politics:
1) they are willing to believe anything on the internet if it confirms their prejudices
2) they don't want to accept people of their tribe do awful things
3) they find a way to blame America or the UK for most of the world's problems
A recent example: the claim that Abu Bakr al-Baghdadi – the self proclaimed leader of Islamic State in Syria and Iraq – was funded or trained by the CIA or Israel's Mossad, and that this was apparently revealed by Edward Snowden.
Stories claiming this hoax have gone viral all over the web (example 1, example 2, example 3). This is simply not true. In fact I asked the reporter Glenn Greenwald, who has had more contact with Snowden than most people – this question directly.
@sunny_hundal I've never heard him say any such thing, nor have I ever heard any credible source quoting him saying anything like that.

— Glenn Greenwald (@ggreenwald) August 6, 2014
Furthermore, Edward Snowden's lawyer called this claim a hoax too.
So where did ISIS money and the guns come from?
I explain this briefly in my New Statesman article:
"After initially funding its efforts with extortion, smuggling and private donations, it literally struck gold in June when it made off with $400m in cash and gold from the central bank in Mosul.
"Since then it has also captured oil fields and earns up to £3m a day by selling the resource on the black market.
"The group also has a modernised arsenal from the weapons and vehicles it has captured from the Iraqi army. Even the well-trained and feared Kurdish forces are being pushed back in places."
But America is still to blame, right?
In some ways, yes. The New York Times recently reported:
"The Pentagon says that Mr. Baghdadi, after being arrested in Falluja in early 2004, was released that December with a large group of other prisoners deemed low level. But Hisham al-Hashimi, an Iraqi scholar who has researched Mr. Baghdadi's life, sometimes on behalf of Iraqi intelligence, said that Mr. Baghdadi had spent five years in an American detention facility where, like many ISIS fighters now on the battlefield, he became more radicalized."
From there he joined al-Qaeda, and later split off into his own group which later became ISIS and Islamic State.
But what about all the pictures?
If you see any pictures, supposedly of al-Baghdadi meeting someone (like John McCain!), they're also fake. McCain met some Syrian opposition leaders but he didn't meet Baghdadi. These pics never reveal their source, time, date or location. Unless a pic does that, so it can be verified, its a fake.
So where did ISIS come from?
ISIS were initially an al-Qaeda offshoot:
"The Islamic State is the current incarnation of al-Qaeda in Iraq(AQI), which was created when Abu Mus'ab al-Zarqawi swore allegiance to Osama bin Laden in October 2004. The Islamic State of Iraq (ISI) was declared in October 2006, four months after a U.S. airstrike killed Zarqawi. This was not just a naming convention: according to its organizers, AQI ceased to exist at that point, as the ISI was intended to be a governing institution independent from al-Qaeda and a practical step toward ultimately declaring a Caliphate."
But ISIS split from Al-Qaeda and went its on way to establish a Caliphate. Its only over the last year they have made serious inroads towards their aims and have therefore become much more prominent.
Now, stop spreading conspiracy theories please.
Update: A longer debunking of this hoax is here.
In the Observer today, I debate Nick Cohen on whether the Tricycle Theatre in London was right to ask the UK Jewish film festival to 'reconsider' its funding from the Israeli government.
There are two additional points I want to make that I didn't have the space for.
The slippery slope
Nick Cohen ends by writing:
From George Galloway declaring Bradford an "Israel-free zone" to Islamists in the East End of London raising jihadist flags, a dangerous antisemitic mood is growing. By defending worthless bureaucrats who intimidate a Jewish – not an Israeli but a Jewish – festival because it won't accept their double standards, you are adding to it – thoughtlessly, I am sure.
My response to him is this:
I think the slippery slope argument is worth keeping in mind, but I don't think we are there yet. You have been criticised plenty of times for demonising Muslims and contributing towards an Islamophobic atmosphere too, and I'm sure you'll appreciate the irony.
We can all stand up against racism while rejecting tainted money. I fully condemn Galloway and his ilk, and I believe my voice carries more weight because I also condemn the attacks in Gaza. If the slippery slope argument was carried towards its full logical conclusion every time, then you (Nick Cohen) and others (including myself), would not be allowed to criticise Islamists for fear it would further inflame Islamophobia.
Nick Cohen applies this standard to Jews but not Muslims
'Asking Jews to take a stance on Israel'
The other key point made by critics of Tricycle is that by asking the UKJFF to reject Israeli funding, Jews as a whole are being take a stance on Israel.
But let's flip this around. That stance implies we can't ask Muslim groups to reject Saudi money because that's asking them all to state their allegiance regarding the Saudis.
It would also mean no Hindu or Indian group could be criticised for taking Indian government money, even though there may be several good reasons in certain circumstances for doing so. Persian groups wouldn't have to account for Iranian money… and so on.
That would make it near impossible to debate the influence of foreign money because this charge could be raised by almost any ethnic group at any time.
I don't think Tricycle raised the issue because they wanted all Jews to take a side. It was a legitimate response to the pressure they had given the ongoing conflict.
If I had a penny for every time someone said this to me on Twitter, I'd have bought myself a min-island in the Bermuda by now.
Yes, the United States supports Israel with military aid every year. It also licenses American companies to sell Israel military equipment every year.
But Israel won't collapse tomorrow if the US cut off their aid. Let's just go over the numbers to explain.
The United States gave approximately $3.2 Billion to Israel last year. Here's the breakdown
That includes a sum of $3.1 billion as military aid.
It provides another $504 million in funding: for Israel's Iron Dome anti-rocket system ($235 million) and the joint US-Israel missile defense systems David's Sling ($149.7 million)
And there are a few other systems that amount to around $100m. There's a breakdown here (PDF)
As a proportion of Israeli spending that used to mean a lot – sometimes as much as a quarter of Israel's defense budget.
It doesn't any more, primarily because Israel has had a healthy and growing economy. In 2000, Israel GDP was $124.9 Billion. Last year it was more than double that – $291.3 Billion. In comparison, Egypt has a smaller GDP ($271 BN) even though it has 10x the population (more comparison: India's GDP: $1.8 Trillion; UK $2.5 TR; USA $16.8 TR).
In other words, US military aid to Israel is now worth merely 1% of its GDP. It's a bonus, not essential money.
The country is doing so well it has more cash than needs, thanks to the recent discovery of gas reserves. It is discussing setting up a sovereign fund and discussing where to invest that surplus.
In fact, this situation has even led some pro-Israelis to call for the military aid to be cut to Israel, on the basis that Israel would then have to rely even less on its ally. They don't want Israel to be seen as subservient to US interests and clearly think Israel will do just fine without American money.
The point is, US military aid to Israel has largely become an irrelevant factor in this war or the future. Cutting it off won't hobble Israel. If America abruptly withdraws it over illegal Israeli action, then it may force a change in behaviour but that is a highly unlikely scenario.
LATEST NEWS
Media doesn't realise how right-wing Britons think Cameron is

35 Comments
48 Comments
21 Comments
49 Comments
4 Comments
14 Comments
27 Comments
16 Comments
34 Comments
65 Comments
36 Comments
17 Comments
1 Comment
19 Comments
46 Comments
53 Comments
64 Comments
28 Comments
12 Comments
5 Comments
NEWS ARTICLES ARCHIVE