4:26 am - May 1st 2015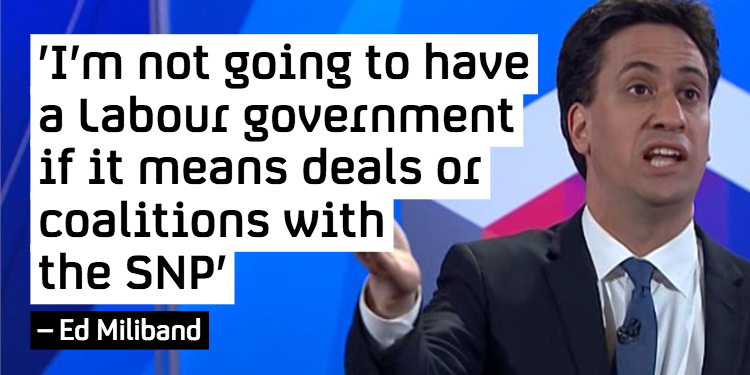 The Labour leadership have finally settled on a clear line on the SNP.
Assuming that Cameron cannot cobble together a majority on 8th May and has to resign, that gives Ed Miliband his turn at forming a government.
Miliband says he won't do a formal coalition with the SNP (Nicola Sturgeon ruled that out ages ago anyway), nor will there be an informal 'Confidence & Supply' agreement with them. Instead, Labour either do a deal with the Lib Dems to get a working majority, or they work as a minority government.
The Labour leadership are confident they can work as a minority government because the SNP and other minor left parties won't vote down their Queen's Speech and trigger a second election. In effect they are calling Nicola Sturgeon's bluff because she has already committed to voting down a Tory Queen's Speech.
So the Labour leadership are pleased because they think Sturgeon has little leverage. But can this strategy be sustained for long?
Firstly, this is from last night:
This is going to hurt in Scotland. Don't believe Miliband would reject votes from SNP to let Tories in; bad phrasing pic.twitter.com/angXsrs55r

— Sunny Hundal (@sunny_hundal) April 30, 2015
The SNP are predictably spinning it as: Ed Miliband would rather let the Tories back in than work with the SNP. That is wrong. There is no conceivable prospect of Miliband resigning his government than having SNP on his side.
Caroline Flint later clarified it:
What [Miliband] ruled out was this idea that, somehow, to have a Labour government we're prepared to do a coalition or some other kind of confidence and supply deal [with the SNP].

But, at the end of the day, whoever forms a government, parties will get a chance to vote for a Queen's speech, vote for budgets, and vote for policies, that's the same with any government.
In other words: Hey Nicola Sturgeon, you are still welcome to vote with us! Just don't expect a quid-pro-quo arrangement of any sort.
OK. So that was a misstep but this strategy is still sound, right?
I'm not so sure.
Keep one important point in mind: a large proportion of Scots don't view the SNP as negatively as the English do. In fact, a large proportion of them (many of whom are ex-Labour voters) think the SNP have their interests at heart more than Labour. This seems obvious but a lot of people seem to be ignoring this.
More importantly, Nicola Sturgeon isn't going to let herself be outmaneuvered by Miliband so easily.
Since Labour still needs a majority of MPs for votes on legislation, Sturgeon will just make his life harder by getting SNP MPs to abstain or complain over small things. That would put Miliband in a difficult position: either negotiate with the SNP (and have the Right savage him for it) or appeal to Tory MPs (thus alienating the left and giving an electoral boon to Sturgeon).
In Scotland, Sturgeon will keep arguing that Miliband would rather do a deal with the Tories than the SNP. In England, the Tories will argue that Labour are breaking their promise and doing deals with the SNP. Either way Miliband will be constantly attacked on all sides.
This isn't ideal. Miliband's administration could soon become paralysed.
For Miliband to argue in Scotland that he'd rather have Tory MPs vote with him than negotiate with SNP MPs would further alienate SNP voters (many of whom Labour need back). In effect he will be giving up on Scottish Labour without much gain in return.
By saying Labour rejects any deal with the SNP, I think Miliband is making a mistake. I don't think this strategy can be sustained.
Sorry, the comment form is closed at this time.
Reader comments
Reactions: Twitter, blogs
Sorry, the comment form is closed at this time.