2:43 pm - August 24th 2014
The Independent's Partrick Cockburn writes: "West poised to join forces with President Assad in face of Islamic State".
This is absolute rubbish. Not one British official is quoted saying they would work with Assad against ISIS. Not even anonymously.
When the British Foreign Secretary was asked on Friday by the BBC if the UK was planning to work with Assad against ISIS, he said "No" outright. He added that working with Assad would "poison what we are trying to achieve". And said it was not "practical or sensible".
The UK's sole role in the Iraqi crisis so far has been to provide humanitarian aid. Military involvement would lead to demands for a vote in Parliament, and that's not happened yet (and unlikely it will happen soon). So far, we are even refraining from air-strikes, let alone working with Assad.
Could it be happening behind the scenes? Also unlikely. The UK has been helping the (moderate) rebels against Assad for years. We have also continuously called for Assad to go. There is absolutely no trust between the UK and Assad. So the chances that we would suddenly start cooperating and trusting each other is remote.
Is the United States working with him? The sole evidence is the Independent's claim that the US army passed on intelligence about the exact location of "jihadi leaders" through the the German intelligence service to Assad. But Assad has always known where ISIS are because he has been tracking their movements carefully.
One U.S. General has called for Obama to work with Assad against ISIS, but its not yet official US government policy.
We would be foolish to work with Assad against ISIS anyway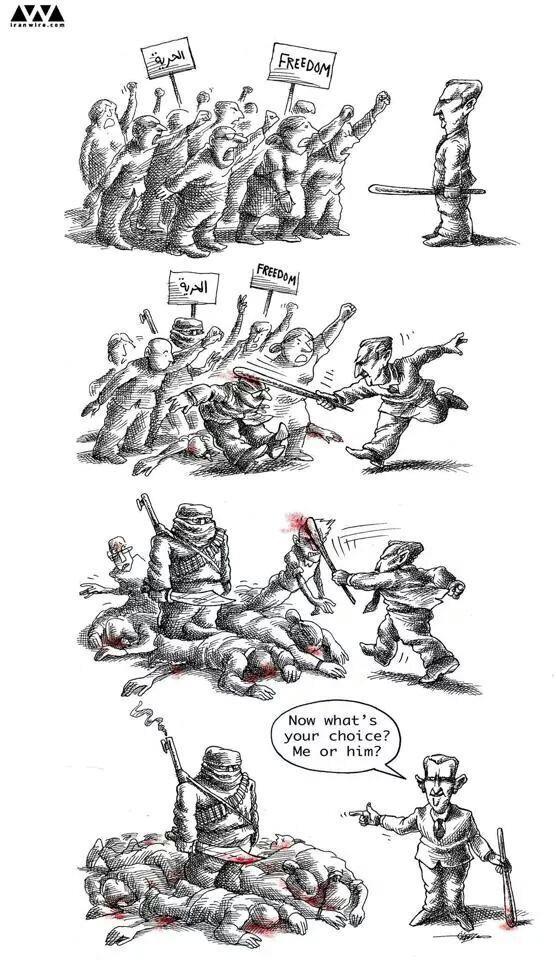 Doing so would be a monumental disaster for two reasons.
First, it would mean we neatly fell into Assad's gameplan. We had always known from the start that Assad wanted to play on the west's fears by portraying his opposition as Islamic radicals. When he failed in convincing people, he actively worked to build up ISIS.
As recently as 2012, Isil was a marginalised movement confined to a small area of Iraq. Then Mr Assad emptied Sednaya jail near Damascus of some of its most dangerous jihadist prisoners. If he hoped that these men would join Isil and strengthen its leadership, then that aspiration was certainly fulfilled. A number of figures in the movement's hierarchy are believed to be former inmates of Syrian prisons, carefully released by the regime.

By 2013, Isil had managed to capture oilfields in eastern Syria. But to profit from these assets, they needed to find a customer for the oil. Mr Assad's regime stepped in and began buying oil from Isil, thereby helping to fund the movement, according to Western and Middle Eastern governments.
Assad always knew that the west is more scared of Islamic militants than dictators. So he helped build ISIL / ISIS as his exit strategy, so we would reach a point where we'd work with him to defeat them, thereby ensuring Assad stays in power.
Working with Assad against ISIS would make us absolute suckers who fell for his grand plan. There are even cartoons across the Middle East that say it explicitly.
Secondly, working with Assad would be the best recruiting agent for jihadis across the world. Assad is reviled across the Muslim world, having destroyed Syria and killed nearly 200,000 people. He has made millions homeless and forced them into refugee camps.
I can't imagine a better recruiting line for ISIS than: "hey look Muslims, USA and UK are working with the guy who killed 200k of you" #wato

— Sunny Hundal (@sunny_hundal) August 22, 2014
This sort of short-termist, idiotic thinking from the West helps the jihadis. By working with Assad the West would end up creating more Jihadis and threaten our security for generations.
Sorry, the comment form is closed at this time.
Reader comments
Reactions: Twitter, blogs
Sorry, the comment form is closed at this time.