1:20 pm - June 18th 2013
Brazil exploded into the biggest protests for over 20 years yesterday, as concerns over growing inequality and corruption spilled out into the streets.
There's a map here pinpointing where the protests took place.
Unusually for political leaders, Brazilian President Dilma Rousseff even praised the protests yesterday, calling them "legitimate" and saying that peaceful demonstrations are "part of democracy". She also said it was "befitting of youth to protest," having been a leftist guerrilla when younger.
But politicians were the key target for protesters, who complained about the absurd salaries lawmakers awarded themselves, while passing laws to enrich themselves.
The marches, organised mostly through social media, blocked streets and halted traffic in more than a half-dozen cities, including Sao Paulo, Rio de Janeiro, Belo Horizonte and Brasilia. In the capital city demonstrators climbed onto the roof of Brazil's Congress building and then stormed it.
Protesters waved Brazilian flags, dancing and chanting slogans such as "The people have awakened" and "Pardon the inconvenience, Brazil is changing."
This video explains some of the anger.
.
Protester kicks back a gas canister! Brilliant video
.
"For many years the government has been feeding corruption. People are demonstrating against the system," a 28-year-old saleswoman protesting in Sao Paulo told Reuters. "They spent billions of dollars building stadiums and nothing on education and health."
O Rio de Janeiro continua lindo! #Brazil Social Protests. Photo Joao Pedro Sa. pic.twitter.com/w1aspthiO8

— Patricia G. Ferreira (@Pat_Galvao) June 17, 2013
More protests are being organised for coming days.
.
LOOK at the size of this protest in Rio De Janeiro from tonight… wow! https://t.co/g4vZjd8HsY (via @Pat_Galvao)

— Sunny Hundal (@sunny_hundal) June 18, 2013
The growing protests were the largest since Brazil's military dictatorship ended in 1985.
"I'm not going to the world cup"
"Today's protests are the result of years and years of depending on chaotic and expensive transportation," said Érica de Oliveira, 22, a student told the New York Times.
I'M NOT BRAZILIAN, BUT I CAN CLEARLY SAY THAT YOU GUYS ARE THE BEST! KEEP BELIEVING EVERYONE! #CHANGEBRAZIL pic.twitter.com/aQoElS8Cnz

— Buse (@JoeJonasArmy) June 17, 2013
.
"#TURKEY IS WITH YOU BRAZIL! #ChangeBrazil pic.twitter.com/6uf3gUw8rw "

— Anonymous Operations (@AnonOpsSE) June 17, 2013
.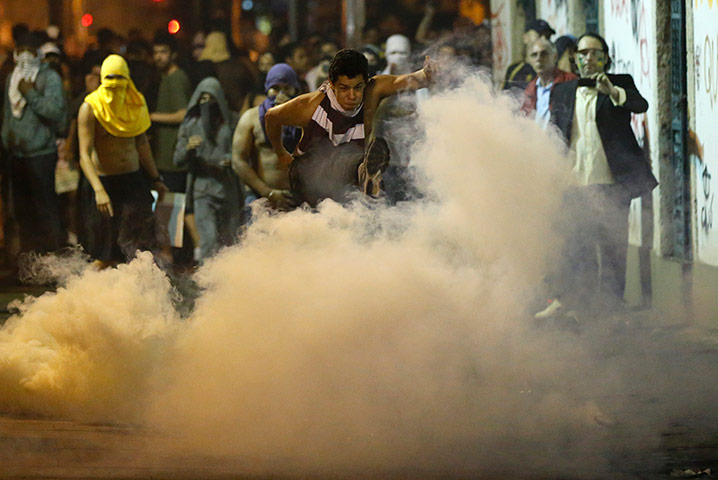 .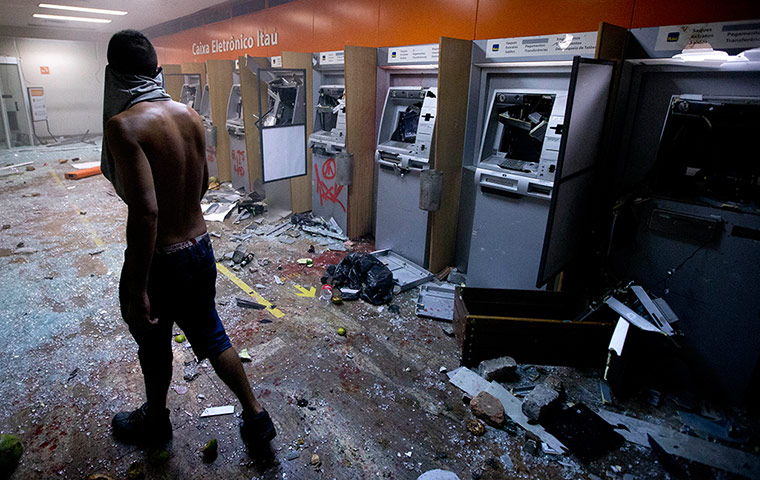 .
OH MY GOOOD, LOOK AT THAT CROWD! I'M SO PROUD OF ALL BRAZILIAN PEOPLE! YOU GUYS ARE WARRIORS! #CHANGEBRAZIL pic.twitter.com/U8TJXo3CEm

— Buse (@JoeJonasArmy) June 17, 2013
.
There are 100,000 people in the streets in Rio. Photo by Juliana Kozlowski #changebrazil pic.twitter.com/hZ63qAcTof

— T Portilho-Shrimpton (@Selkie) June 17, 2013
(Some of the images are from The Guardian and New York Times)
Sorry, the comment form is closed at this time.
Reader comments
Reactions: Twitter, blogs
Sorry, the comment form is closed at this time.