3:53 pm - May 21st 2013
Given the debate in the House of Commons, I think it's well worth reflecting on exactly where opposition to equal marriage is coming from and, particularly, how that opposition is being organised.
As far as public opinion is concerned, YouGov President Peter Kellner laid out the actual position with admirable clarity yesterday:
The passions of grass-roots Tories who are bitterly opposed to same-sex marriage are not shared by the wider electorate. Most voters back a change in the law – and very few opponents are willing to switch their votes because of this issue.
…
So, among the public as a whole, 4% are pro-same-sex marriage AND say this is a vote-deciding issue, while 3% are in the opposite camp. Among those who voted Conservative in 2010, just 6% say this is a vote-deciding issue, and they divide 3-1 against same-sex marriage. So even there, the net effect is tiny.
So, not only do a majority of the public support marriage equality but its also anything but the political hot potato that its (mostly) Tory opponents are trying to make out.
However, one issue not many pick up on is the parallel problem of 'organisational capture', i.e. what us lefties used to refer to as 'entryism'.
In simple terms, it is not simply a matter of the decline in the mass membership of political parties, and other organisations, leaving them increasingly at the mercy of their residual 'swivel-eyed' activist rump. It also leaves them in a position where, starting at the grassroots level, they become increasingly susceptible to capture by organised minority interest groups intent on using the party/organisation as a vehicle to push their own narrow agenda.
Although this is problem that is, historically, most closely associated with the political left, and in the UK particular with the takeover of the Labour Party Young Socialists and Liverpool City Council by Militant, it is an issue that is increasingly coming to bedevil conservative politics, particularly in the United States. For example, one of the more alarming and poignant stories to emerge from the 2010 US election was that of Bob Inglis, a former Republican member of the US House of Representatives who was deselected in 2010 after losing a primary to Tea Party-backed candidate.
You might think this can safely be filed away under 'only in America', but don't be so sure.
Take a good hard look at the following chart which I've put together in an attempt to map the many connections that already exist between our own right-wing Christian lobby and both their US counterparts and, more importantly, with a wide range of British conservative political organisations and politicians.
The map, which is far from complete, shows the extent to which our own religious lobby has already forged connections and assumed positions of influence throughout the right-wing/conservative movement in Britain.
It also shows the extent to which political opposition to measures such as equal marriage and legal access to safe abortion services originates with and is tied into a very narrow range of closely connected religious groups.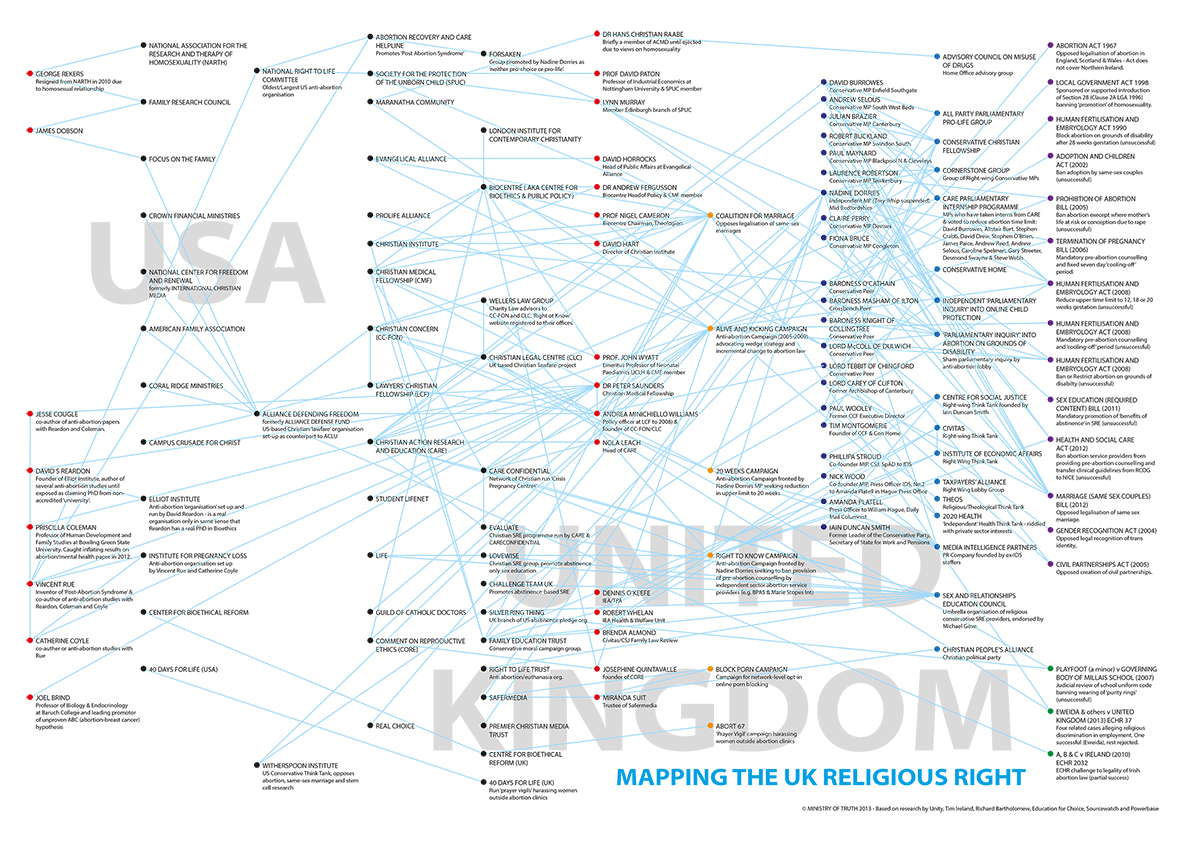 (download as a print quality PDF, 1mb)
If you think that the religious right in Britain is no more than a bunch of fringe evangelical groups with few connections and very little political influence, this chart may well persuade you to think again.
—
A longer version of this post is here.
Sorry, the comment form is closed at this time.
Reader comments
Reactions: Twitter, blogs
Sorry, the comment form is closed at this time.