9:30 am - May 16th 2013
You would normally expect an MP who has only just had their party whip reinstated after a six month suspension to lie low for a while but not Nadine Dorries. She wants an alliance with UKIP.
But thy is Dorries even talking about the possibility of running on a joint Tory/UKIP ticket?
Well, the answer almost certainly lies in this recent YouGov poll:
New YouGov research conducted just before her party membership was reinstated reveals that 43% of Tories would have supported the party's decision to reinstate her, while 45% think she should not be allowed to rejoin the party.
That's right, more Tory voters would rather have seen Dorries left out in the cold than were happy to see her readmitted to the party and the figures amongst UKIP voters are not that much better:
The poll also suggests many UKIP voters may be relieved the Conservative Party took Dorries back. 35% of UKIP supporters think their party would be less credible if Nadine Dorries were to join it, compared to only 7% who think it would be more credible.
Oh dear…
Even allowing for UKIP recent performance in the local elections and expectations that it will perform extremely well in next year's European elections, one would not normally expect to see a self-styled Eurosceptic MP in a historically very safe Tory seat sweating over the possibility of UKIP running a candidate against them at the next general election.
If nothing else, the majority of incumbent Tory Eurosceptics have a personal vote and a track record to call upon that means that's unlikely that they local electorate will seek to punish them for what they perceive to be Cameron's follies but Dorries is not in anything like that position thanks to her own past conduct – and I'm not just talking here about her skipping out her constituents for more than three weeks to appear on "I'm a Celebrity…".
There's also the little matter of her using her personal 'blog' to mislead her own constituents as to the actual location of her main home, while claiming for her constituency home on expenses, her habitual use of her own parliamentary office as a job creation scheme for her own daughter and, of course, the ongoing investigation by IPSA into expenses claimed since the last general election for the rental of flat in Pimlico that, as I revealed last week, she used overnight for a total of just 25 nights in the whole of 2012 while, at the same time, claiming just over £4,000 to cover the costs of make a daily commute to Westminster from her constituency home, and back, eighty-six times.
The full figures are, I think, well worth repeating: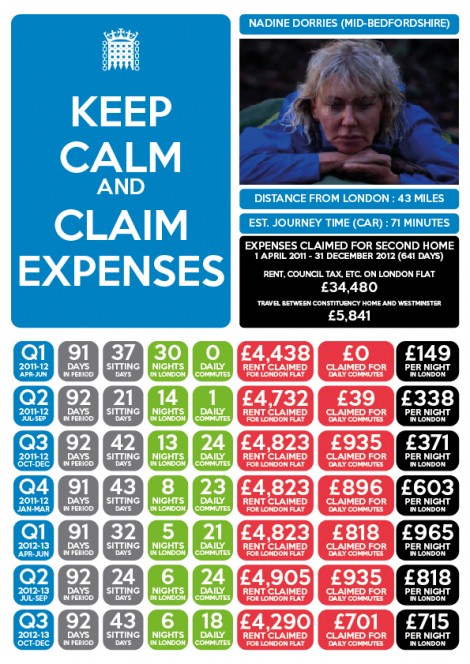 It doesn't take a genius to figure out, based on YouGov's polling and her own track record, why Dorries is talking up the idea of trying run on an joint Tory/UKIP ticket.
It's not that she fears that a UKIP candidate in her constituency will be able to exploit Tory divisions over Europe but rather that by running on anti-politics ticket, UKIP may very well be in a position to exploit her own personal unpopularity amongst her Tory voters and her dubious track record on expenses to, at the very least, take a sizeable chunk out of her majority, if not pose a serious threat of unseating her.
This is not about confusion amongst members of her own constituency association, it's purely about trying to keep UKIP out of her constituency in the interests of self-preservation and not losing her main taxpayer-funded meal ticket.
She is, as Margaret Thatcher might have put it, 'Frit'.
Sorry, the comment form is closed at this time.