1:40 pm - July 19th 2012
British taxpayers are subsidising the travel costs for journalists coming to London to report on the Olympics, Liberal Conspiracy can reveal.
The total cost of this freebie may be as high as £3m – paid for by the British taxpayer.
Among those subsidised by British taxpayers include an army of nearly 2,800 NBC journalists – some of whom are the highest-paid presenters in the world.
A journalist tipped us off to say that each journalist was given an Oyster card with over £90 in credit, to use across London.
We called up LOCOG and the London Media Centre to confirm that accredited journalists were given Oyster cards with pre-paid credit. They confirmed this was the case.
So how many journalists are being handed out these Oyster cards?
The LOCOG representative did not have exact figures on hand, however she told us that over 21,000 journalists had been accredited for the main Olympics event, and just over 7,000 for the Paralympics. Some of the journalists overlap, accreditations for the different events were separate.
We couldn't get LOCOG to confirm whether a journalist accredited for the main Olympics events and the Paralympics would be given two Oyster cards.
In addition, the London Media Centre deals with journalists who want to write about London and the games more broadly. They tell us they have accredited 7,125 journalists. They are also issued with Oyster cards that allow them free travel across London.
The total number of journalists being accredited and given free Oyster credit could touch 30,000.
An accredited TV journalist, who asked not be identified, told us:
We were told this week that as journalists we are entitled to a free oyster card with £90 credit. This came as a surprise to all of us as it's been kept quite quiet, we were only told through word of mouth.

You have to ask, why are journalists getting this freebie? It's because we are the media and have certain influence.
While journalists from all over the world are getting free travel, people working on the Olympics are offered appalling living conditions.
The letter London Media Centre hand to accredited journalists.

Sorry, the comment form is closed at this time.
Reader comments
Reactions: Twitter, blogs
Sorry, the comment form is closed at this time.
LATEST NEWS
Meet the Woolwich attack Truthers who claim it was a "hoax"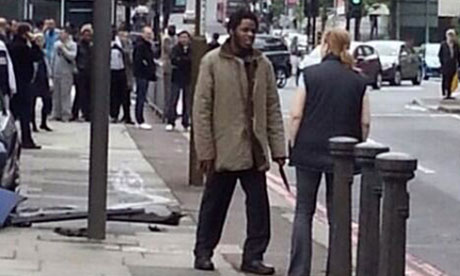 20 Comments
35 Comments
11 Comments
26 Comments
44 Comments
13 Comments
3 Comments
14 Comments
12 Comments
29 Comments
9 Comments
7 Comments
50 Comments
25 Comments
57 Comments
16 Comments
48 Comments
15 Comments
25 Comments
51 Comments
NEWS ARTICLES ARCHIVE