10:30 am - June 9th 2012
contribution by Frances Elizabeth
Twitter went amok this week after Gwyneth 'Goop' Paltrow tweeted a picture of herself with Jay Z and Kanye West captioned, "N****s in Paris for real", parking her Park Avenue princess shtick for something straight out of Compton.
Realising that she may have caused offense, Gwyneth quickly backtracked with, "chill guys it's the name of the song!"
I remember a time when genteel folk skipped over the n word in songs. Now I'm wondering whether that was just for my benefit.

Whatever the rights or wrongs of Gwyneth's response, the sad truth remains that in 2012, two of the worlds most successful rappers deem it acceptable to call their song, "N**** s in Paris". The n word's use is often justified with excuses about 'reclaiming' it from racists, as if ubiquity alone can weaken its impact.
For me, its use is an unimaginative attempt to be a bit risqué, to get the perquisite parental advisory sticker, upping the cool factor for 12 year olds. If its power had been diminished then everybody white and black, including Jay Z's BFF Paltrow could use it without hiding behind song lyrics.
Why should a word used to dehumanise, demean and degrade be rehabilitated? Why is it ok to attempt to reinstate it as harmless? How do you wipe centuries of hate and hurt with three minute odes to unchecked ego and conspicuous consumption?
How when black people's outcomes in employment, health, life expectancy, income and housing are vastly lower than any other group can you take away the meaning of a word that justified a system meant to entrench this?
The n word's use does not empower black people, but rather uses the same oppressive tool employed by slave owners to commodify and dehumanise us. Jay Z and Kanye West, through their racist, capitalist and misogynistic lyrics prop up age-old stereotypes- black folks as base and lascivious, good for drug dealing, pimping and 'hoeing out'.
They help sustain a phoney, corporate production of 'blackness' that straightjackets billions of people, from multiple continents, with multiple experiences into a singular suffocating ghetto.
Rich and powerful rappers have the money and status to be unaffected by the n word's power. Safe and shielded in their gilded ghettos, hob knobbing with elites like Paltrow they are quick to forget the hurt and humiliation that the word still causes.
Good intentioned perhaps, stupid certainly, rappers have essentially greenlighted the n word's use for fans and racists alike.
—
Frances Elizabeth tweets from here
Sorry, the comment form is closed at this time.
Reader comments
Reactions: Twitter, blogs
Sorry, the comment form is closed at this time.
LATEST NEWS
Meet the Woolwich attack Truthers who claim it was a "hoax"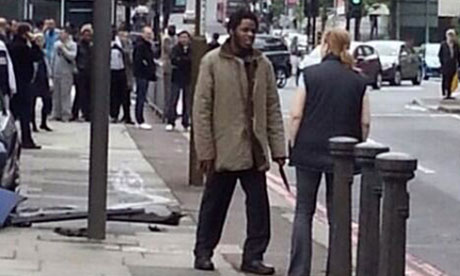 38 Comments
48 Comments
12 Comments
32 Comments
49 Comments
13 Comments
3 Comments
14 Comments
12 Comments
29 Comments
9 Comments
7 Comments
50 Comments
25 Comments
57 Comments
16 Comments
48 Comments
15 Comments
25 Comments
51 Comments
NEWS ARTICLES ARCHIVE