9:30 am - February 12th 2012
While most journalists are interested in the Sun corruption allegations from yesterday – I suspect most of Westminster will be talking about the NHS bill and the fall from this week.
The Daily Mail has gone on the attack – putting the NHS on the front page, but following up with a damaging, vicious article by Nadine Dorries.
It also publishes this damning article – The firm that hijacked the NHS: MoS investigation reveals extent of international management consultant's role in Lansley's health reforms – based on FOI work by Tamasin Cave from Spinwatch.

Many of the Bill's proposals were drawn up by McKinsey and included in the legislation wholesale. One document says the firm has used its privileged access to 'share information' with its corporate clients – which include the world's biggest private hospital firms – who are now set to bid for health service work.
Can it get any worse?
The Sunday Times features an article by Cameron saying he's "at one" with Lansley on the bill. He refuses to drop it.
Andrew Rawnsley in The Observer points out why Cameron won't back down:
The word from inside Number 10 is that he is still determined to bash on. I'm told that the prime minister has been persuaded that it is simply "too late" to put the brakes on now because GP consortiums and other institutional changes are already being put in place in anticipation that the legislation will pass.
…
Another reason for the prime minister's refusal to change tack is a personal one. He fears that giving way to the opposition would make him look feeble.
Both points are spot on. Cameron won't back down. He won't want to look like he's backing down either.
But The Observer also has this – Tories fear row over health bill may 'retoxify' party on NHS – writing about a new poll showing growing public concern over the NHS bill.
The Independent on Sunday reports:
Almost two years in the making, the once eye-catching plan to take the axe to the NHS's bloated bureaucracy and hand power to family doctors has become a metaphor for Mr Cameron's worst failings as Prime Minister – lack of attention to detail, a hands-off management style, misplaced loyalty to old friends and a deep-rooted belief that shouting at the Despatch Box will silence one's critics.
Sounds about right. In an interview, Andy Burnham repeats that Labour would repeal as much of the NHS bill as possible once back in power.
Sorry, the comment form is closed at this time.
Reader comments
Reactions: Twitter, blogs
Sorry, the comment form is closed at this time.
LATEST NEWS
Meet the Woolwich attack Truthers who claim it was a "hoax"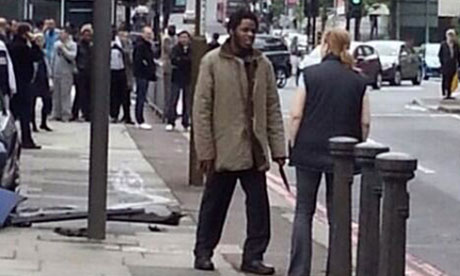 24 Comments
42 Comments
12 Comments
26 Comments
44 Comments
13 Comments
3 Comments
14 Comments
12 Comments
29 Comments
9 Comments
7 Comments
50 Comments
25 Comments
57 Comments
16 Comments
48 Comments
15 Comments
25 Comments
51 Comments
NEWS ARTICLES ARCHIVE