10:17 am - March 1st 2011
Remember my complaint regarding the £250m claim by the No2AV camp?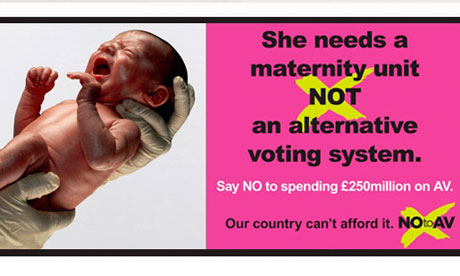 I wrote an article for the Guardian saying the Electoral Commission washed their hands off the issue too, referring people back to the ASA.
The ERS Electoral Commission have sent me a statement.
Dear Sunny

I read your recent article on the Guardian's Comment Is Free website entitled 'No to AV baby ad is in dire need of reform'. I wanted to clarify the Electoral Commission position on this issue of political advertising content. Your article states:

"When I filed my complaint, I was told by the ASA that it can't interfere and that it's a matter for the Electoral Commission. The latter, however, now says it's a matter for the ASA, as it only deals with political parties."

In fact, we recognise that the content of political advertising is not a matter for the Advertising Standards Authority. Our role is also more complex than 'only dealing with political parties'. We provide candidates, agents, parties and referendum campaigners with guidance on the rules relating to campaign materials (the legal requirement for an 'imprint' for example) as well as on rules relating to campaign spending. We do not, however, regulate the wording or other content of political advertising.

Kind regards,
But that still means there is a clear loophole around the content or wording of political advertising.
No2AV can carry on making this dishonest claim and no one pulls them up on it.
* * * * * * * *
Incidently, the No camp have also urged the authorities to investigate the role of the Electoral Reform Society (ERS), following claims in the Spectator that it faces a conflict of interest over the referendum.
The ERS told the BBC
But the organisation said it should be "no surprise" that it was supporting a Yes vote given its "longstanding commitment" to changing the voting system.

"The Society has openly declared the financial support we have provided to the Yes campaign – in sharp contrast to the No campaign who have so far refused to declare their financial backers," said its operations director Kate West.
So when are the No2AV campaign going to reveal how many Tory donors are backing them?
Sorry, the comment form is closed at this time.
Reader comments
Reactions: Twitter, blogs
Sorry, the comment form is closed at this time.