2:17 pm - December 18th 2010
contribution by Heathcote Ruthven
I am going to buy two Hamsters. One will be called Kettle, and the other will be called Kettle. They'll be opposite sexes and I'll make them have babies. When the mother gives birth, her babies will all be called Kettle. Then I'll cut the food source, watching while the parents eat their babies and they all starve to death.
A neologism coined by the international policing community will soon become a way of life. Our freedom of expression, if expressed in too large a unison, will now be contained in a common domestic metaphor. One that, in the collective memory of this country, is most palpably associated with what is known as 'Builders' Tea' or even, among the younger generations, 'Instant Coffee'.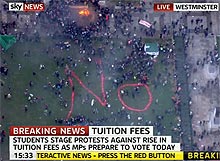 Soon every national protest will end in a series of two to twelve hour 'kettles'. Army trained Territorial Support Group forces will sport baby blue surgical hats and jog alongside protesters, aggravating a chosen few with some playful bludgeoning.
The group will stop. Riot police with shields like the doors of public toilets will box them all in the area. A few metropolitan police will stroll about, and in contradiction to the logic of their metaphor, relinquish only the coldest first.
Life has become a series of kettles, disparate microcosms with their own rules of detainment. The truth is, Life Is A Kettle. One among a babushka of other kettles. The biggest Russian doll is death, which is ironic, as you and I will probably witness the death of the dole.
Kettling is mass kidnap. It appears to have reborn into current police tactics in 1999. Though Trafalgar Square came to prominence as an architectural kettle in the 19th century. It's will for today's young, if they are kettled there often enough, take on a quality not lost on it's architects.

Landseer, who sculpted Nelsons' Column, was rumoured to be able to paint with both hands at the same time, for example, paint a horse's head with the right and its tail with the left, simultaneously. He was also known to be able to paint extremely quickly—when the mood struck him. He could also procrastinate, sometimes for years, over certain commissions.
Violence. It's not about pointing fingers, it's about breaking them. If you try and leave they will baton you. They're trained to aim for your arm and calf, but they sometimes miss. Some protesters line their arms with cardboard and carpet to soften the blows. Some protesters don't try to leave.
The diplomacy skills of the police are employed to the full, and the value of GSCE Drama becomes apparent. They want you not to hate them. Their conversation exposes a discomfort and double motive. Police don't want to be seen as an arm of the state. What is an arm of the state? What are we "of the state"? The vomit? The blood? The cancer?
Sorry, the comment form is closed at this time.
Reader comments
Reactions: Twitter, blogs
Sorry, the comment form is closed at this time.