9:10 am - November 15th 2010
contribution by Hengist McStone and Sunny Hundal
There are conflicting accounts of whether the Tea Party Movement, in the United States is grassroots or not. The recent film (Astro)turf Wars shows a slick, well-funded machine manipulating deluded activists across the country.
One writer in the UK who thinks he knows the truth is Daniel Hannan MEP, who blogs for the Daily Telegraph.
"The Tea Party is that rare beast, a genuinely spontaneous popular movement." Mr Hannan insists, dismissing the claims of astroturfing.

But for a gentlemen who says he places a lot of importance on transparency, it's curious that he fails to disclose to his readers his own associations with their funders – the Koch brothers.
Mr Hannan's own agent confirms he recently addressed the brothers in question. Mr Hannan tells us by email that he did address a meeting of the Koch Foundation last year, but received no fee for doing so.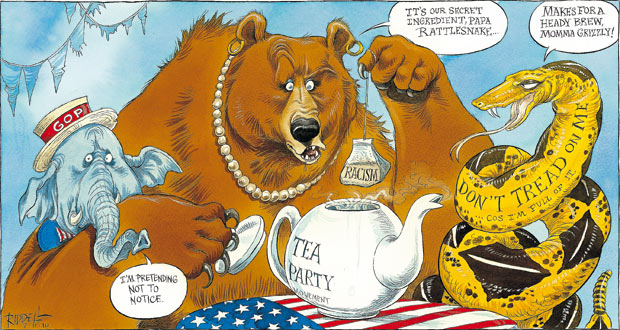 [Observer Cartoon]
The Tea Party movement
But let's start a bit further back. A recent article in The New Yorker detailed how the vast majority of the millions flowing into Tea Party coffers comes from two brothers from Kansas: Charles and David Koch.
They also happen to be the billionaire owners of Koch Industries, America's second largest private company, and have much to gain from the libertarian, pro-business and anti-environment agenda pushed by the Tea Party. David Koch likes to boast that theirs is the "largest company that you've never heard of".
Nobody elected the Koch brothers, but they are hugely influential, and it's impossible to gauge their full reach. One non-partisan commentator tells the New Yorker:
The Kochs are on a whole different level. There's no one else who has spent this much money. The sheer dimension of it is what sets them apart. They have a pattern of lawbreaking, political manipulation, and obfuscation. I've been in Washington since Watergate, and I've never seen anything like it. They are the Standard Oil of our times.
A recent Greenpeace report names Koch as the "kingpin of climate science denial" vastly outspending even ExxonMobil in giving money to organizations fighting legislation related to climate change, underwriting a huge network of foundations, think tanks, and political front groups. A figure of $37 million is cited just on lobbying alone.
Dan Hannan
"The idea that the Tea Party is "Astroturf" (meaning fake grassroots) just won't wash" writes Mr Hannan. He goes on to say:
The Koch brothers have been funding free market campaigns since the 1970s without ever sparking anything like this. Nor, by the way, is there anything wrong with rich men spending their money on causes rather than on themselves. On the contrary, we ought to celebrate political donations.
We can celebrate political donations, as long as it it's clear who is making them and who they are connected to.
Mr Hannan's declaration of interests from 2009 lists that various organisations paid for his flights to the United States. These were:
(1) American Legislative Exchange Council (ALEC); (2) Regular Folks United (RFU); (3) Campaign for Liberty (CFL); (4) National Center for Policy Analysis (NCPA)
Both ALEC and NCPA are funded by Koch Industries (click the link for more).
Regular Folks United have not been around long enough to file their 501 tax returns, but it was founded by Lori Roman, who also executive director of ALEC. She's not exactly 'regular folk'. (Campaign for Liberty is Senator Ron Paul's group and not relevant to this article).
"I have no special brief for the Tea Party" claimed Mr Hannan recently.
Curiously, Mr Hannan's recent blog posts in support of the Tea Party movement don't disclose his links to organisations very closely connected to the 'grassroots movement'.
Sorry, the comment form is closed at this time.
Reader comments
Reactions: Twitter, blogs
Sorry, the comment form is closed at this time.