10:00 am - March 5th 2010
The Labour Party has lost a true hero. Michael Foot was a parliamentarian held in the highest regard. One of the most outstanding orators this country has ever known and a man who defined the notion of principled politics. Tributes have been pouring in, from Gordon Brown, Tony Benn and a fitting tribute was made in the House of Commons by Jack Straw after a frankly embarrassing Prime Ministers Questions, the depressing nature of which was put into sharp focus by the news of Foot's passing. But more on that in a moment.
Foot was the mind of the Labour Party. A remarkably intelligent writer who went from Fleet Street to Westminster with the same principles and values underpinning all his endeavours, values which were unashamedly, unapologetically socialist. Without a doubt Foot was a visionary politician, to some extent an idealist, but was one who admired, if not idolised, as perhaps the greatest pragmatist British Politics has ever known.
Reading Foot's biography of Aneurin Bevan will have influenced, I hope, the rest of my life. It is for this, perhaps monumental impression on my future, that I am truly grateful to Michael Foot. His bringing to life of Bevan's spirit, character and politics inspired a love of socialism and the Labour party that I would find, now, impossible to shake off. Foot was a master of the written word which framed the life of his idol, and now mine, beautifully. I would urge anyone with a political interest to devote a weekend to reading it, it will not disappoint.
Amongst the tributes that have poured in for Foot I have, however, noticed a worrying trend. A consistent admiration for the likes of Michael Foot is contrasted with many a comment on the "depressing" state of politicians, or indeed politics, today. I grant you, after a PMQs which saw the Leader of the Labour Party having to scream answers over the cacophony of backbench voices, it may be an unenviable task to defend the "state" of politics today. But defend it I must. John Snow argued that Foot was perhaps "too good for politics" in his personal tribute. That is true of no one. It was, and is, the noblest of pursuits. To try and effect change on the world, based on your vision of a better, more just society is the most honourable cause to which one could dedicate a lifetime's work.
I beg those who lament Foot's passing by mourning a time when politics was "better"or "noble" to not let an expenses scandal (if that is the basis for this renewed dissatisfaction) undermine what we have done and must do. The worst culprits, and a rotten allowances system, cannot put the best talent we have in this country off from accepting a call to politics. The likes of Kier Hardie, Aneurin Bevan, Barbara Castle and indeed Michael Foot would never forgive us for succumbing to cynicism.
Like those who have come before us, we must honour the memory of our political heroes, but never let it dissuade or discourage us from totally devoting ourselves to the fight ahead. We remember, we even idolise, but we continue, for our work is never done.
Sorry, the comment form is closed at this time.
Reader comments
Reactions: Twitter, blogs
Sorry, the comment form is closed at this time.
LATEST NEWS
Meet the Woolwich attack Truthers who claim it was a "hoax"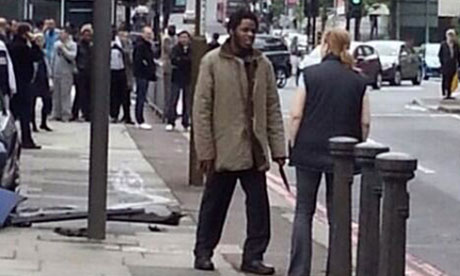 39 Comments
50 Comments
12 Comments
34 Comments
49 Comments
13 Comments
3 Comments
14 Comments
12 Comments
29 Comments
9 Comments
7 Comments
50 Comments
25 Comments
57 Comments
16 Comments
48 Comments
15 Comments
25 Comments
51 Comments
NEWS ARTICLES ARCHIVE