3:30 pm - December 22nd 2009
Serious political debate – in the sense of well-argued clashes between sharply opposing viewpoints – has been on the decline in this country since it was stifled by ideological consensus at some point in the 1980s.
The key problem is that once all sides share all the same essential premises, it becomes increasingly harder to achieve product differentiation. The rhetoric becomes ever more consensual, because underlying political anger cannot any longer be sustained.
So ignore the hype surrounding the three promised Brown/Cameron/Clegg talking heads shows coming to all major networks next year. Not only are the programmes unlikely to galvanise public interest in the electoral process, they may ultimately benefit the parties that like to present themselves as the radical alternative to the establishment.
It is a cliché of current punditry that Labour has bought into the Thatcherite settlement on free markets, while the Tories have adopted centre-left positions on social issues and on private morality, and the Lib Dems seek out distinctive niches in this broadly centre-right ecosphere.
At the level of values, there is a lot in that generalisation. That is not to say that there are not differences of substance, especially in the crucial field of macroeconomics. For instance, Brown has fought the recession by deploying Keynesianism for the wealthy, stripped of any social democratic content.
While such measures get few socialist pulses racing, they remain preferable to anything the Old Etonians are likely to come up with. Watch what will happen to GDP once the wingnuts return to the Treasury, and you will soon find yourself nostalgic for good old 0.2% a quarter falls.
The trouble is, party leaders cannot use the forthcoming head to heads to discuss the economy in terms that will be intelligible to only a small proportion of the population. Instead, everything will boil down to a Dutch auction on who cuts what, and by how much.
Once, politicians in this country sought electoral backing on the basis of how many jobs they were going to create and how much they planned to boost public services. It is a clear sign of just how far extremist free market ideas have gained intellectual ascendancy that the three main party leaders will be slugging it out in terms of how hard they intend to wield the axe. How do you want your progressive austerity, love? Fried or boiled?
On every issue of consequence – from the European Union to nuclear weapons, from the environment to immigration, the disagreements are those of degree rather than principle, and the likelihood is that this will not go unnoticed out there in Viewerland. Consensus politics means one thing in Westminster, and quite another in Workington.
OK, I'm a North London middle class leftie. What do I know? If I could somehow be teleported into a sitting room in Rochdale, I might find myself pleasantly surprised at just how well somebody who has just lost their job at the callcentre accepts the logic that the interests of the City must come first at all times.
There might be surprising reservoirs of heartfelt support out there for the Lisbon Treaty, which has doubtlessly been dissected in terms of both positive and negative aspects in workies' clubs across the land, and endorsed so overwhelmingly that a referendum is deemed superfluous.
But my suspicion is that there are large numbers of issues that find the great unwashed not yet with the programme. If the debates boil down to a 90-minute Brown, Cameron and Clegg agree-a-thon, they will be more willing to consider the other options on the ballot paper.
The left is in no position to offer a credible electoral alternative. That will offer an obvious opening for political forces who can convincingly talk in terms of populist solutions and readymade scapegoats. In one sense, the British National Party and UKIP will be on the platform, even if they are not.
About the author
Dave Osler is a regular contributor. He is a British journalist and author, ex-punk and ex-Trot. Also at:
Dave's Part
·
Other posts by
Dave Osler
Story Filed Under
:
Blog
Sorry, the comment form is closed at this time.
Reader comments
Reactions: Twitter, blogs
Sorry, the comment form is closed at this time.
LATEST NEWS
Meet the Woolwich attack Truthers who claim it was a "hoax"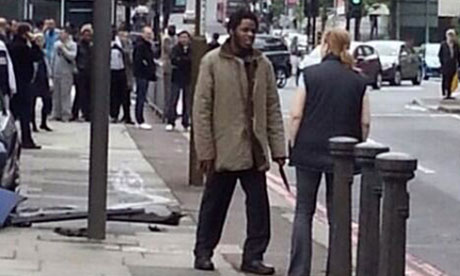 14 Comments
24 Comments
9 Comments
25 Comments
44 Comments
13 Comments
3 Comments
14 Comments
12 Comments
29 Comments
9 Comments
7 Comments
50 Comments
25 Comments
57 Comments
16 Comments
48 Comments
15 Comments
25 Comments
51 Comments
NEWS ARTICLES ARCHIVE