10:54 am - September 18th 2009
The Daily Mirror reports:
David Cameron was dragged into the US race row yesterday after one of his rising stars said that he understood the anti-Barack Obama feelings.

Euro MP Daniel Hannan said fellow right-wingers should admit that racism was behind the attacks on the President.
Daniel Hannan says on his blog:
He was both black and white. He was a Protestant brought up among Muslims. He seemed to have family on every continent. Like St Paul, he made a virtue of being all things to all men.

On one level, the strategy worked brilliantly. But it could hardly fail to leave a chunk of people feeling that Obama wasn't exactly a regular guy. Hence, for example, the surprising number of Americans who question whether he was born in the US.
So apparently Obama wasn't a "regular guy" on account of having lived outside the US and having being "exotic".
He goes on to say that most American conservatives see Obama's ethnic background as a point in his favour. Of course, like these people who went to the rallies.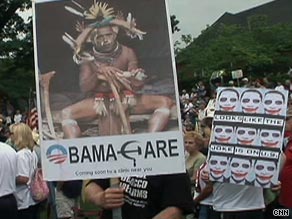 All that isn't examples of racism see. It's just ordinary citizens worrying about expanding government. (more at Media Matters)
Labour's Parmjit Dhanda said: "Hannan's remarks are a disgrace. He needs to wake up to the modern world.

"It's excusing racism. He is implying if you have what he calls an 'exotic' background you can be treated differently.

"Barack Obama is as representative of what it means to be an American as anyone else."
And we were under the impression that right-wingers thought race didn't matter. Apparently it does, if you're "exotic".
Sorry, the comment form is closed at this time.
Reader comments
Reactions: Twitter, blogs
Sorry, the comment form is closed at this time.