1:59 am - December 30th 2008
Conservative MP Nadine Dorries doesn't like politically correct health advice such as teaching children about contraception. In a blog-post on her website in April, titled 'Beyond the School Gates', she said:
Throughout the session it struck me that the discussion focused on dealing with the consequences of teenage sex, in the form of STIs and pregnancy; whereas the fundamental problem, the fact that sex is now regarded as a recreational pastime, no relationship required, is largely ignored. Much easier to focus on how quickly we can get treatment to an infected sixteen year old, than how we get the same sixteen year old to think twice before having sex again, until at least within the confines of a stable relationship.
…
The money that the Department of Health spent on their campaign could have been used on developing a national standard for sex education within schools, which taught the principles of self respect and at least began to address the issue of values, morals and ethics within education and wider society.
Ahh yes, I smell thinking along the 'silver ring thing' phenomena. Except, new research from the US now shows these gimmicks don't work.
Teenagers who pledge to remain virgins until marriage are just as likely to have premarital sex as those who do not promise abstinence and are significantly less likely to use condoms and other forms of birth control when they do, according to a study released today.

The new analysis of data from a large federal survey found that more than half of youths became sexually active before marriage regardless of whether they had taken a "virginity pledge," but that the percentage who took precautions against pregnancy or sexually transmitted diseases was 10 points lower for pledgers than for non-pledgers.
(via NHS BlogDoctor). In other words, not only does trying to teach abstinence of responsibility not work, but it leads to even more unprotected sex. Despite the evidence however, I doubt a minister who regularly hangs around with Christian fundamentalists is likely to take any heed.
Sorry, the comment form is closed at this time.
Reader comments
Reactions: Twitter, blogs
Sorry, the comment form is closed at this time.
LATEST NEWS
Meet the Woolwich attack Truthers who claim it was a "hoax"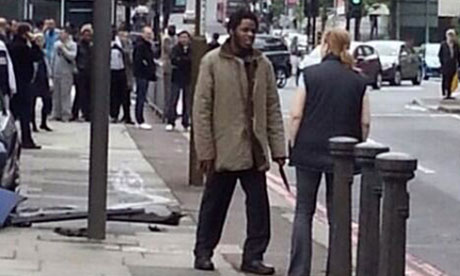 37 Comments
47 Comments
12 Comments
32 Comments
49 Comments
13 Comments
3 Comments
14 Comments
12 Comments
29 Comments
9 Comments
7 Comments
50 Comments
25 Comments
57 Comments
16 Comments
48 Comments
15 Comments
25 Comments
51 Comments
NEWS ARTICLES ARCHIVE