12:11 am - December 16th 2008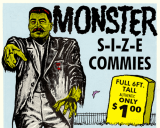 This is a strange one. I hadn't noticed until earlier today, but apparently the Continuity Eustonites have a bee in their collective bonnets… about two book reviews in the New Statesman. Whilst Eustonalia afficionados will be familiar with their having chosen odd demon-figures to rail at in the past (my personal favourite was Amnesty International, that fearsome institution whom the Eustonistas felt the need to target for reasons I never was bothered to fully fathom), even by their standards this is pretty weird.
According to David T's original post at Harry's Place about it, there would seem to be two articles that have upset them. One is a review of Richard "Lenny" Seymour's book "The Liberal Defense (sic) of Murder" by somebody whom I'd never previously come across called Owen Hatherley. The other is Seymour's own review of Chris Harman's "A People's History of the World". I have not read either book, and I have no immediate intention of doing so; therefore I cannot know whether either Seymour's or Hatherley's reviews are fair and accurate, although I would hazard a guess that both are essential at-length regurgitations of the SWP's line on the topics that they cover. Put them on somebody else's Christmas list please, I would prefer a decent bottle of wine.
So, what's the biggie?

Apparently the issue is that Seymour is a member of the SWP, reviewing another SWP member's book. Similarly Hatherley writes for Socialist Worker, although he maintains that he is not a party member. HP rather ties itself up in knots over this, coming to the eventual conclusion that Hatherley may not be a member of the SWP but must have some agreement with its politics in order to write for SW:
However, ask yourself. How many people do you know who would write for the newspaper of a totalitarian and anti-democratic organisation, without being substantially aligned with its politics?/
As it happens I don't think this is true, either of the SWP or any other left-wing group. Certainly my old comrades in the AWL regularly print articles by people with whom they disagree on other questions of politics, and whilst the SWP are far from as pluralist I still can't see why it is impossible to believe that they might print an article by a non-member without exercising some kind of influence over that person.
On Seymour, David T is far more emphatic:
Here's Richard Seymour reviewing a book by his party boss, Chris Harman. Seymour does not mention the fact that that Harman is a Socialist Workers' Party activist, and the New Statesman doesn't disclose Seymour's membership of the Socialist Workers' Party.

What contempt for its readership.
It would, of course, be something of a stretch to see the smirking proprietor of Lenin's Tomb publicly dissing SWP Generalissimo Harman's work, even if he did disagree with it in whole. However I daresay he doesn't, and is in no way misrepresenting himself bywriting a positive review. They are both members of the same Marixist organisation, and therefore that they broadly agree about questions of politics is hardly surprising. Whilst that does make conversations with SWP'ers about other SWP'ers rather dull, I fail to see why it provokes such outrage on the part of Mr T et al.
Oliver Kamm appears just as exercised about it:
My point remains, however, that he (Hatherley-VP) is a contributor to the newspaper of a Leninist organisation, which is not a normal democratic party even of the radical Left, and in which he urges "a foundation for genuine class politics". This is a material point in evaluating his review, and as such I consider he ought to have disclosed it both in his piece and in his comment on this blog.
It may or may not be the case that Seymour and Hatherley are not being totally transparent with regard to their political affiliations. However it seems to me that it is not particularly important either way: we are afterall talking about book reviews in the Staggers, not candidates for Prime Minister. The question then, is why do the Euston people care so much about it?
Seymour himself has written a response, which is also worthy of quotation:
On the one hand, all of this is immensely encouraging. If the deranged political cult of liberal bombers didn't find the book in some sense threatening, they would not waste so much energy on vain attempts to undermine it. On the other hand, this petty, spiteful attack comprises a maniacal McCarthyite troika. It not only seeks to have a positive review of my book retracted and a 'correction' published. It also attempts to hound someone who did absolutely nothing wrong out of a livelihood, and to establish an ominous precedent of surveillance for actual and supposed members of the Socialist Workers' Party on the basis of ignorant claims about it made by David T and his cohort.
My own blog (Shiraz Socialist) was of those which supported Harry's Place when it was temporarily shut down as a result of complaints by one Jenna Delich, a UCU activist with whom the authors had taken issue. Regardless of our opinions of Delich and HP (which differ), we felt that this was a question of online freedom of speech. As such we offered our solidarity to them. I believe we were right to do that then, and that we should do so again were a similar situation to arise in future. However I for one find the attacks on Seymour and Hatherley very disturbing, and I can also detect the same whiff of McCarthyite sulphur that Seymour does. Think about it: would the Eustonites have gotten so worked up if the review was of a book by, say, Nigel Farage, and written by another UKIP member who (rightly or wrongly) failed to declare his or her own affiliation? I think not. 
I cannot speak for my fellow bloggers, either here at Liberal Conspiracy or at Shiraz Socialist. Speaking for myself however, I can say that Seymour and Hatherley have my support on this issue. The SWP have never been to my political taste, but neither should they or their writings be hounded out of the mainstream press. Furthermore, if it is the case that the Eustonites really are trying to hound Hatherley out of his job then that is to be deplored. The comparison which David T makes between Hatherley and Dilpazier Aslam (sacked extremist Guardian writer) must presumably be predicated on an equation between the SWP and Hizb-Ut-Tahrir, the theocratic party with which Aslam was associated. That equation alone has the feel of red-baiting about it, and as such I find the Eustonites' actions in this case unconscionable.
Free speech online and in the political media must apply fairly and evenly, or it is not free speech at all. Seymour and Hatherley deserve theirs, and as such I feel we all owe them our backing.
About the author
Alan Thomas is a regular contributor to Liberal Conspiracy. He is a blogger, a political activist and a lay member of Unite-TGWU. His main interests outside of UK left politics are in Turkey, Kurdistan and the USA. And is also always delighted to write about wine and fine food when he's in less of an intellectual mood. Also at:
Shiraz Socialist
·
Other posts by
Alan Thomas
Story Filed Under
:
Blog
Sorry, the comment form is closed at this time.
Reader comments
Reactions: Twitter, blogs
Sorry, the comment form is closed at this time.