9:46 am - November 29th 2008
Snippets of commentary from blogs on the Damian Green arrest.
But the last people that should be replacing them are a bunch of dangerous fools who are willing to cry "Stalin" when one of their own gets questioned for a few hours and then released, but who stay silent at — and indeed support — the systematic harrassment of others. I don't recall the Tory outcry when police kicked down a door in Forest Gate and shot an unarmed suspect. I don't recall the tories accusing the police of 'Stalinesque' tactics that day. In fact, just to demonstrate how divorced these fools are from reality, how utterly self-serving in their outlook, a Tory spokesman has described Green's arrest as "unprecedented in its heavy-handedness".

Unprecedented? Really? What complete tossers those tories truly are.
Yet just in case the Tories maintain their persistent pretence of perennial occupation of the moral high ground, it's worth mentioning a couple of cases from Britain's last spell under Conservative rule. Let's not forget Foreign and Commonwealth Office clerical officer Sarah Tisdall, jailed in 1983 after anonymously sending photocopied documents detailing plans for the arrival of US cruise missiles in the UK to The Guardian.

Let's not forget either Clive Ponting – a senior civil servant at the Ministry of Defence – who in 1984 sent two documents concerning the sinking of Argentinian warship General Belgrano in the Falklands War to a Labour MP. It transpired that the vessel had been sighted a day earlier than officially reported, was steaming away from the Royal Navy taskforce, and was outside the exclusion zone when it was attacked and sunk. That a jury subsequently acquitted Ponting on two charges under the Official Secrets Act is not the point; the fact is, a Conservative government made damn sure the case came to court.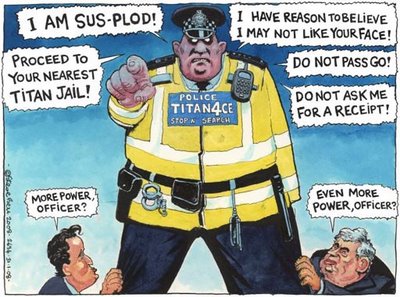 As others have pointed out, despite the involvement of anti-terror officers, this as yet does not have anything to do with actual anti-terrorism laws, but what those anti-terrorism laws, such as Section 44 have done is imbue the police with the confidence they need to be able to act almost with impunity. Even whilst we complain that they often can't seem to be bothered to keep actual small town stations open than more than a few hours at a time, or to attend burglaries, they find the time to monitor political demonstrations while recording footage of all those taking part, just for "their records".
…
It therefore takes some chutzpah for David Davis, whose stance I have deeply admired, to say he now believes we are living in a police state because one of his own has been raided. When other individuals have said similar things, such as one of the men wrongly arrested in connection with the Birmingham beheading plot, who said that this country was now a police state for Muslims, they have been shot down, especially by politicians. Politicians themselves after all have no one other than themselves to blame for the power the police now have and routinely wield. Only the Liberal Democrats have anything approaching a decent record on opposing the almost yearly measures brought in in reaction to tabloid demands.
The contradiction is as follows: on the one hand we say, with a nod and a wink, that it is fair game for MPs to use leaked information as part of the process of Parliament holding the executive to account. It is because most of us think this that we see the police action against Green, even if he has been receiving leaked information, as not merely heavy-handed but as undemocratic. On the other hand, in saying this we are also saying, with that nod and a wink, that it is a normal part of the political process that opposition and criticism of the executive will rely on leaks – in other words, on some people, such as civil servants, doing what they shouldn't be doing. So we end up saying, in effect: 'Its fair play to break the rules!'
However, its it final piece of leaked information cited by the BBC that could, were it be linked to Green, give him a serious problem – a list, compiled by Labour's Whip's Office of potential Labour rebels on the 42 days pre-charge detention vote. That is a (party) political matter that, while it may of interest to the public (and the oppostition, of course) is not a matter of legitimate public interest, not least at relates to the voting intentions of members of the legislature and not to a matter of government – although one hestiates to use the 'W' word (Watergate), the leaking of party political information to opposition members falls outside the legitimate scope of the public interest and amounts to political espionage.
Sorry, the comment form is closed at this time.
Reader comments
Reactions: Twitter, blogs
Damian Green: The Key Issues are Process, but will be fixed by Politics | The Wardman Wire

[…] What is the likelihood of Labour reversing the New Labour laws? I don't see much hope even with a minority Labour administration – due largely to the damage done to the party's internal democratic processes in the mid-1990s to protect "The Project". A whole dominant generation of leaders within the party seem to be firmly behind this programme, so I see no prospect of change. […]

Where it's at (The Quiet Road)

[…] mostly been cited or linked-to in a positive context (e.g. Bloggerheads, Chicken Yoghurt, Liberal Conspiracy, Shiraz Socialist, and more). Though there has been one clear denunciation, from a blogger called A […]
Sorry, the comment form is closed at this time.